Late Jesus strike breaks Premier League goal-scoring record
With attacking talents on form and teams willing to take risks the Premier League set a new record for goals in a single matchday.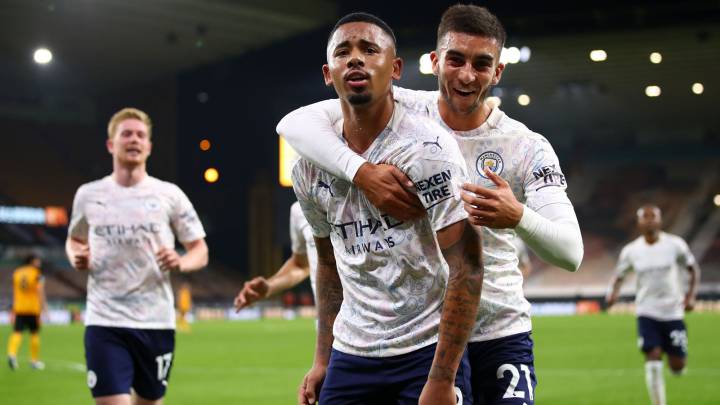 A new record was set last night for the most goals scored in a ten-game Premier League matchday. There were 39 goals in just eight games over Saturday and Sunday meaning that five goals were needed from the two Monday evening fixtures to beat the previous best.
After a narrow 1-0 victory for Aston Villa it took a 95th-minute deflected strike from Gabriel Jesus in his side's 3-1 win at Wolverhampton Wanderers to break the record. In total, six of the weekend's ten games featured at least four goals.
The previous highest total for a ten-game Premier League matchday was the 43 scored across 5 and 6 February 2011, when Newcastle United staged a legendary comeback to draw 4-4 with Arsenal. The outright most goals in a Premier League weekend was the 53 scored across the 8 and 9 May 1993, however that covered 11 games in a 22-team league.
The most prolific 20-team season in Premier League history was the 2018/19 campaign when 1,072 goals were scored at an average of 2.82 goals per game. After two games that figure for the current season stands at 3.72, so why are we seeing so many goals this year?
New teams go on the offensive
In previous years newly-promoted teams have tried to prioritise keeping things tight at the back but that does not look like being the case for the three promoted sides this time. Last year's Championship winners Leeds United have a full-throttle, expansive style of play and it is not in manager Marcelo Bielsa's nature to play cautiously. Leeds have been involved in two seven-goal thrillers already and put three goals past the champions at Anfield on the opening day.
The other two newly-promoted teams have been less successful than Leeds but have also seen plenty of goals since their return to the top flight. Fulham have conceded three goals in each of their two matches and West Bromwich Albion have been involved in ten goals in two games.
Forwards hit form
The record-breaking numbers also have a lot to do with the impressive form of some of the league's attackers. Three goals for Dominic Calvert-Lewin and four for Son Heung-Min brought the total number of hat-tricks in 2020/21 to three, the earliest that mark has ever been reached in a Premier League season. In fact, in 2006/07 only three hat-tricks were scored across the entire campaign.

Son became one of only 28 players to score four in a single Premier League game but his strike partner Harry Kane managed an even rarer feat in his side's 5-2 victory. He provided the assists for all of Son's goals, the first time a player has assisted four times for another in a single game. The Southampton defence was far from blameless but the Spurs duo really put them to the sword.
Truncated pre-season disrupts preparations
With a much shorter period of time to work with players than usual, Premier League coaches have not been able to organise their teams as they would have liked to. Unlike defenders, attacking talents are less reliant on having a cohesive team structure to perform and we are seeing more goals as a result.
The disruption to the usual pre-season may also be having an effect on players' performance levels as they have not had the opportunity to regain match fitness. With temperatures unseasonably warm across the country last weekend teams may have struggled to keep up the intensity levels throughout the match, giving opposition forwards more time and space to exploit.