Second stimulus check: what proposals have been put forward?
Congress has so far been unable to pass coronavirus relief legislation and, with it, potentially a second stimulus check for qualifying Americans.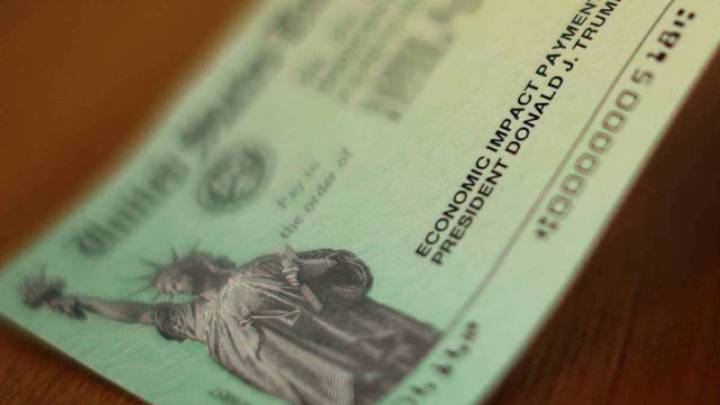 Amid frustration over Congress' inability to pass a coronavirus aid package, a bipartisan group of US lawmakers last week unveiled a new relief proposal, which includes a second - and possibly even a third - round of stimulus checks.
The Problem Solvers Caucus, a group comprising 25 Democrats and 25 Republicans, said in a statement that their $1.5tn-$2tn plan for economic aid, known as the "March to Common Ground", was an attempt to "help break the gridlock on the latest Covid-19 relief package and encourage negotiators to get back to the table".
"We were able to come together […] to show we can agree on the toughest of issues that have been holding the sides apart," Representative Josh Gottheimer (D-NJ), the Problem Solvers' co-chair, told a news conference. "Here is a framework, here is a roadmap, let's take it and get this done."
"March to Common Ground" stimulus checks
Like the stimulus checks sent out as part of the CARES Act, a $2.2tn aid bill signed into law in March, the payments included in the Problem Solvers' package would be for up to $1,200, with $500 extra credits for dependents also available. However, while the CARES Act limited eligibility for the additional $500 to those under 17, the "March to Common Ground" seeks to include dependents of all ages. Furthermore, dependents over the age of 16 would also receive the CARES Act credit retroactively.
In addition, the "March to Common Ground" proposes a third batch of stimulus checks - an initiative that would be automatically triggered in March next year if the Covid-19 pandemic is not sufficiently under control in the US by then.
Problem Solvers' package unlikely to be voted on
Having been put together as no more than a "framework" plan, however, the "March to Common Ground" does not specify the income thresholds that would apply to the stimulus checks it proposes. What's more, the package is not expected to be voted on in Congress, but rather was created as a potential platform for further negotiations. It "aims to be more of an olive branch between Republicans and Democrats than an actual contender for a new law", explains Forbes' Kelly Anne Smith.
No agreement on stimulus bill, but Republicans and Democrats both want check
Efforts to pass a fifth piece of coronavirus relief legislation have been deadlocked for months. In May, the Democrat-controlled House of Representatives passed the HEROES Act, a $3.4tn stimulus bill, but the package was branded a "big laundry list of pet [Democrat] priorities" by the Republicans and was not taken up by the GOP-held Senate. In July, meanwhile, Republican senators unveiled their proposal, the $1tn HEALS Act, which the Dems labelled as inadequate. Senate Republicans also tabled a $500bn 'skinny' relief package this month, but the proposal was blocked by Democrats in a procedural vote.
Initiated after the release of the HEALS Act, talks between Democratic leaders and White House chiefs over a bipartisan bill have been at an impasse since early August, with negotiators almost $1tn apart on their desired overall spend: House Speaker Nancy Pelosi (D-Ca) and Senate Minority Leader Chuck Schumer (D-NY) are willing to cut the outlay in the HEROES Act to no lower than $2.2tn, while Treasury Secretary Steve Mnuchin and Chief of Staff Mark Meadows have said the White House can only go as high as $1.3tn to $1.5tn.
When it comes to the inclusion of stimulus checks in an aid package, however, there does appear to be a good degree of consensus. Direct payments were included in both the HEROES and HEALS Acts, and President Donald Trump has also stated his support for such a scheme. Moreover, a look at the checks proposed in the two bills shows that Republicans and Democrats are, broadly speaking, on the same page when it comes to their visions for a second check.
HEROES Act and HEALS Act: Democrats' and Republicans' major stimulus-check proposals
HEALS Act
Under the terms of Republican senators' HEALS Act, $1,200 checks would be sent to individuals who earn less than $75,000 a year, while joint tax filers on under $150,000 would receive $2,400. Checks for a steadily smaller amount would be available to higher earners, up to a final income cap of $99,000 for individuals and $198,000 for joint filers.
These eligibility requirements mirror those of the CARES Act checks. Where they differ is when it comes to the issue of additional credits for dependents. The HEALS Act proposed the same $500 figure, but (like the "March to Common Ground" and, as we will see, the HEROES Act), sought to include dependents of all ages.
Meanwhile, the HEALS Act followed the CARES Act in excluding immigrants without a Social Security number.
HEROES Act
Just as the HEALS Act did, the Democrats' HEROES Act also sought a stimulus-check scheme with parameters very similar to the CARES Act. Again, checks for $1,200 and $2,400 would be given to individuals on less than $75,000 and joint filers on $150,000, respectively, with the payments phased out up to upper income limits of $99,000 and $198,000.
The HEROES Act also shared the HEALS Act's inclusion of dependents over the age of 16, albeit it raised the amount paid out per dependent from $500 to $1,200 (up to a maximum of three), meaning families could potentially claim a total of $6,000.
Unlike the HEALS Act, though, the HEROES Act proposed including immigrants who do not have a Social Security number, and retroactively giving them the check they were denied under the terms of the CARES Act.
What other stimulus-check ideas have been proposed?
CAAF Act
Tabled in July by a group of Republican senators including 2012 presidential candidate Mitt Romney, the Coronavirus Assistance for American Families (CAAF) Act sought to give households with dependents more than they got from the CARES Act.
Applying the income thresholds used in the first round of stimulus checks, the CAAF proposed distributing $1,000 payments "to all American citizens equally, regardless of age or dependent status", according to a statement released by Senators Romney (R-Ut), Marco Rubio (R-Fl), Bill Cassidy (R-La) and Steve Daines (R-Mt). "We should ensure that funds are going where they are needed most," the senators added. "We believe the focus should be on families."
The terms of the CAAF Act would, for example, enable a family of four featuring two dependents to claim $600 more than the CARES Act gave them: $4,000 rather than $3,400. Foreign nationals would not be eligible for the CAAF Act, however.
Monthly Economic Crisis Support Act
In addition to one-off stimulus checks, proposals for further direct cash injections have also included calls for regular payments. One such plan is the Monthly Economic Crisis Support Act, which was introduced in May by Senators Bernie Sanders (I-Vt) and Ed Markey (D-Ma), together with Senator Kamala Harris (D-Ca), who has since been named as Democratic presidential nominee Joe Biden's running mate.
Harris, Sanders and Markey called for people in America to be handed $2,000 a month until three months after the US' secretary of health and human services has declared the Covid-19 public health emergency at an end, with checks also being paid out retroactively right back to the start of the pandemic in March.
It was proposed that the full $2,000 would be sent out to those earning under $100,000, with payments then phasing out to an income limit of $120,000. Up to $4,000 would be given to married couples who file their taxes jointly, while $2,000 would also be given out per child dependent, up to a maximum of three children.
The proposal covered all US residents, including those who don't have a Social Security number.
Emergency Money for the People Act
Introduced by Representatives Ro Khanna (Ca-17) and Tim Ryan (Oh-13) in mid-April, the Emergency Money for the People Act called for a system of regular payments very similar to the Monthly Economic Crisis Support Act, but with higher income thresholds.
$2,000 a month would be distributed to eligible Americans aged 16 and above who earn less than $130,000 a year, with $4,000 going to married couples on under $260,000. The amount paid would go down by 5% for every $1,000 over these income caps.
Although the Emergency Money for the People Act proposed a more inclusive earnings limit, the Monthly Economic Crisis Support Act was more generous to dependents. Rather than sending out $2,000 each, Khanna and Ryan's proposal suggested a lower sum of $500 per dependent, again up to a maximum of three.
That said, the Emergency Money for the People Act sought to include the dependents left out of the CARES Act because of its under-17s age cap. "The individual will receive the payment and their parent or guardian will receive the dependent credit," Khanna said in a statement.
He added: "A one-time, twelve-hundred-dollar check isn't going to cut it. Americans need sustained cash infusions for the duration of this crisis in order to come out on the other side alive, healthy, and ready to get back to work."
Like the Monthly Economic Crisis Support Act, the bill included immigrants without a Social Security number.
However, the astronomical spend that regular checks would entail - the Institute on Taxation and Economic Policy estimated that the Monthly Economic Crisis Support Act would cost at least $5.7tn to implement, far more than the approximately $280bn invested in the CARES Act checks - means they were no more than a "futile proposal", Forbes notes.