Klopp happy to support EFL clubs: "People in a better position should help others"
The Liverpool boss responded to the UK government's warning that it expects Premier League sides to help ease the financial burden on struggling clubs.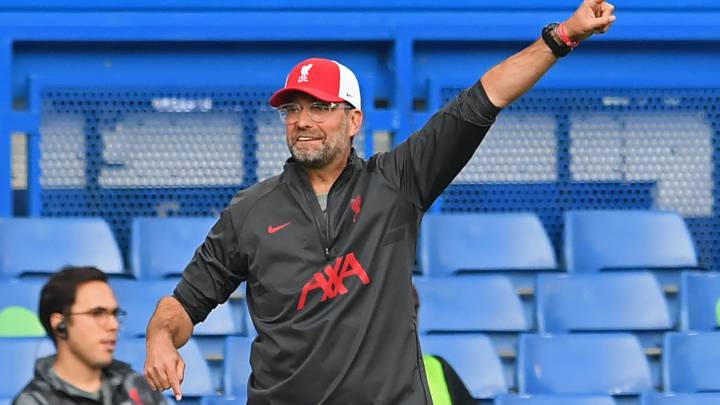 Jurgen Klopp is not afraid to speak his mind and he gave his thoughts on the news that Premier League clubs may be called up to provide support to EFL sides affected by the pandemic.
In his pre-match press conference ahead of Monday's game against Arsenal the Liverpool manager was asked if he believed that top clubs should offer help before the government does.
"Yes, in general I think that people in a better position should help people in a less good position", he answered.
"In Germany it's Bundesliga 1 and 2 so they're together and they can share the problems if you want, and that sometimes makes things slightly easier.
"It's difficult, I don't think there is a general answer. I think people in a better position should help other people but the position in this moment for all clubs is not really easy as we all know", said Klopp, who has previously spoken about the effect that the pandemic has had on Liverpool's transfer activity this summer.
On Thursday sports minister Nigel Huddleston told Parliament that elite sport will have to "look at ways in which it can support itself" rather than relying on government intervention. Huddleston had previously set a target of October 1 for fans to return to stadiums across the country but that has been suspended in line with the UK's new coronavirus restrictions. The news was a blow for lower league clubs in particular, some of whom had allowed 1,000 fans in their ground last weekend as part of a trial scheme.
Speaking directlyabout the government's insistence that Premier League clubs lend a hand, Klopp agreed that the sport has a responsibility to look after itself:
"I don't know really how the government finds time to think about that, I'd have though they have enough to do with other things, but I get it 100%. So yes football should try to help themselves, ourselves, however you would say it."
The news will be a concern to many Premier League clubs who have also been hit by the pandemic and the subsequent loss of matchday income. The league chief Richard Masters revealed that top flight clubs will lose a combined £100million a month while games are played behind closed doors. The richer clubs are better able to deal with the losses than sides in Leagues One and Two but it will still hit them hard.
Lampard on maintaining EFL
Klopp is not the only Premier League manager who believes that top clubs should offer some support and Chelsea boss Frank Lampard recently emphasised the importance of maintaining the football league pyramid for the good of the game:
"I think it's important that the Premier League as a collective looks at supporting the EFL, the leagues below and grassroots football, absolutely," said Lampard, who had a loan spell at third-tier Swansea City as a young player.
"That's the base of why we're all here. I started and [a lot] of the young players started in Sunday league football. I've managed in the Championship. I understand a lot of the difficulties clubs are having, so I think there certainly can be a conversation."