Is Ruben Dias the answer to Pep's defensive worries at Man City?
Pep Guardiola has added another reinforcement to his defence, but is Ruben Dias the answer to Manchester City's problems?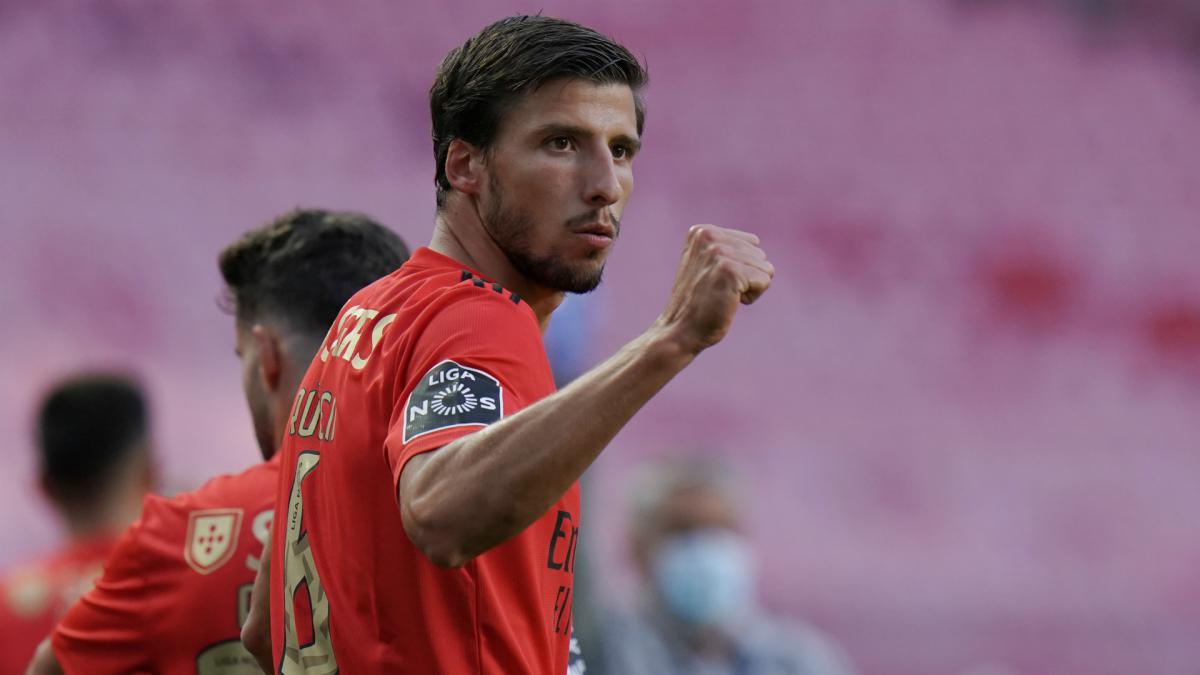 Ruben Dias is the latest player Pep Guardiola is turning to in a bid to address Manchester City's defensive concerns.
Such worries were laid bare in a 5-2 demolition at home to Leicester City in the Premier League on Sunday, marking the first time a Guardiola team had conceded five times in a single game.
Nathan Ake was already brought in from Bournemouth earlier in the window but another centre-back, probably to partner Aymeric Laporte long term, was always likely to be a priority.
Napoli's Kalidou Koulibaly and Jules Kounde of Sevilla emerged as targets but it was Benfica's Dias who Guardiola eventually plumped for, with City agreeing an initial fee of £62million and sending Nicolas Otamendi in the opposite direction.
But is Dias the right answer for Guardiola? Using Opta's league data going back to August 2019, we compare the Portugal international against Laporte, Otamendi, John Stones and Eric Garcia, as well as Koulibaly and Kounde to try to answer that question.
1 - For the first time in 686 games as a manager, Pep Guardiola has seen his side concede five goals. It is also the first time in 438 games at the Etihad Stadium that Manchester City have shipped five goals in any competition. Famous. #MCILEI https://t.co/M3edianY1v

— OptaJoe (@OptaJoe) September 27, 2020
The case for the Dias…
In terms of the basics expected for a defender, Dias – who has the most appearances in our timespan with 35 – compares pretty favourably against our selected players.
His 45 tackles is only beaten by Koulibaly's 55, and the 1.3 tackles made per 90 minutes is better than Garcia (0.8), Kounde (0.9), Laporte (1.1) and the same as Stones. Both Otamendi (1.5) and Koulibaly (2.2) score better.
When it comes to interceptions, it is again Koulibaly who registers highest in direct numbers with 33, three more than Dias on 30.
Assessing the same area over 90 minutes sees Garcia (2.1), Laporte (1.6), Koulibaly (1.3) and Otamendi (1.2) all make more than Dias (0.9), while Kounde has the same and Stones is at 0.7.
Koulibaly is also the leader in blocks made (19) and blocks made per 90 (0.7) but Dias is second with 17 and 0.5 – Otamendi also scoring 0.5 in the latter measurement.
Dias has made the most clearances at 102 but when measured over the course of a game, Otamendi (3.8), Kounde (3.4) and Garcia (3.3) all rank higher than his 2.9.

More physicality needed?
There is a long-standing stereotype that the Premier League is more physical than its European counterparts.
If such an admittedly cliched notion is indeed true then Dias may have to get used to more physicality. His 88 aerial balls won is fewer only than Kounde's, but a 60 per cent aerial success rate is better only than Koulibaly (55) and Garcia (32).
Indeed, per 90 minutes, Kounde (3.7), Otamendi and Stones (both 3.3) each won more aerial balls than Dias (2.5).
For duel success, Dias is bang in the middle, with his 60 per cent lower than Stones (70), Kounde and Laporte (both 63) but higher than Koulibaly, Otamendi (both 57) and Garcia (42).
Encouragingly, Dias made no errors leading to goals in this period (and only one leading to a shot). The only players making a mistake that did result in a goal were Koulibaly and Otamendi (both one).
Kounde, Otamendi and Stones all made two errors that led to the opposition having a shot on goal.
Dias conceded one penalty in our time frame, as did Kounde, Koulibaly and Garcia. He gave away on average 1.1 fouls per game, with only Koulibaly (1.5) averaging more.
Capable of building from the back
Of course, to succeed as a defender under Guardiola, you must be as adept on the ball as you are off it and Dias has plenty to provide encouragement here.
In the 2019-20 season, Dias was involved in 104 open play sequences that led to a shot on goal and started 23 such passages. Only Koulibaly (120 and 30) was involved in more.
Dias is comfortably the best scorer in terms of involvements in open play sequences that led to a goal with 20. Otamendi scored next highest with 12 in this metric. The Portuguese was also responsible for starting three open play sequences that led to a goal – with Stones and Garcia beginning two.
Since August 2019, Dias has a pass success rate of 89 per cent, with only Kounde's 86 coming in lower. But it is not unreasonable to expect this to improve under Guardiola with Stones, Garcia (both 94), Laporte (93) and Otamendi (92) all scoring well.
Dias will quickly learn he is in a team that will spend plenty of time in possession and his 66.3 passes per 90 minutes are likely to go up when you look at the numbers for Laporte (93.6), Garcia (84.3), Stones (82.6) and Otamendi (80.6) in this regard.
Verdict on Dias:
So, we asked is Dias the solution for Guardiola's defensive concerns? Well, and excuse the unashamed fence-sitting, the numbers suggest the jury is out. Let's not forget the 23-year-old is moving to a new league, which brings its own unique challenges. But that is not to say there are not causes for optimism for City fans. His numbers for involvements in open play sequences leading to shots and goals are impressive, while his defensive stats stack up well against the others. There may need to be improvement physically but, given time, Dias can be a great addition to City's backline.