Fede Valverde: "I'll keep running until my legs burst"
"I like to leave everything on the pitch," said the hard-working Uruguayan midlfielder in an interview with Real Madrid Connecta.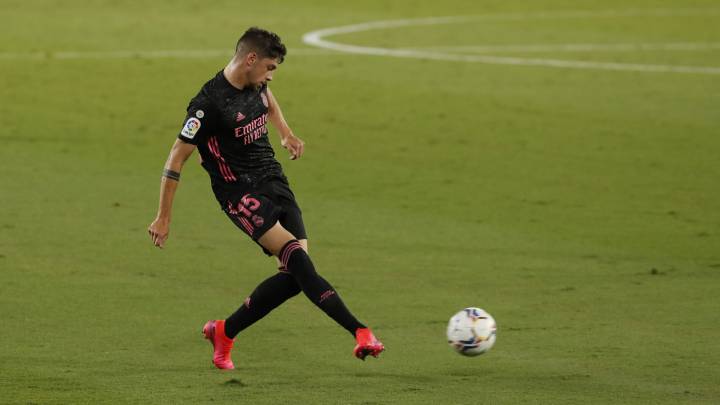 Fede Valverde has given an interview to TV program Real Madrid Conecta on the club's official TV station after scoring in his side's 3-2 victory against Real Betis on Saturday. The Uruguayan midfielder discussed the Betis win, the joy of scoring, growing as a midfielder and learning from veterans like Toni Kroos, Casemiro and Luka Modric.
Fede Valverde: feelings after Betis win
Victory against Betis: "It was a very tough game, they have many quality players and they play well. They are good at defending and they make games difficult. We did well, we pressed when the coach asked us to and that was shown. But the joy is over now and we have to think about looking for another victory on Wednesday (against Valladolid)."
Scoring against Betis: "Scoring gives you a really special feeling of joy and that motivation to continue improving. I enjoy giving my all out there and my job is to run, help the team and keep working until my legs can't take anymore. I dedicated the goal to a lot of people because I don't get many. I dedicated it to my wife, my son, my mum and my brother, who was celebrating his birthday."
Do you ever get tired of running? "That's part of a midfielder's role. I like to leave everything on the pitch. My role is to run as much as I can, my desire is to run until I can't run anymore. I'll keep running until my legs burst, and if I can score much better."
Pass accuracy rate of 92% against Betis: "I am correcting that as I grow as a footballer. You have to improve and work, that facet is one that I have to improve. Running for the sake of running does not work. If you can pass a ball well in addition to running, it helps personally. "
Valverde: Kroos, Casemiro and Modric give me a lot of support
Zinedine Zidane: "He encourages me to get into the box because I've got the physical attributes to do so. I try to listen to what he tells me because it's for my own good. I have to change the things that the boss wants me to and continue to improve."
Working with Kroos, Casemiro and Modric: "They give me a lot. The rivalry within the team is really nice. We compete but there are those good vibes that help you grow. When you play they go out of their way to give you support and good advice. The fact that they advise me helps me to grow a lot. It fills me with pride and happiness that people who have won so much give me advice and help me."
Midfielder's role: "Nowadays it's not enough just to leave it to the forwards to do all they can to score. We need to attack and defend and if we can help them out by scoring, then that's welcome. Our job is to do our bit so that Real Madrid win."
This man is a true gem, the heart & power of the midfield.

Doesn't stop trying even when everyone else does, fights for every ball and plays every game like it's his last.

We're lucky for Fede Valverde. pic.twitter.com/C9BzfT2lId

— Blanco Zone (@theBlancoZone) September 26, 2020
Current squad: "There is plenty of quality; there are many players who have won everything. That is exemplary. For young players, seeing them train hard makes you more motivated. The unity we have… When you have to play, everyone is there to support you. We all have to pull our weight with the same objective in mind: to win many titles."
Personal life: "I am a very quiet person. My life hasn't changed much. I find happiness from giving everything to my son. Everyone is crazy about him that I have fallen into the background but the important thing is that he is well."