Second stimulus check: US Covid-19 relief package update
Democratic congressional leaders and White House chiefs have said they are to restart negotiations over a coronavirus economic stimulus bill.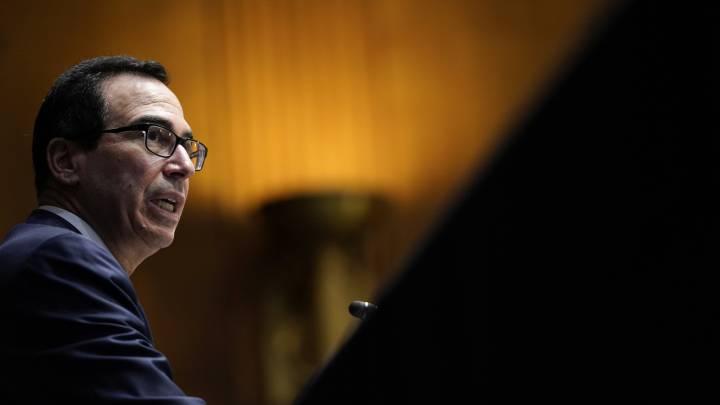 Negotiations over a fifth coronavirus relief package are set to resume, but as Americans await news on a second round of stimulus checks, it appears they shouldn't get their hopes up that a deal can be reached before November's presidential and congressional elections.
Agreement on stimulus check, but not stimulus bill
Stimulus-bill talks between Democratic congressional leaders and White House chiefs representing Republican President Donald Trump have been at an impasse since early August. While Democrats and Republicans seem to concur that another batch of direct payments is needed, there is disagreement over the size of the overall bill in which such a check would be included.
One the one side, the White House's negotiators, Treasury Secretary Steve Mnuchin and Chief of Staff Mark Meadows, say they are unwilling to go higher than $1.3 to $1.5tn; on the other, House Speaker Nancy Pelosi (D-CA) and Senate Minority Leader Chuck Schumer (D-NY) are pushing for a much bigger spend.
Democrats readying $2.4tn coronavirus aid proposal
Last week, indeed, it emerged that House Democrats were preparing a $2.4tn aid proposal that would seek funding for areas such as stimulus checks, enhanced unemployment benefits, the Paycheck Protection Program, small businesses and airlines, and could be put to a vote in the Dem-controlled lower chamber in the coming days.
Though $1tn cheaper than the Democrats' HEROES Act, a stimulus bill stymied by the GOP-held Senate in May, $2.4tn is significantly higher than Mnuchin and Meadows have said they are prepared to spend. Such an outlay would also have no hope of getting anywhere in the Senate, whose Republican majority sought a spend of just $1tn in the HEALS Act, an aid package they put forward in late July.
According to Axios, indeed, the Democrats' potential plan has been branded a "waste of time" by Kevin Brady, a Republican lawmaker from Texas, who added that it "won't get us closer" to a bipartisan agreement over a stimulus package.
Democrats block GOP senators' 'skinny' bill
Senate Republicans this month also proposed a 'skinny' $500bn bill (which did not feature a second check), but this pared-down relief package was blocked in a procedural vote by the Democrats, who have consistently rejected what they call "piecemeal" legislation and are holding out for a more comprehensive bill of measures.
Mnuchin, Pelosi agree to restart relief negotations
Speaking at a Senate Banking Committee hearing on Thursday, Mnuchin said he and Pelosi had agreed to resume talks over coronavirus relief legislation; however, it is unclear exactly when negotiations will resume. "If the Democrats are willing to sit down, I'm willing to sit down anytime for bipartisan legislation. Let's pass something quickly," Mnuchin commented, per Bloomberg. "We are ready for a negotiation," Pelosi said last Wednesday, meanwhile.
Pelosi has said the House will not go on its pre-election recess, scheduled for 2 October, until a stimulus package has been pushed through - and has spoken of her confidence that a deal can be struck before Americans go to the polls on 3 November. "When I have a conversation with the administration, it is in good faith. I trust Secretary Mnuchin to represent something that can reach a solution, and I believe we can come to an agreement," she told CNN on Sunday.
Stimulus bill before elections "unlikely"
However, her optimism is not shared by Maryland Democratic Senator Ben Cardin, who said: "I don't think we are going to get [a stimulus package] done before whatever break we have before the elections." Experts agree with Cardin.
Per Forbes, economists at Wells Fargo Securities believe there is only a one-in-four chance that the sides can reach a compromise in time. "Ultimately, we think the prospects for [pre-election relief legislation] are unlikely, as the current position of the two parties appears to be a bridge too far," says Michael Pugliese of WFS.
Tamara Fucile, a senior adviser for government affairs at the Center on Budget and Policy Priorities, agrees that it "doesn't feel like we're going to get a deal". "The closer you get to the election, I think the harder it is", she was quoted as saying by AARP.
To make matters worse, attentions in Washington have been shifted away from economic relief to the battle over the replacement of the late Supreme Court Justice Ruth Bader Ginsburg, as Trump and the GOP race to confirm the conservative Amy Coney Barrett as the liberal Ginsburg's successor before the elections.
"The Supreme Court fight is likely to take all the oxygen on Capitol Hill through November," Chris Krueger, a strategist with Cowen Washington Research Group, has said.
Live coverage of the coronavirus pandemic
You can stay up-to-date with the latest US developments in the Covid-19 crisis by following our dedicated live blog.