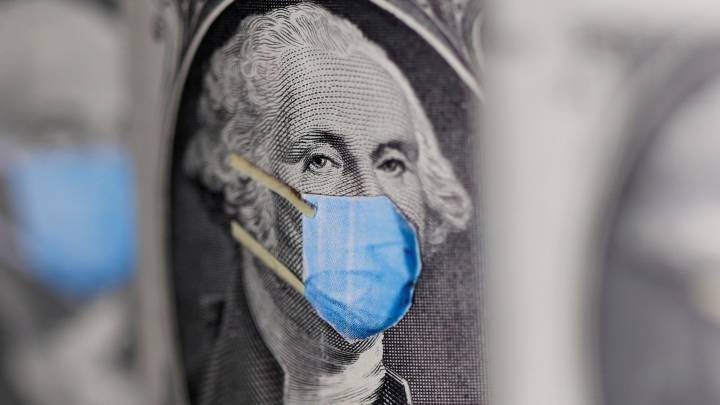 Democratic and Republican negotiators were already tight for time to agree a deal on another economic relief package before Election Day even before President Donald Trump was hospitalised with Covid-19. However, there could be agreement on the outlines of a new stimulus package as soon as mid-week, The Washington Post reported.
Trump expressed urgency to get the bill passed from his hospital bed Saturday.
OUR GREAT USA WANTS & NEEDS STIMULUS. WORK TOGETHER AND GET IT DONE. Thank you!

— Donald J. Trump (@realDonaldTrump) October 3, 2020
House Speaker Pelosi and Treasury Secretary Steven Mnuchin continue to negotiate, but the Republican-controlled Senate will have to approve a bill before it can be signed into law.
"We're making progress," Pelosi said Sunday on Face The Nation. "It just depends on if they understand what we have to do to crush the virus." This new stimulus package under discussion differs from the proposal passed by the House of Representatives on October 1.
NEWS: @SpeakerPelosi on where things stand with the latest round of #COVDI19 relief: "We're making progress."

Adds of if movement could come as soon as this week?

"It just depends on if they understand what we have to do to crush the virus." pic.twitter.com/SV3KikZn1o

— Face The Nation (@FaceTheNation) October 4, 2020
Senate suspended for quarantine
Senate Majority Leader Mitch McConnell suspended his chamber until October 19 after three Republican senators tested positive for Covid-19. However, as Senate floor votes need to be held in person, he said he'd recall senators to vote on a stimulus package if need be, giving them 24 hours to return to the Capitol.
If second stimulus bill passes will I be eligible?
It's looking likely that if a second check passes, the eligibility criteria will largely follow those of the CARES Act which governed the first round of payments. Here is a breakdown of what the likely parameters could be:
Qualifying groups:
Head of household with adjusted gross income of under $146,500.
Couple filing jointly with adjusted gross income of $198,000.
Dependents of any age as defined by your tax filing.
US citizens living abroad.
Citizens of US territories, likely to be included with payments handled by each territory's tax authority
SSDI and tax nonfilers, likely to be included but with an extra step to file.
Disqualified groups:
Noncitizens who pay taxes.
People who owe child support.
To find out how much you could be entitled to in a new round of payments, check the cnet handy calculator.
Potential dates for a vote on the bill (based on Congressional voting schedules) include 9/12 October, 16/19 October and 23/26 October.
Stimulus bill crucial political leverage
In an NBC News / Wall Street Journal Poll released Sunday, voters said Joe Biden would do a better job than Trump in dealing with the coronavirus pandemic by 52% to 35%. The survey gave Biden a 14-point lead, 53% to 39%, over Trump in the general election.
Live coverage of the coronavirus crisis
You can follow live, US-focused coverage of the Covid-19 crisis, including the latest developments in the wake of President Trump's positive test, by reading our dedicated rolling feed.