Barcelona president Bartomeu needs at least 15,000 votes to win referendum
It is estimated that with 12,000 votes or less, he will lose the referendum, between 12,000 and 15,000 he runs a high risk of losing but upwards of 15,000 will be enough.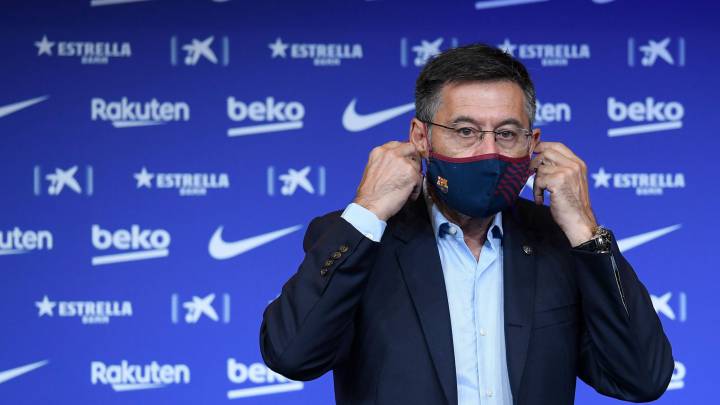 Josep Maria Bartomeu has less than a month to convince 15,000 club members to vote for him in a referendum which there is still no date for, but looks likely to take place on Sunday 25 October, as long as Catalunya's health authorities give the go-ahead.
Sources close to the president have told AS that they have made an estimation of the votes which will be required so that a vote of no confidence cannot proceed. Given that the instigators will need to gain 66.6% support for the motion to go through, Bartomeu's camp believe that with 15,000 club members behind them, the procedure will go no further.
Bartomeu hoping to stave off motion of no confidence
It's important to remember that in the club offices, they are sure that those who have introduced the motion already have 20,000 votes at least, which could easily rise to 25,000 which means that Bartomeu will need an ample cushion of votes to stop a landslide of votes against. For example, if there are 25,000 votes against, Bartomeu will need 13,000 votes in his favour so that the 66,6% limit of votes against isn't reached.
The club estimates that with 12,000 votes from club members or less, they will lose the motion; with 12,000-15,000 there is a high risk that they could lose but with upwards of 15,000 votes, the motion will not be passed.
With 15,000 votes backing Bartomeu, the motion would need 30,000 votes - a considerable figure given the current circumstances. To give you an idea, Bartomeu won the elections in 2015 with a total of 25,823 votes, 10,000 more than Joan Laporta.
In the last referendum for a motion of no confidence in 2008 when Oriol Giralt attempted to get Laporta relived from his duties, the instigators gained a total of 23,870 votes against 14,871 in favour of the president - 60,6% of the votes, just six per cent off their objective.
Not that it will be easy for Bartomeu to convince 15,000 club members to back him. Firstly, because of the restrictions in place due to the coronavirus pandemic, which band meetings of arge groups and secondly, because it is a referendum over maintaining the current board for just five months - until the elections in March; and thirdly, because it is evident that there is a large section of the fanbase who are not happy with how the club has been managed.