Pence at the VP debate: is pink eye a symptom of Covid-19?
Mike Pence's red, inflamed eye during the first and only VP debate with Democratic nominee Kamala Harris was one of the main talking topics on Twitter.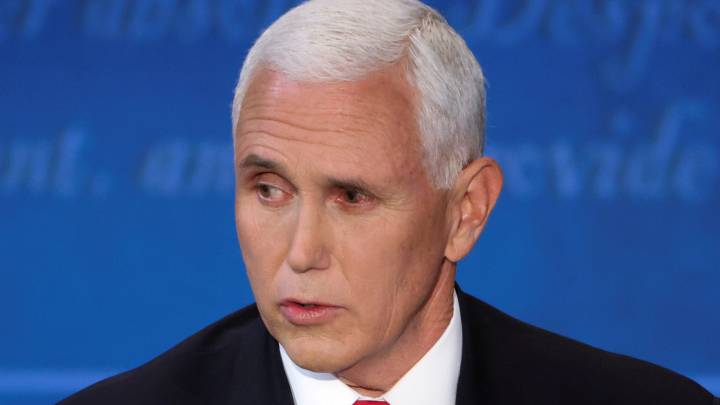 Viewers tuning in to last night's debate between US Vice President Mike Pence and vice presidential candidate, Sen. Kamala Harris were mostly doing so to get their positions on the issues facing the country, with America going to the polls to elect the next president on 3 November.
However, beyond the exchange of words between the two contenders, viewers' attention was grabbed by a notable detail: Pence's apparent conjunctivitis (pink eye), with the current VP's left eye very obviously inflamed and red. Nothing concerning his condition has been confirmed by government officials at this point.
Social media, especially Twitter, was quickly aflame with references to Pence's pink eye, in addition, of course to the fly that landed on his head for several minutes during his speech. Twitter users quickly pointed out that the sclera, as the white part of the eye is called, was notably red, even when seen through the TV cameras.
Is Pink eye a symptom of Covid. Asking for @VP

— Joe Lockhart (@joelockhart) October 8, 2020
As speculation mounted over what appeared to be a case of conjunctivitis, the next big question, given the outbreak of coronavirus at the White House, was: Is pink eye a symptom of Covid-19?
Conjunctivitis is a symptom of Covid-19
Pink eye is in fact one of the many possible symptoms of a coronavirus infection, meaning the speculation over whether Pence should be concerned is far from idle, particularly in light of the fact that, so far, at least 22 people in Trump's inner circle have recently tested positive for the disease.
That said, a Covid-19 infection can in no way be diagnosed from a case of conjunctivitis. The ocular condition is a possible symptom of Covid-19, but it does not necessarily have to be linked to the virus. In fact, eye specialists have stated that the number of Covid-19 patients that have been reported to have eye symptoms is relatively low.
Factors that can cause eye redness
Foreign body or substance in the eye: Anything that does not normally belong in the eye like dust, make-up, a badly placed contact lens can give rise to inflammation and redness.
Dry eyes: As eyes drops commercials are quick to point out, dry eyes can lead to red eyes.
Injury: Any eye injury can cause similar symptoms to what Pence appeared to be suffering from.
Medications: Eyedrops themselves in some cases can cause eye redness.
Allergies: Many allergies can cause eye inflammation, such as pollen.
Blepharitis: This condition occurs when the small oil glands around your eyelashes get clogged.
Broken blood vessels: These are usually painless and clear up eventually, but if you are at all concerned it is worth getting them checked by a medical professional.
Glaucoma: This condition, of excess pressure inside the eye ball, takes time to develop meaning it is less likely to be a short term cause of eye redness. Glaucoma can be a very serious condition and you should regularly have your eyes checked for it.
Inflammatory or autoimmune disease: Examples include sarcoidosis, ankylosing spondylitis, systemic lupus erythematosus or Crohn's disease.
Avoiding Covid-19 infection
Do not rub your eyes: As experts point out, the most common way for the coronavirus to enter through the eyes is by touching your face or rubbing your eyes after your hands have come into contact with an infected surface.
Aerosol transmission: If you have been exposed to aerosol transmission, be particularly careful, because Covid-19 has the ability to spread by both aerosol transmission and respiratory droplets. Just being in the vicinity of an infected person can actually result in transmission through the eyes. Experts suggest wearing glasses in order to create a physical barrier.
Contact lenses: Contact lens wearers have a higher risk of transmitting the virus through their eyes. This is especially true if contact lens-wearers do not practice good hygiene such as not properly cleaning their lenses, sleeping in contacts, not washing their hands...
Do not share eye drops or cosmetics: You can put yourself in direct contact with the virus by sharing products that make contact with the eyes, since the virus can be found and transmitted through ocular secretions, like tears.
Be careful with towels and pillows: Covid-19 can also be transmitted by the use of shared face towels and pillow covers.
What else happened in the debate last night? Harris said she and Biden wouldn't ban fracking and there was a fly on Pence's head.