Al Thawadi: We can't wait for start of Qatar 2022 at Al Bayt Stadium
The secretary general of the 2022 World Cup's organising committee was speaking after FIFA President Gianni Infantino visited Al Bayt Stadium.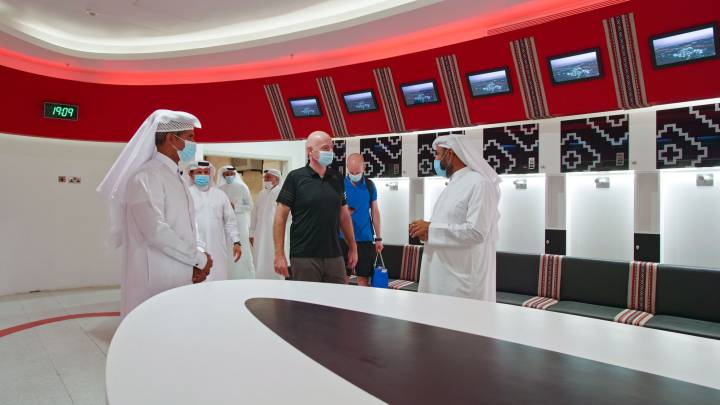 Hassan Al Thawadi, the secretary general of the 2022 FIFA World Cup's Supreme Committee for Delivery and Legacy, has spoken of his pride at the prospect of Qatar hosting football's most prestigious international tournament.
Al Bayt Stadium "carries a special symbolism" - Al Thawadi
Speaking after FIFA President Gianni Infantino visited Al Bayt Stadium on Wednesday, Al Thawadi said: "We are very proud to be the venue for the first edition of the World Cup ever to be held in the Middle East and the Arab world. It's a pride that comes with a sense of responsibility, which has been reinforced by the circumstances the world has had to deal with in the coronavirus crisis. We are optimistic that, come November 2022, we will welcome fans from all continents of the world to celebrate football together here in Qatar."
He continued: "It has been an honour to host Gianni Infantino, the president of FIFA, at Al Bayt Stadium, one of the 2022 World Cup arenas. It carries a special symbolism for us, as the distinctive design of this Al Khor City venue embodies the culture and history of Qatar. We all look forward to the whistle blowing for the start of the World Cup at this stadium."
Meanwhile, 2022 World Cup CEO Nasser Al Khater explained that Qatar's preparations are progressing excellently and that the country can't wait to welcome football fans to the event.
Al Khater said: "The pace of work is accelerating towards the conclusion of all infrastructure projects related to the Qatar World Cup, as it is estimated that there is a completion rate of nearly 90%. Our preparations for hosting the World Cup are witnessing a transition from the stage of completing the necessary infrastructure to focusing more on detailed plans." He added that the Supreme Committee also continues to step up its efforts to promote the 2022 World Cup, with the goal of ensuring the largest possible number of fans can attend the tournament.
Al Bayt capacity to be reduced after 2022 World Cup
Following the World Cup, the capacity of Al Bayt Stadium will be reduced to 32,000, enabling thousands of seats to be used to build footballing infrastructure elsewhere in Qatar and abroad.
Al-Bayt Stadium will also include a shopping centre, a gym and a branch of Aspetar, the orthopaedic and sports-medicine hospital.
Members of the local community have already begun to benefit from the post-World Cup legacy of Al Bayt Stadium, following the opening of a public park in the area surrounding the arena. The park includes running and cycling tracks, spaces for children to play, and cafés and restaurants.