Stimulus check update: Trump new offer not enough to pass bill before election
McConnell makes it crystal clear that Supreme Court nominee confirmation takes priority over stimulus payments, while Trump signs off on highest total yet.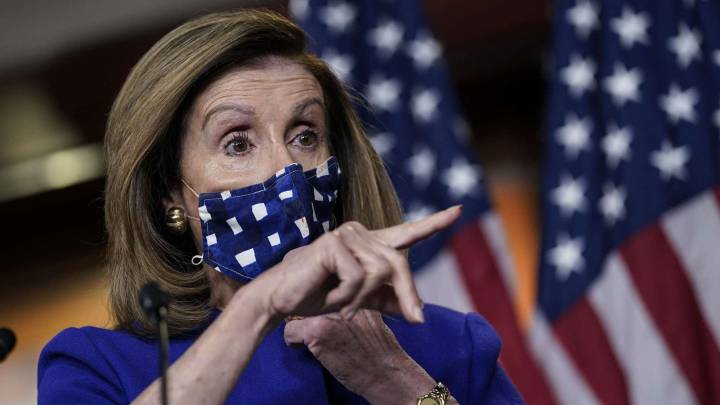 At the end of a bizarre and tumultuous week for the stimulus bill negotiations, fresh talks today brought mixed messages on the timeline for an agreement.
Pelosi – Mnuchin discussions ongoing
Tweeting Friday afternoon, House Speaker Nancy Pelosi's deputy chief of staff Drew Hammill confirmed that his boss and Treasury Secretary Steve Mnuchin had spoken on the phone, and that the Republican had presented proposals attempting to address some key concerns the Democrats still have.
The Speaker and Secretary Mnuchin spoke at 1:40 p.m. via phone for just over 30 minutes. Today, the Secretary returned to the table with a proposal that attempted to address some of the concerns Democrats have. (1/2)

— Drew Hammill (@Drew_Hammill) October 9, 2020
The exact concerns aren't known at this stage, but Hammill expanded that a particular concern was the "absence of an agreement on a strategic plan to crush the virus". Echoing Pelosi's own words earlier this week.
Trump weighs in on talks, contradicts himself
According to two anonymous sources, CNN reported that Donald Trump has signed off on a roughly $1.8 trillion counter offer to be presented to Pelosi, the highest figure yet to be put forward by Republicans but still significantly lower than the $2.2 tn bill passed in the House by Democrats last week. It is thought that Pelosi is unwilling to agree to anything below $2 trillion.
Considering that many Republicans are point-blank opposed to any new aid, and more are hesitant to pass anything above $1tn, the offer from Trump is risky within the party, and indicates a certain urgency on his part to get a deal done as soon as possible.
6) The Administration is now discussing a $1.8 trillion proposal. Remember that Senate Majority Leader Mitch McConnell (R-KY) has repeatedly noted that there is a wide swath of his conference who oppose doing anything else for regarding coronavirus.

— Chad Pergram (@ChadPergram) October 9, 2020
In a theatrical twist Friday afternoon, Trump contradicted his own latest offer to Pelosi, which remains far below the Speaker's demands when he said, while being interviewed on 'The Rush Limbaugh Show', "I would like to see a bigger stimulus package, frankly, than either the Democrats or Republicans are offering," continuing that he's "going in the exact opposite now…maybe it helps or maybe it hurts negotiations."
The sentiment was echoed by the president on Twitter.
Covid Relief Negotiations are moving along. Go Big!

— Donald J. Trump (@realDonaldTrump) October 9, 2020
This news comes just days after Trump flip-flopped aggressively shutting down talks completely, before abruptly doing a 180 and reopening them again.
McConnell: Supreme Court takes priority over stimulus
The fresh talks on the details of a bipartisan bill came on the same day that Senate Majority Leader Mitch McConnell cast significant doubt about the possibility that any deal could pass through Congress ahead of election day.
"The situation is kinda murky, and I think the murkiness is a result of the proximity to the election," McConnell told reporters at an event in Kentucky. "And everybody trying to elbow for political advantage. I'd like to see us rise above that like we did back in March and April but I think that's unlikely in the next three weeks."
11) Even in the middle of a pandemic, McConnell reverted to what President Trump said in his Tuesday tweet-storm, putting the kibosh on the talks.

"The first item of priority of the Senate is the Supreme Court," said McConnell.

— Chad Pergram (@ChadPergram) October 9, 2020
A week of contradictions for Trump
In a series of tweets posted on Tuesday, Republican President Trump said he had told his negotiators - Treasury Secretary Steve Mnuchin and White House Chief of Staff Mark Meadows - to walk away from stimulus talks with Democratic congressional leaders, adding that the GOP-held Senate's pre-election focus should be on confirming Judge Amy Coney Barrett on the Supreme Court.
"[Democratic negotiator] Nancy Pelosi is asking for $2.4 Trillion Dollars to bailout poorly run, high crime, Democrat States, money that is in no way related to COVID-19," Trump said, in a tweet that misstates the price of Democrats' most recent stimulus-bill proposal, which was actually $2.2tn. "We made a very generous offer of $1.6 Trillion Dollars and, as usual, she is not negotiating in good faith.
"I am rejecting their request, and looking to the future of our Country. I have instructed my representatives to stop negotiating until after the election when, immediately after I win, we will pass a major Stimulus Bill that focuses on hardworking Americans and Small Business. I have asked [Senate Majority Leader] Mitch McConnell not to delay, but to instead focus full time on approving my outstanding nominee to the United States Supreme Court, Amy Coney Barrett."
Trump's decision to pull out of relief-bill negotiations comes just three days after the president, who has been receiving treatment for Covid-19 since last week, tweeted from the Walter Reed National Military Medical Center: "OUR GREAT USA WANTS & NEEDS STIMULUS. WORK TOGETHER AND GET IT DONE."
Federal Reserve Chair stresses need for economic relief
Federal Reserve Chair Jerome Powell urged Congress this week to pass fresh stimulus, saying in a speech for the National Association for Business Economics: "Too little support would lead to a weak recovery, creating unnecessary hardship for households and businesses […]. By contrast, the risks of overdoing it seem, for now, to be smaller. Even if policy actions ultimately prove to be greater than needed, they will not go to waste."
Pelosi: Trump in altered state
Also today, Pelosi unveiled a new plan to invoke the 25th Amendment, expressing implicit concern for Trump's ability to carry out his duties as president, since contracting and being treated with a cocktail of drugs for covid-19.
"The President is, shall we say, in an altered state right now, so I don't know how to answer for his behavior," Pelosi said Thursday. She then went on to reference the law that dictates that a Commander-in-chief can be temporarily replaced if incapacitated; saying that Trump is suffering a "disassociation from reality".
Live coverage of the coronavirus pandemic
You can follow live coverage of the covid-19 crisis in the US by reading our dedicated rolling feed.