ENGLAND
Rashford chasing Jimmy Greaves landmark as England prepare for Denmark
Manchester United's Marcus Rashford will hope to equal a special Jimmy Greaves achievement when England face Denmark.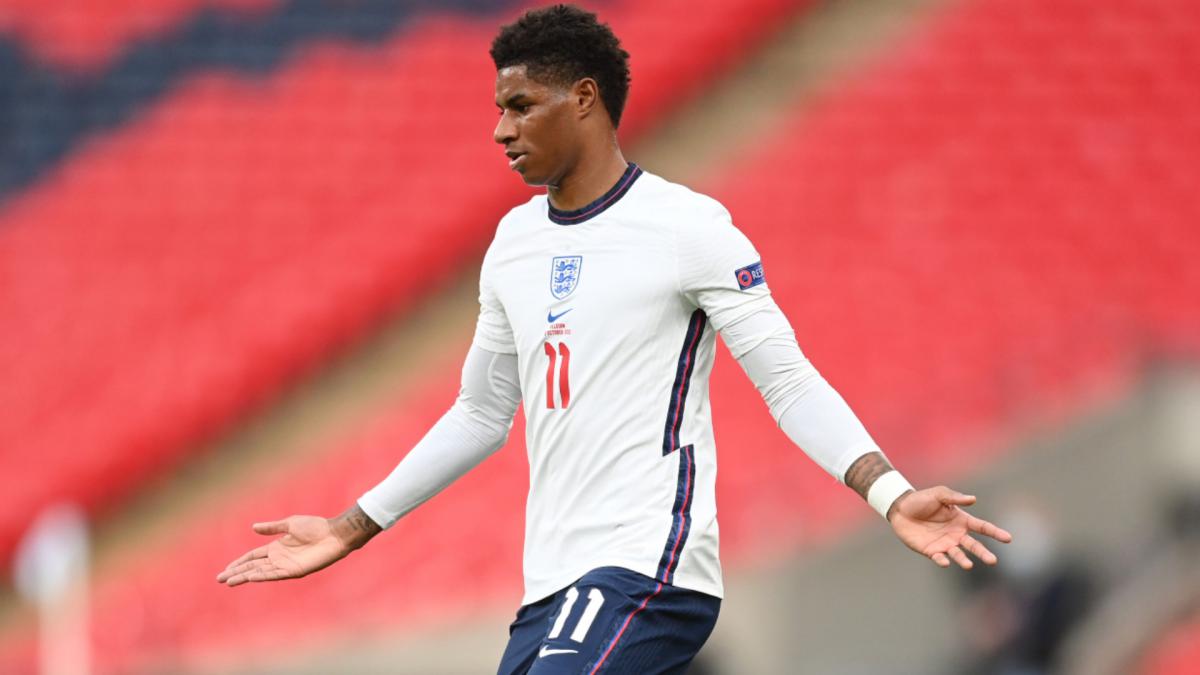 Marcus Rashford heads into Wednesday's Nations League clash between England and Denmark with another milestone in his sights.
As a player to score on his debuts in the Premier League, Europa League, Champions League and EFL Cup for Manchester United, as well as his first international outing in 2016, the forward is no stranger to landmarks.
His confident penalty on Sunday helped England defeat Belgium 2-1 at Wembley as Gareth Southgate became the first Three Lions boss to win 10 competitive matches at the new national stadium. It also stretched their unbeaten run on Sundays to 10 years, going back to a 4-1 loss to Germany at the 2010 World Cup.
Rashford has now scored in four consecutive international games. The 22-year-old is the youngest player to do so since Jimmy Greaves way back in 1961.
Greaves is the only England player to score in five England matches in a row while under the age of 23 since the Second World War. Rashford, whose birthday is on October 31, will have one more chance to emulate that feat against Denmark.
The penalty was Rashford's only shot of the half and he only created a goalscoring opportunity for a team-mate once. Indeed, former United captain Roy Keane was less than impressed with the forward's performance in a first half in which England struggled against the world's top-ranked side.
"Rashford, in the first half, was going through the motions," Keane said on ITV. "I just want to make a point: Rashford, his body language in the first half, he needs to do better.
"And then he started doing what he should be doing: running at people, getting forward, doing things quickly. Gareth Southgate should have said something at half-time: 'Cut out this nonsense, kind of standing on the ball'. Remember what got you into this England team and that's running at people. That's your strength."
Southgate also admitted England were caught out at times in the first half but was delighted with their renewed efforts after the break, particularly with the forwards - Rashford chief among them - pressing harder. He and striker Dominic Calvert-Lewin contested 11 duels, more than any player except Belgium's Toby Alderweireld.
"The way they used the ball, they showed tremendous composure," Southgate said. "Defensively, the whole team, they defended as a team, and in these games, you have to.
"It's impossible to carry anybody without the ball. Marcus, Mason [Mount], Dominic, then Harry [Kane] - positionally close to perfect, intelligent in their pressing, had the legs to go and press which meant then the midfield players don't have to jump out of position, and then the back players aren't exposed with bodies in between the lines and turned and causing them problems."
Rashford also helped to carve out arguably England's best chance of the half, exchanging passes with Declan Rice in a swift counter-attack before firing a little way over the crossbar.
"Pass it and run, pass it and move," urged Keane, who praised the "excellent" link-up play in the sequence. Such enterprise will be needed if Rashford is to reach another milestone, and if England are to inflict upon Denmark what would be just a third defeat in 40 games.