Mourinho: Messi agreed to Chelsea transfer in 2014
This summer isn't the first time Leo Messi has tried to leave Camp Nou. Six years ago, Mourinho had agreed terms only for the player's father to scupper the deal.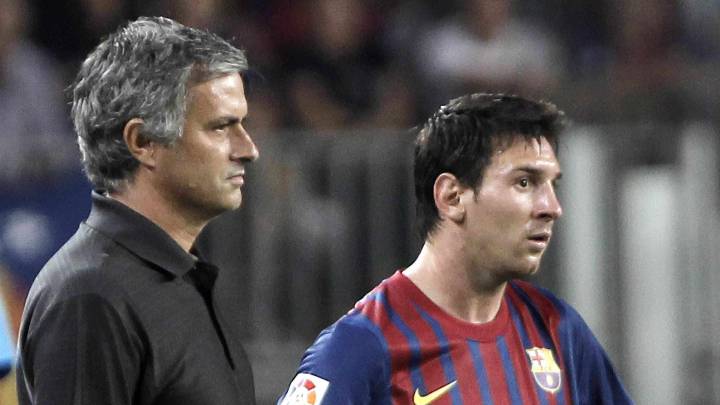 Leo Messi's attempt to leave Barcelona this summer was well-documented but came to nothing largely due to a potential legal wrangle over the small matter of his €700m release clause despite inevitable interest from across Europe, most notably from Manchester City, PSG and Inter Milan.
However, according to Italian journalist Gianluca Di Marzo, Messi was on the verge of leaving Camp Nou in 2014 after a season in which the Azulgrana did not win a major trophy under Gerardo Martino, who delivered the Spanish Super Cup at the start of the campaign. Atlético pipped Barça to the league title on the final day of the season and also knocked Messi and co out of the Champions League while Real Madrid were victorious in the Copa del Rey final.
Mourinho wooed Messi for Chelsea
In a new book, Di Marzio claims to tell the tale of the biggest transfer stories that never made the back pages and chief among them is an agreement apparently made between Messi and José Mourinho for the Argentinean superstar to join forces with his old foe at Stamford Bridge. Chelsea were willing to activate Messi's release clause, which then stood at €250m, and commit to an annual salary of €50m to land the Barcelona forward. According to Di Marzio, a video call between Messi and Mourinho led to a verbal agreement between player and manager and the "biggest transfer story never told."
But the move did not materialize due to the opposition of the player's father, Jorge Messi, and the advice of former Barcelona and Chelsea midfielder Deco.
Di Marzio also claims that Florentino Pérez had tried to tempt Messi to sign for Real Madrid a year earlier in 2013 but that the Argentina captain flatly refused any negotiation with Barcelona's arch-rivals.