Mbappé: Real Madrid in pole position to sign PSG striker
Real Madrid president Florentino Pérez is handling the matter personally, given the transfer's importance to the Spanish club's future plans.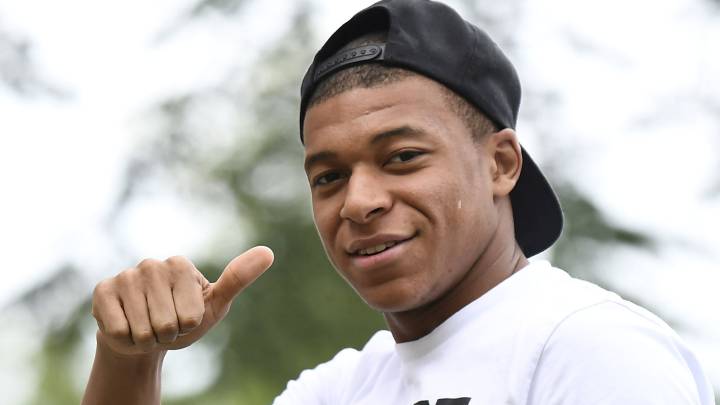 As their pursuit of Kylian Mbappé approaches its crucial phase, Real Madrid remain in pole position to land the Paris Saint-Germain and France striker next summer.
Pérez working hard to make Mbappé Real Madrid move happen
Given that the signing of Mbappé is a crucial part of Madrid's future plans and will only be successfully brokered if the matter is handled flawlessly, club president Florentino Pérez is overseeing the process personally. It's a deal that will require the utmost diplomacy, as the key to the transfer is not in Paris, but in Doha.
Pérez has been treading carefully in his dealings with PSG's Qatari owners for a few years now, allowing him to steal a march on his competitors in the battle for Mbappé's signature. Also working in Los Blancos' favour is that the player idolises Madrid head coach and compatriot Zinedine Zidane, a figure he sees as a mentor.
Mbappé only has eyes for Real Madrid and Zidane
As Mbappé prepares to head into the final 18 months of his contract at PSG - a club who have tried, and failed, to persuade him to sign a new, five-year deal worth 150 million euros after tax - his list of suitors is growing. The latest interest in the 21-year-old has come from Barcelona presidential candidate Víctor Font, who is keen to steal the star from under Madrid's noses.
Having made contact with Mbappé's camp, however, Font has been left in no doubt that the footballer only has eyes for Real Madrid and Zidane, and has been eager to play for Los Merengues ever since meeting the club's current coach when he spent a week training at Valdebebas as a 13-year-old.
In February, Mbappé remembered the experience in an open letter in The Players' Tribune that was a declaration of love for Madrid and Zidane. "Right before my 14th birthday, I got an incredible surprise," he wrote. "My father received a call from someone at Real Madrid, inviting me to come to Spain for a training session over the holiday break. It was a shock, because they actually told my father, 'Zidane would like to see your son.' At the time, Zizou was the sporting director. Of course, I was over the moon. I was desperate to go [...].
"I will never forget the moment that we arrived at the training center from the airport. Zidane met us in the parking lot by his car, and it was a really nice car, of course. We said hello, and then he offered to drive me over to the field for training. He was pointing at the front seat, like, 'Go on, get in.'
"But I just froze and I asked, 'Should I take off my shoes?' Hahaha! I don't know why I said that. But it was Zizou's car! He thought that was really funny. He said, 'Of course not, come on, get in.' He drove me to the training pitch, and I was just thinking to myself, I am in Zizou's car. I am Kylian from Bondy. This is not real. I must still be sleeping on the airplane. Sometimes, even when you are really living something, it feels like a dream."
Klopp keen to take Mbappé to Liverpool
Mbappé is not only being eyed by Font, but also Liverpool manager Jürgen Klopp. Though aware of the player's strong desire to work with Zidane, the Anfield boss nonetheless has designs on luring him to the Premier League champions.
Since his statement of intent in The Players' Tribune, Mbappé has been taking the necessary steps towards making a Madrid move happen. Some public, such as his social-media nods to Bernabéu legends; others private, and of no little significance. One is his decision to hire Delphine Verheyden, a leading sports lawyer who is known in Paris as the 'Iron Lady' and is slated for a key role in taking him to Spain.