Real Madrid's Asensio: "I could have gone to Barcelona"
Marco Asensio could have gone to Barcelona but thanks to Rafa Nadal's uncle he ended up at Real Madrid. He discussed that, his injury and more in an interview with Post United.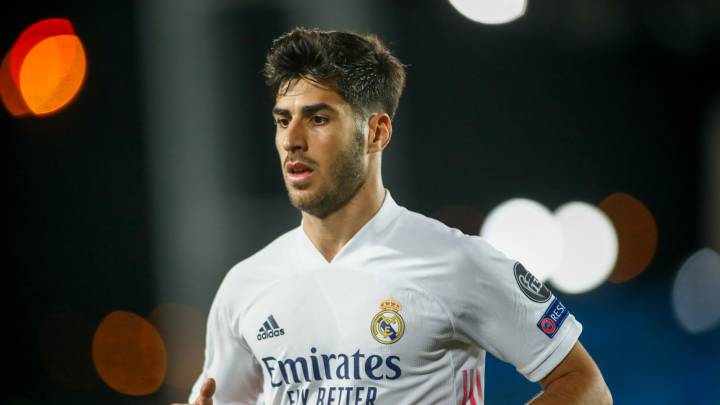 On July 24, 2019, Real Madrid's Marco Asensio suffered a tear in his anterior cruciate ligament (ACL) in a pre-season friendly against Bayern Munich that ended his season before it had even begun. After a long road to recovery, the Mallorca-born attacker made his return to the field in June against Valencia, netting a goal within 30 seconds of coming on as a substitute.
The 24-year-old Spaniard has given an interview on the Post United podcast, in which he discussed in detail his horror injury and lessons it has thought him, as well as his current situation since making his joyous return.
Marco Asensio on Real Madrid
How do you handle the pressure with everything that is expected of you?
I am very excited about this year, I had a very difficult year because of the ACL tear and when you are injured you realise that, on a day-to-day basis, you take it for granted when you are well. I have worked hard to make this year a good one for me.
Bale has left and no one has come in. Do you have Zidane's confidence?
I've always had it. Now I have to demonstrate it on the field and that is my intention, I'll say it again that I am very excited about this year.
Was there really no need for new signings?
Much has been said about this topic, but I think we have one of the best squads in the world, with a lot of depth. We can all play and it is important that we are ready to do so, because the calendar will be very demanding.
Can Sevilla and Atléti fight for LaLiga?
Yes, Atléti have been fighting for several years now and Sevilla has a great coach (Julen Lopetegui) and a great team. They are rivals for LaLiga, without a doubt.
Who is the rival to beat in the Champions League? Bayern? Liverpool?
The champion is always the rival to beat. The Champions League is very tough and that gives more value to what we achieved a few years ago. Each season the teams are more prepared and anyone can stand up to you. It is going to be complicated, but we have the dream of reaching the final.
Asensio on his injury
With the injury, did you come to think that you wouldn't play again?
Firstly, the most important thing is to be informed. I had no idea what I had and I asked a lot to know for sure. Once you get used to the idea, in my case, I became aware and thought: "it will be tough but you have to return". And so, it was like that from day one.
What was the worst thing you remember about your injury?
The way to the hospital in the ambulance. I was in a lot of pain; the ambulance was going super-fast and there were a lot of potholes. I was on my mobile, talking to my family ... it was very difficult.
What positives have you taken from the injury?
To value my health in general much more; to be able to enjoy football again. It strengthens your mind a lot and you start to take training and preparation more seriously ... I think this has had more positive than negative things.
Do you feel stronger than before?
I feel very good. At the end of last season, I was still recovering my rhythm, it's a difficult and slow process, but I have worked very well to feel fast, strong, with that spark that is needed to play at a high level and I am very good.
What a goal against Valencia, 25 seconds after returning to the field ...
At that moment you remember the 11 months of not being able to play and it is an explosion of emotions, of joy, of almost not being able to hold back the tears. I remembered everyone, my family, the doctors ... It was super special.
How has change to number '11' been?
With '20' I had completed a stage of my career and I was excited to have a new number. The 11-shirt camp up, I liked it and I took it. I want to grow at this club with it.
Asensio on ending up at Real Madrid
Is it true that you could have gone to Barcelona?
Yes, I could have, but also to other clubs. There are always great clubs interested who ask about your situation. When I signed for Madrid it was all very fast, the treatment was spectacular and they showed incredible interest. When that opportunity presents itself it is impossible to say no.
And is it true that Rafa Nadal recommended your signing?
So they say! He really likes football and Madrid. His uncle was part of the sports direction at Mallorca. He called and said: "there is a very good kid who has to play for Madrid". It was me and that's how it started.
Have you received a big offer from Liverpool?
There are many clubs that have been interested at many moments, but my idea is to continue succeeding at Madrid. I want to stay here.
Apart from Zidane, who was your idol as a child?
Raúl. He was an example that I like to follow in Madrid because he was Spanish, the captain, and because of what he gave to the fans beyond the goals ... He is a very good example for me becaue of everything he gave to the fans.