Who is Sergiño Dest, the first American to play in El Clásico?
The American was in Koeman's starting line-up and also did the post-match pitch-side interview, having to tell the interviewer: "I speak English"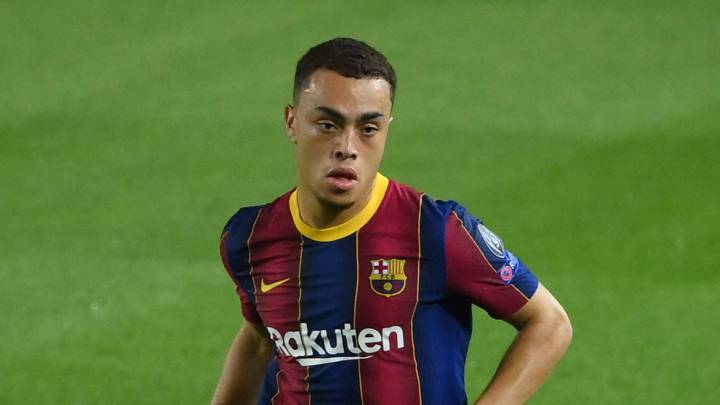 Sergiño Dest was one of the new signings that Ronald Koeman requested as he took over the reins this season at Barcelona.
As well as being one several budding stars from a potential golden generation coming out of the US, he's already gained the trust of the Dutch coach on the right-hand side in such an important game. Dest's role was primarily to prevent Vinicius making inroads down Madrid's left, and pushing him back as often as possible.
**Barcelona 1-3 Real Madrid match report**
Dest becomes first Clásico American
With the announcement of the line-ups for this famous clash, the American defender made history, becoming the first player from the US to feature in the fixture. For LaLiga this means one more nationality added to the long list of countries to have been represented in arguably the biggest rivalry, at least in some regards, in world football.
With the addition of Dest and the United States, El Clásico has now registered players from 44 different countries who wore the shirt of one of these clubs. Spain has the most players with 624, followed by Brazil with 44 and Argentina with 36. How long until the US can add to their tally?
Dest: "I speak English"
Dest had a solid game, but maybe his most memorable moment came after the match, when the Barcelona senior players sent the 19 -year-old out to do the post-match interview following the 3-1 defeat to their historic rivals. Asked the first question by the interviewer in Spanish, Dest had to point out he only speaks English. The interviewer recovered well and managed to fire some questions off in English, which Dest responded to with composure, admitting though that he was "pissed" at the defeat.
Barcelona senior players shirk all responsibility and send Dest, who doesn't speak Spanish, to do the post-match interview. That's quite something.

— AS English (@English_AS) October 24, 2020
Great moment on Spanish TV just now as Sergiño Dest is put up for the post-match flash interview, apparently without anyone realising that he doesn't speak Spanish... Awkward

— The Spanish Football Podcast (@tsf_podcast) October 24, 2020