Second stimulus check update: US coronavirus relief bill
The logjam in negotiations on covid-19 support continues, with both sides remaining hopeful that a deal can be struck, but no indication of when.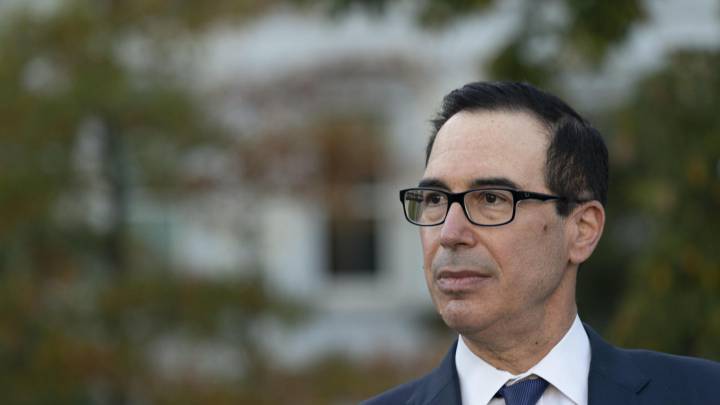 The GOP's latest "skinny" relief bill for which a vote was held in the Senate this week, was dead on arrival. Meanwhile, talks between Pelosi and Mnuchin continue for a much larger package and chances of a bill being approved before election day are slim to none.
Millions of Americans will be hoping that the package includes provision for a second round of the $1,200 stimulus checks that were first issued six months ago.
No stimulus, no hope for latest GOP "skinny" bill

Senate Democrats on Wedneday blocked a new Republican "skinny" coronavirus relief bill. The total was $500 billion and included expanded unemployment benefits, funding for schools and a second round of the Payment Protection Program. It did not include a second round of Economic Impact Payments (the $1,200 checks for individuals).
The Democrat-led House of Representatives passed a $2.2 trillion bill called the HEROES Act, which had little chance of passing in the Republican-controlled Senate where many are fiercely opposed to any bill exceeding a total of $1 trillion.
This new bill didn't come close to the figure that the Democrats are holding out for and may include funds initially provided for by the CARES Act. When asked about the disparity between his and Pelosi's current positions, McConnell said: "Republicans do not agree that nothing is better than something for working families."
Pelosi - Mnuchin negotiations continue, so does the blame game
Both Democrat Speaker of the House Nancy Pelosi and Republican Treasury Secretary Steven Mnuchin have reverted to finger-pointing in the face of mounting criticism and frustration among citizens desperate for another relief payment. When asked by MSNBC on Friday if a deal could be struck, Pelosi said "We could do that before the election, if the president wants to."
Mnuchin told reporters that the two sides had made significant progress, but put the responsibility on Pelosi for further movement. "We've offered compromises," he said. "The speaker, on a number of issues, is still dug in. If she wants to compromise, there will be a deal."
Both Pelosi and White House Chief of Staff Mark Meadows remain optimistic that an agreement can be reached soon. "Hopefully we can get a deal in the next day or so," Meadows said. "We're still working through it, Secretary Mnuchin and I have talked and we're still working with her teams, but actually making adjustments and trying to look at language to reach a compromise."
Trump wants stimulus, can't offer big enough total
In recent weeks Trump has weighed into the negotations, until this month largely headed up by his Treasury Secretary Setevn Mnuchin. The President called for Republicans to support a more expensive bill despite it clashing with the party's ideological resistance to large-scale government spending.
The President had baulked at the Democrat's initial $2.2 trillion package when he was first presented with it and refused to go any higher than $1.6 trillion in financial relief. However he upped that to a new $1.8 trillion package but the Democrat-led House of Representatives appears unlikely to accept any deal below $2 trillion.
Pelosi described Trump's latest offer as "insufficient" and claimed that it "amounted to one step forward, two steps back" in negotiation.
Trump desperate for pre-election economic boost
The matter of financial support for an ailing economy would always have caused a rift between the two major parties but the proximity to the election on 3 November makes these discussions even more contentious. The President is behind in the polls and needs to offer the electorate something significant if he is to see off challenger Joe Biden and secure a second term. After last week's announcement that he was ending negotiations on a stimulus bill, the market suffered a sharp downturn as the pospect of immediate financial support appeared unlikely.
The far-reaching political implications of these discussions is no secret and Pelosi has accused Trump of now attempting to force through any financial support to strengthen his standing before Americans head to the polls, saying: "[Trump] only wants his name on a check to go out before Election Day and for the [stock] market to go up."
The Brookings Institution: New stimulus package could rescue economy by mid-2021
While negotiations between the two sides continue the non-profit research body The Brookings Institution has conducted a series of studies into the economic consequence of potential stimulus packages.
They found that a total government expenditure of $2 trillion could see the economy return to pre-pandemic levels by the third quarter of next year, with GDP increasing by 4%. The package suggested by Brookings would be comprised of five sets of $400 billion programmes: stimulus checks, unemployment benefits, state and local aid, another round of the Paycheck Protection Program (PPP), and other provisions like airline help and testing.
It remains to be seen if and when the government will be able to pass a new stimulus bill to include another round of Economic Impact Payments but the evidence from Brookings seems to suggest that it could have a substantial effect on the US economy.
Live coverage of the coronavirus pandemic
You can follow live coverage of the covid-19 crisis in the US by reading our dedicated rolling feed