Will US Halloween 2020 be celebrated or is it cancelled?
It's not cancelled of course; but some activities will have to change. Keep yourself and others safe while getting your fright-fix this year.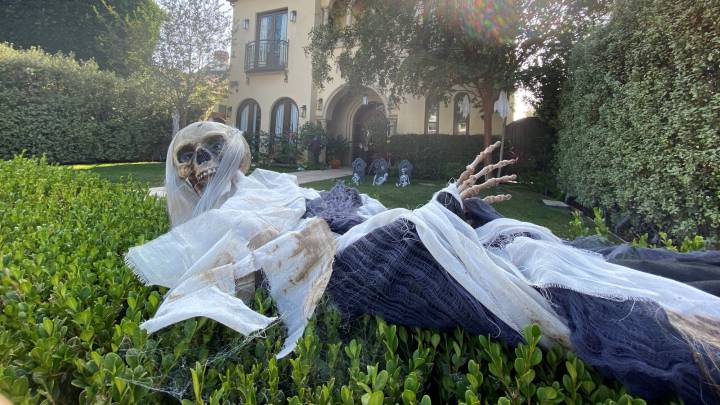 The great news is that no, Halloween is not cancelled. But it will definitely be different this year. Traditional-style trick-or-treating is out, pumpkin carving, scavenger hunts and scary movies are in.
This year in the US;
More than 148 million adults plan to participate in Halloween-related activities, in spite of the pandemic.
One quarter of all the candy sold annually is bought for Halloween.
Americans spend around $8-9 billion every year on Halloween, making it the largest commercial holiday apart from Christmas.
The top five costumes for children in 2020 are princess, Spiderman, superhero, ghost, and Batman.
James Walsh, an artist and designer, placed a large wood cutout of the numbers "2020" in his front yard.

Right next to them is a sign that reads, "It was the scariest thing I could think of ..." https://t.co/eKASHRPXAZ

— ABC News (@ABC) October 24, 2020
Covid-19 has done a pretty good job of scaring away a lot of great things this year, but is Halloween one of them? Not if you follow the guidelines and get a bit creative; after all, the kids could do with having a bit of fun.
What is it safe to do this Halloween?
Here are the covid-19 transmission risk categories for events, according to the CDC:
Lowest risk: Virtual-only gatherings, for example video conferences for games and costume contests. Pumpkin carving and hanging decorations in the house and on your porch or in the backyard also counts as low risk, as well as scavenger hunts if you keep the little ones close. Watching a scary movie, sharing ghost stories or cooking a spooky supper with your household is relatively risk-free, too!
Moderate risk: Small outdoor gatherings where individuals from different households stay six feet apart while wearing face masks apply here. The CDC states that one-way trick-or-treating (where goodie bags are lined up at the edge of a driveway) holds lower risk than regular trick-or-treating. Visiting pumpkin patches or orchards with masks and hand sanitizer fall in this category, as well as outdoor mazes or haunted "forests" where people can remain six feet apart. The CDC makes a special note on any activity where screaming is expected: "The greater the distance, the lower the risk of spreading a respiratory virus."
Higher risk: Traditional trick-or-treating where treats are handed to children at a doorstep is high risk of course. Indoor costume parties or haunted houses fall into this category as well. It's harder to maintain distance, there may not be any ventilation for droplets to escape and screaming adds to the risk of tramission too. Some outdoor activities are even considered high-risk: Going on "hayrides or tractor rides with people who are not in your household," as well as those who wish to travel to another destination for a fall festival.
Other factors to take into account that determine risk: The final amount of people at any event, the amount of vulnerable or particularly at-risk guests in attendance, the size of the location, and local transmission rates and new cases in the area.
With the CDC's guidelines in mind, it's safe to say that some Halloween traditions aren't at all safe during the pandemic, and could be restricted moving forward. Halloween parties or events, like those at schools or community centers, will look vastly different this year, if they're held at all. And given that some states have travel restrictions to keep new cases at bay (CNN has published a full list of restrictions), any sort of long-distance travel for Halloween tours in spooky locales will be more difficult, as well as risky.
What covid-safe Halloween events are on?
The New York Times has compiled a list of six drive-through movies and events all over the country. If there's one near you, it's relatively safe and super spooky.
Lehighton, Pennsylvania
On the menu here is a double feature of "The Thing From Another World" (1951) and "The Thing" (1982) and a screening of "Nightmare on Elm Street 4: The Dream Master" with cast members making an appearance, including Lisa Wilcox, who played the final girl and the Freddy Krueger opponent Alice Johnson.
Pilsen, Chicago
Music Box of Horrors at the Drive-In
Celebrating this scare season with a 31-night run of drive in movies. Horror theme nights include Grindhouse Fridays ("Evilspeak" and "Black Christmas") and Sequel Sundays ("Psycho 3," "Hello Mary Lou: Prom Night 2").
Splendora, Texas
Not a move night, but guaranteed to give you a fright. Taking it slow at two to three miles an hour, cars drive round the 10 installations, with while costumed actors and vivid animatronics, making up scenes such as a haunted carnival and a killer gas station.
Costa Mesa, California
The NY Times reports that on this drive, cars take paths to four outdoor spaces featuring elaborately designed, creepy set pieces where stories based on Southern California urban legends come to life. Expect to see supernatural cave dwellers inspired by the nearby Blackstar Canyon and a "warehouse rave disco queen" update of the Bloody Mary myth.
Los Angeles
An open-air drive along Legg Lake, with a "creature safari," where you can search forcostumed monsters among the trees, haunted tableaus, where masked characters deliver pre-packed bites, including cinnamon-sugar doughnut churros, and fall-inspired drinks like hot apple cider and a virtual campfire consisting of 3-D projections of flickering flames and ghost stories that come to life.
Roseville, Minnesota
As camp as it is creepy, this show takes place at a parking lot at the Rosedale Center mall outside Minneapolis. You'll watch a short film on your phone about a murderer on the loose, then hand in your phone and your car keys. The rest remains a mystery, but safe to say your car might need a clean from the blood and gore by the end...
If you're hoping to go to an event and aren't sure if it's going ahead, USA today has compiled a list of the 37 announced events that are cancelled across the country.
If you do go out this Halloween, avoid passing candies or other items person-to-person, follow social distancing guidelines and stay in the open air, wear a good mask properly (two or three layers of fabric, and over your mouth and nose) and bring hand sanitiser.
Find out all about why we celebrate Halloween.