Asensio is back in the equation at Real Madrid
Having played the last five games for Real Madrid, three of them as a starter, Asensio is once again a protagonist for Zinedine Zidane.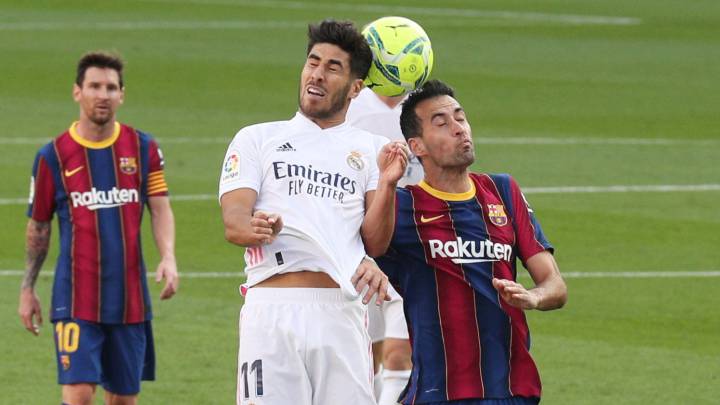 The wings are the most volatile positions in Zidane's eleven, where the French coach has opted for several variants over the campaign so far. But in the Clásico, the first important game of the season, Zizou put his faith Marco Asensio.
The previous two defeats prompted Zidane to strengthen the centre of the field for the Clásico, with Kroos, Modric and Valverde accompanying Casemiro. The Madrid boss trusted in the formula that has given him so many successes in the past, opting to start Asensio in a position that, against Barcelona, had the added responsibility of giving support to Nacho (and eventually Lucas Vázquez after Nacho's injury) to keep Jordi Alba at bay.
Zidane has a lot of confidence in Asensio. The serious injury he suffered last season prevented him from stamping his mark on one of the most competitive positions on Zidane's team, but to which no one could claim a permanent hold in his absence.
Asensio takes Bale's 11 shirt
Asensio has become the owner of the 11 shirt with the exit of Bale, and the appreciation between coach and player is mutual. "We understand each other very well, almost just by looking at each other. He told me to score a goal", revealed Asensio when talking about what Zidane said to him before he came on in the game against Valencia after the coronavirus suspension. It was his first appearance back after recovering from his horror injury and it took him half a minute to satisfy his coach's wish. He ended up contributing two more goals on the way to Madrid's 34th LaLiga title.
Asensio has been envisioned to become a regular fixture in Madrid's attacking trident alongside Hazard and Benzema – an offensive line of which Real Madrid has been deprived because of both Isco's injury and Hazard's recurrent injuries. The three have only coincided on the field for nine minutes, in the aforementioned game against Valencia that marked Asensio's return.
The prudence that Zidane has shown when it comes to reintroducing injured players to the fold meant that Asensio only played 362 minutes in the final 12 games of last season following the coronavirus suspension.
In the seven games played so far this season, Marco has played 318 minutes, making him the 11th most-used player in the squad. Having played the last five games, three of them as a starter, Asensio is a protagonist once again.