Zidane: "There is no problem between Benzema and Vinicius"
Speaking in his press conference ahead of Real Madrid's match against Huesca on Saturday, head coach Zinedine Zidane discussed several topics, including Karim Benzema's recent comments about Vinicius Jr.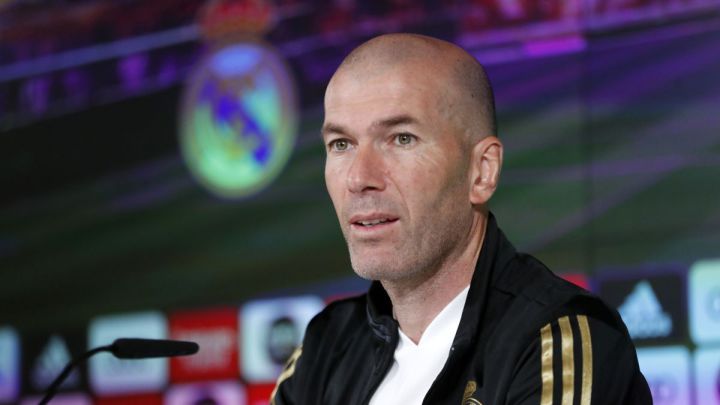 Speaking in his pre-match press conference ahead of Real Madrid's league fixture at home to Huesca on Saturday, head coach Zinedine Zidane discussed several topics, including Karim Benzema's recent comments about Vinicius Jr.
On Benzema/Vinicius
A lot of things are said on the pitch and it stays there. We need our energy for other things. They've spoken. It's perfect. There's no problem, quite the opposite. They've trained well. It's been cleared up.
Vinicius' state of mind
He is here, he is young, he has a present and a future at Real Madrid. He works and he is also a boy who wants to learn, improve, and that is good for a coach and a team.
Benzema's criticism of Vinicius
I don't think it will harm his image. There are many cameras around today, more than before, but everything stays on the pitch. It has always happened. I did it when I was a player too and others also criticised me.
Lucas Vázquez's contract is up in 2021
We know the player and the person he is. He can play anywhere, his energy is very good. We have difficulties at the moment on the right side and he has done phenomenally well against Barcelona, and the other day in the Champions League. His energy is always positive.
On motivating players against smaller sides
We have to play tomorrow's game. A rival comes and there are three points at stake, be it Huesca or Barcelona. We must only think this way. It's what the players think.
On a proposed European Super League
I heard it, like everyone else, but I already have enough with what we have, which is many games and no rest. We cannot even enjoy it when we win. The important thing is tomorrow. Tomorrow would be for me and the players the last game that we are going to play, and even more so these days with everything that is happening in life. We have to enjoy this every day.
Hazard's return from injury
He's training well every day with us. The most important thing is that he's feeling good. When he gets injured, of course, it's very complicated because these guys just want to be out on the pitch, enjoying what they like doing best. Things get complicated when they are away. I hope the rest of the injured players can return quickly to be with us, all together. We have many games ahead of us and we all need to be prepared for that.
Facing Huesca
Clearly they are dangerous. We have always talked about that. In Spain there are no small teams. They are all very competitive and strong, this league is spectacular. There are three very important points at stake.
The upcoming Champions League match against Inter
The final we have is tomorrow. There is no such thing as thinking about Tuesday. Our game tomorrow is fundamental. We can't look beyond today and tomorrow. The players are aware of that too. It's tomorrow and that's it. We have to give it our all tomorrow on the pitch.