1
Aubameyang strike enough for Arsenal to see off United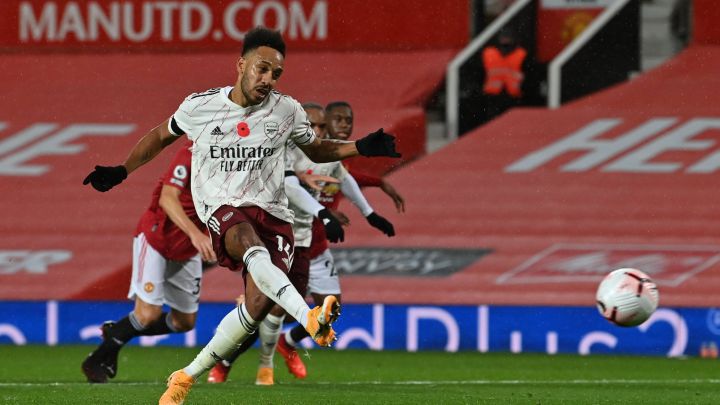 Manchester United vs Arsenal: as it happened

Paul Pogba looks on in despair as his foul on Hector Bellerin gives Arsenal a penalty.
Big win for The Gunners this afternoon. They were the better team throughout and fought very hard to get all three points.
Arsenal win for the first time in the league at Old Trafford since 2006!
Full-time: Manchester United 0-1 Arsenal
Cavani commits a foul on Gabriel and it's a free and yellow card
Nketiah takes the ball into the corner for Arsenal.
Matic sends it straight into Leno's hands. Poor strike, easy take!
United have 2 minutes to score!
Elneny closes Shaw down, slow from United. Brilliant defending from Elneny and the ball goes out for a throw.
Poor corner from Rashford.
Arsenal scrapping very hard!
We have 4 minutes of added time
Free out to Arsenal for a Maguire foul
Shaw chips the ball in and it's cleared!
Every United player in the Arsenal half now. And they get a free-kick!
Arsenal very tight and compact
2 minutes of the 90 left! Still 0-1
Arsenal going to a back 5 now with Mustafi coming in.
Matic is trying to force Aubameyang off the pitch. Aubameyang gets a booking for his behaviour.
Arsenal sub:
Off Aubameyang
ON Mustafi
Are we about to see a famous Arsenal victory at Old Trafford?
United thrwoing the kitchen sink at Arsenal now!
It smaks Leno on the forehead and comes back out off the post.
An absolute siege on the Arsenal goal. Van de Beek drives it in and it rattles the post after taking a deflection.
Matic is appealing for a penalty but it's highly unlikely.
United continue to chase a goal. Cavani tries to find Pogba but it's well defended by Arsenal.
Leno comes and catches a Pogba cross - United pouring players forward and have kind of lost shape. Going for it!
It looks like Pogba has moved into a false 9 role, behind Cavani.
Arsenal playing very compact now, they have everyone back!
So much talent in this Manchester United team - you wouldn't bet against them scoring!
We're inside the last 10 minutes...Still 1-0 to Arsenal!
Rob Holding is down and is receiving treatment. He has been very steady this afternoon, keeping United in check.
Rashford's long-range shot hits his teammate McTominay and flies over the bar.
United appeal for a penalty from a Luke Shaw cross but it's waved on. Arsenal have 13 minutes to hang on. Still no home win for Man United in the league this season? we'll know shortly
Nketiah clears Man United corner, poor corner.
Arsenal change:
OFF Lacazette
ON Nketiah
Another United change:
OFF Fernandes
ON Van de Beek
Can the former PSG man rescue United?
United sub:
OFF Greenwood
ON Cavani
Very clumsy tackle from Gabriel. He's on a yellow and needs to be careful!
United will be livid with Pogba for that challenge on Bellerin to give away the penalty.
United are going for changes!
Van de Beek is warming up
Arsenal's last league victory at Old Trafford was in September 2006.
Yellow card Mason Greenwood! Takes Lacazette out of it. Can have no complaints with that one.
United have 20 minutes to pull something out of the bag!
On the balance of play, Arsenal deserve to be ahead.
It's Manchester United 0-1 Arsenal - lovely penalty from Aubameyang. It's his first goal since the first game of the season.
It's a definite penalty. Pogba isn't near the ball.
Pogba takes Bellerin down and it's a penalty to the away side!
Penalty! disaster for Man United
Gabriel very comfortable in position. He looks an excellent player. Something better about a left-footed centre-back.
Really good couple of opportunities for Arsenal. Elneny strikes from the edge of the box but it's high and wide. Well struck.
Not the best game for Fred today - he was quite limited in possession today. Matic comes in, a player now under pressure for his place.
Manchester United change:
OFF Fred
ON Matic
Like for like swap
Bruno Fernandes is more on the ball this half. Pogba tackled by Partey just as he's about to shoot.
Nobody can hold onto possession in the last few minutes. Bit sloppy on a wet surface.
A third clean-sheet in a row today for David De Gea would be great for the Spaniard's confidence.
Partey strikes but it's straight at David De Gea. Two former Atletico Madrid men.

Bruno Fernandes shoots on goal.
It's a horrible evening in Manchester. A goal is what we need! Remains goalless.
Bellerin shoves Pogba to the ground. Free-kick to Man United. Maguire sends his header across the face of the goal. Very, very close from the big defender. Just goes wide. United livelier in the second half.
Pogba beats Partey with a nice piece of skill and sends a cross in that is headed away by Holding at the near post. Holding getting his head to everything today.
Sooooooooo close!!
Aubameyang has got to score but he sidefoots it wide of De Gea's post.
Brilliant defending from Greenwood, tracking back down the right side to give Wan-Bissaka a hand.
The ref intercepts the pass and we have a dropped ball!
Both teams line out the same for the second half. United sticking to their diamond formation.
Frantic start to the opening part of the second half. Has Solskjaer borrowed Fergie's hairdryer?
Harry Maguire can't get any direction on his header from Fernandes' corner. Better from United, getting at Arsenal.
Holding clears a United corner - Fernandes swings it back in and Holding, yet again, clears!
United get us underway for the second half!
The players are making their way out for the second half at Old Trafford!

Bukayo Saka sends his free header over the bar just before half-time.
Scoreless at Old Trafford - Arsenal the better side and playing the better football this evening. United have plenty to discuss at the break.
Half-time: Manchester United 0-0 Arsenal
Saka free header!
The winger gets up really well and heads over the bar. Super cross from Bellerin.
Arsenal's shape is definitely outnumbering United in the midfield. The width Arsenal have is making tough work of United's diamond.
We may see a couple of half-time changes from Ole Gunnar Solskjaer. Edinson Cavani will be looking to come and make a difference. United haven't looked like the home side. Donny van de Beek for the anonymous Pogba could be another change.
On the replay we can see the fresh air shot from Lacazette was because of a vital interception from Victor Lindelof. Good defending. Arsenal really close in the last couple of attacks.
Pierre-Emerick Aubameyang ties up Lacazette but he miss-hits the ball right in front of goal! great chance, the French striker will be annoyed with himself after that shank.
United are struggling to find a rhythm in the middle. Paul Pogba is under pressure to perform of late. Still no goals but it's an exciting game we have on our hands.
Thomas Partey is winning the midfield battle so far here, excellent in breaking it up, keeping possession and starting moves.

Harry Maguire battles for possession with Alexandre Lacazette.
0-0 as we head into the 32nd minute at a wet Old Trafford.
Really lively few minutes now - Manchester United starting to have their spell after a strong start from Arsenal.
Another booking for Arsenal! This time it's for centre-back Gabriel!
Thomas Partey looks like he is settling really well into life life at Arsenal. He'll be sorely missed by Atlético Madrid.
It's bucketing down now at Old Trafford!
Rob Holding goes in the book, he has been overly aggressive so far, some might say!
Willian swings in free-kick but it's cleared by Pogba. Foul on Pogba and it's looking like a yellow card.
Saka wins the ball from Wan-Bissaka! Free-kick to Arsenal. Still 0-0 at Old Trafford.
Fred is booked for a foul on Willian.
Leno saves!
Superb ball in behind Holding from Rashford into the path of Greenwood and Leno does enough to clear. Good effort!

Manchester United players observe a minute of silence in remembrance of Britain's war dead and for former Manchester United and England midfielder Nobby Stiles.
10 goals in the Premier League for Greenwood last season - he'll be hoping for double figures again this time around.
Greenwood offside. Fernandes slides the young forward through but he's flagged for offside. First real threat from the home side.
United so far forced to play the long ball. No real energy or tempo from United in the opening 17 minutes.
Rashford down after clashing with Holding. The last thing United need is their midweek hat-trick hero getting injured.
Chance Arsenal!
Bellerin sends a fantastic cross across the face of the goal but it's too strong for Aubameyang at the back post.
All Arsenal so far. The away side keeping the ball for now. Much more aggressive from Arsenal. Look to be moving quicker than United. Long way to go still but Arteta will be pleased.
Brilliant move by Arsenal. Driving run from Partey creates a good chance but United clear.
The Gunners have gone with a back 3 of Holding, Gabriel and Tierney this evening.
Arsenal have started well, pressing United high. United not been able to get it up the field thus far.
Willian trots over to take the corner. First corner of game. Fernandes clears a poor delivery from Willian.
Plenty of exciting youngsters on the pitch this evening. Saka, Rashford, and Greenword to name a few.
Arsenal with new signing Thomas Partey in midfield playing ahead of a back 3.
Paul Pogba is joined in the middle with Fred and McTominay. Looks like Fred will sit as the deepest with Fernandes ahead of the 3 in a diamond.
We're underway at Old Trafford for this iconic fixture!
Arsenal get us going and are playing from right to left.
And now the players stand for a minute silence for the late Nobby Stiles.
The players are in the tunnel!
Kick-off in under 5 minutes! Arsenal have both fond and depressing memories of playing in Manchester. The Wiltord moment as well as the 8-2 defeat with Arsene Wenger getting sent off.
It's a grey, wet evening at Old Trafford. Normally The Threatre of Dreams would be rocking on days like today, with 75,000+ fans.
Today's game is one of the famous Premier League fixtures.
It's certainly strange to see both sides start so low in the table. Arsenal are 13th, Man United are 15th.

The man of the moment!
Marcus Rashford warms up prior to the Premier League match between Manchester United and Arsenal at Old Trafford. He has been exceptional on and off the pitch recently. A role model for young kids and still just 22!
We're going to have a minute silence before kick-off this afternoon for former England and Manchester United player Nobby Stiles, who passed away on Friday at the age of 78.
Kick-off at Old Trafford is in just under 20 minutes.

Tributes are seen outside the stadium today for former Manchester United player Nobby Stiles prior to the Premier League match between Manchester United and Arsenal at Old Trafford. (Getty Images)
United hoping for back-to-back wins
Ole Gunnar Solskjaer's side are looking to build on an impressive 5-0 home win over RB Leipzig in the Champions League on Wednesday.
Manchester United players arriving to Old Trafford earlier this afternoon
United currently sit 15th in the table and will be looking for all three points this afteroon.
Arsenal have announced their starting XI
Thomas Partey gets the nod to start after being rested in the Europa League win over Dundalk on Thursday.
Manchester United's starting XI
Ole Gunnar Solskjaer has selected Paul Pogba to start today's match. Edinson Cavani starts on the bench.
Tributes paid to the late great Nobby Stiles
Tributes are paid to the late great Nobby Stiles MBE outside Old Trafford ahead of this afternoon's game. Stiles won the 1966 World Cup with England and the European Cup with United in 1968. He died on Friday at the age of 78.
Arsenal striker Pierre Emerick Aubameyang has been impressed by new signing Thomas Partey from Atlético Madrid. Partey joined the London club on the last day of the transfer window for €50m.

Arsenal's last five games
The Gunners' latest victory came against Irish side Dundalk in the Europa League on Thursday night.
Manchester United's last five games
Some impressive performances recently from Solskjaer's side. especially in Europe.

Ole Gunnar Solskjaer's 100th game in charge
Ole Gunnar Solskjaer will take charge of his 100th game as Manchester United boss when his side host Arsenal in the Premier League on Sunday.
The Norwegian initially revitalised United after succeeding Jose Mourinho on a caretaker basis in December 2018 and was handed the job permanently three months later.
Solskjaer's time at Old Trafford has not exactly been plain sailing, though, with the former striker coming in for frequent criticism during his near two years at the helm.
Across Solskjaer's previous 99 games in charge, United have won 55, drawn 21 and lost 23.
That gives the former Molde and Cardiff City boss a win percentage of 56, behind only Ernest Mangnall (64 per cent) - in charge between 1903 and 1912 - and Jose Mourinho (62 per cent).
Louis van Gaal also ranks highly on the list, winning 52 of his first 100 matches, putting him level with the iconic Matt Busby and one win better off than next best Ron Atkinson.
For further context, Alex Ferguson won 48, drew 31 and lost 21 of his opening century of games, albeit having taken over a club in entirely different circumstances to the one he left behind in 2013.
How and where you can watch today's mouthwatering clash
Find all the details in the link below.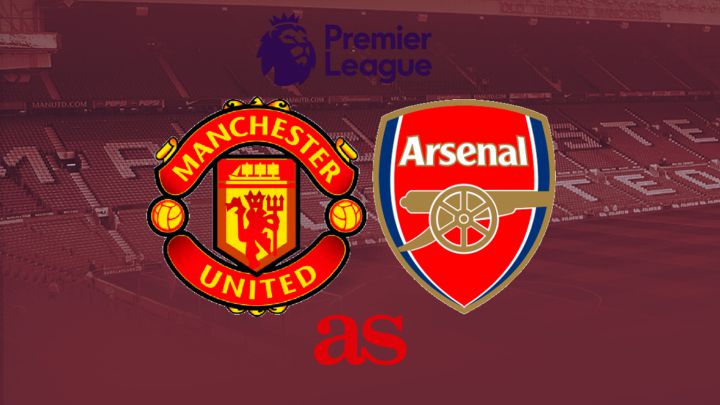 Manchester United vs Arsenal live: welcome
Hello and welcome to AS English's live coverage of this famous Premier League fixture as Manchester United host Arsenal at Old Trafford. Kick-off is at 17:30 CEST.
.