Liverpool: Klopp defends Salah diving - "There was clear contact, he has a knock"
Mohamed Salah was accused of diving to win a penalty against West Ham, but manager Jürgen Klopp has leapt to his defence, saying Masuaku made contact.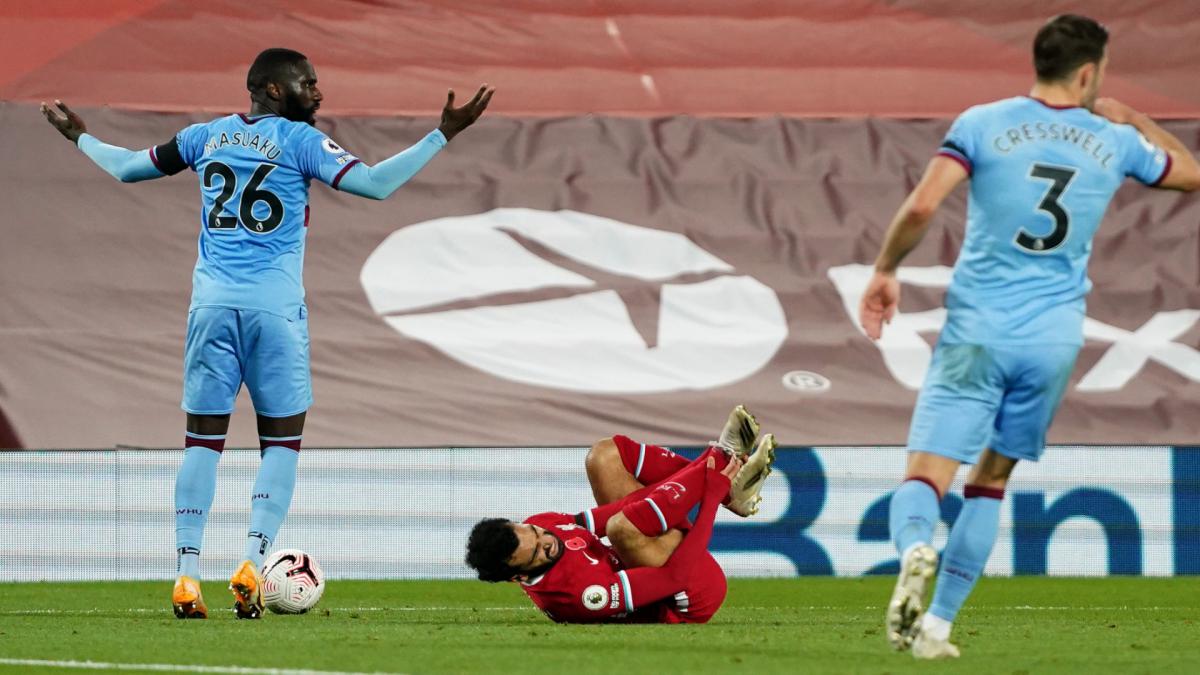 Jürgen Klopp has made defended Mohamed Salah following accusations that the forward dived to win a penalty in Saturday's game against West Ham. Klopp has scotched such claims and argued that the Egyptian sustained a noticeable knock to his foot in the challenge.
Salah's ankle clipped
The champions fell behind to Pablo Fornals' goal at Anfield, but fought back to claim a 2-1 win. Salah blasted in the equaliser from the spot, with Arthur Masuaku penalised for fouling him, although the Liverpool star has been criticised for making the most of supposedly minimal contact with the top of his foot. But Klopp insists Salah is being treated unfairly, claiming he is suffering from three blows to his foot, one of which was from Masuaku's challenge.
When asked ahead of Tuesday's Champions League clash with Atalanta if the scrutiny of Salah is fair, Klopp replied: "No – I don't know what people need. What can I say? It was a foul I think for pretty much everyone who saw the situation. Believe it or not, yesterday morning I spoke to Mo about how he feels and he has exactly three proper knocks on the foot, and one is from the penalty situation. That's how it is, there's a knock, you go down or not, whatever, sometimes the ref whistles it. We don't talk that long about penalties we don't get, yet here we are two days after the game talking about it. There was clear contact, so no, I don't understand the criticism."
Hot Jota equals Luis García feat
Diogo Jota got the winner coming off the bench against the Hammers, making it three goal scoring appearances in a row across all competitions for the Portugal international, a recent arrival from Wolves. He became the first player to score in his first three Anfield league appearances since Luis García in 2004/5.
There have been calls from some quarters for Jota to replace the misfiring Roberto Firmino in the Liverpool starting XI, and although Klopp would not be drawn on that debate, he dismissed the notion that the 23-year-old's start to life with the Reds has been surprising.
"He's good, our players should be when they join," Klopp added. "He's the best age, 23, already experienced, played a lot of Premier League football. He's a good boy and a really good signing, that's the situation. We never hold players back in beginning, it's just that they usually need time to adapt but we knew before that it wouldn't take took long because way Wolves play. They play a different system, but the intensity level is always incredibly high. Only one player who has to defend slightly less, [Raúl] Jiménez, then the boys on the wings they have to run like crazy, so it was clear physically he'll be fine and technically we saw he's good. The rest is about finding your feet in a new environment and the boys always make it easy, and Diogo a really good guy, his English is brilliant, so it's easy to step into the squad. It's good that we have more than 11 players who look like they are in good shape at the moment."
Liverpool top Group D
Liverpool head into the Atalanta clash having won both of their first two matches, though Klopp has lost all five of his away Champions League games in Italy. Additionally, Atalanta have only failed to score in one of their past 19 games in European competition excluding qualifiers, scoring 40 goals in that period.