Der Klassiker: How Kimmich and Goretzka have made Thiago a distant memory for Bayern
Joshua Kimmich and Leon Goretzka have combined to make Bayern Munich's post-Thiago midfield no less formidable.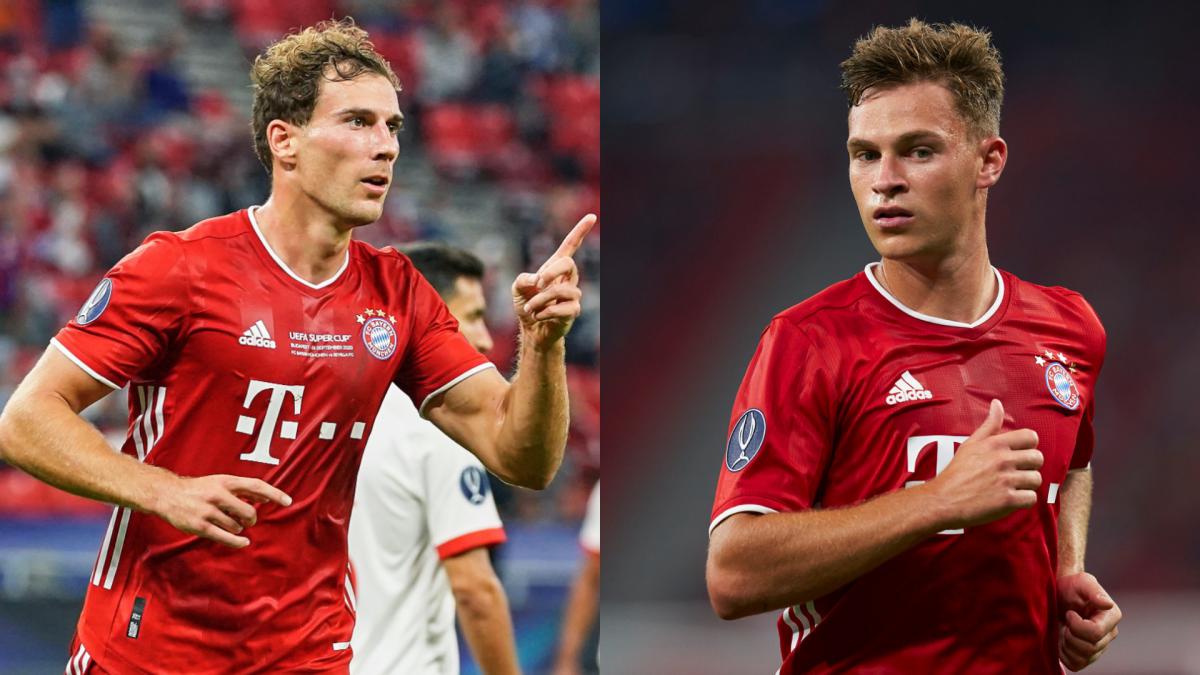 Losing Thiago Alcantara would be a crushing blow to most teams in the world, but Bayern Munich are not like most teams.
While the Spain star – having helped to inspire last season's treble triumph – is adjusting to Premier League life with Liverpool, his former employers have set about defending their three trophies with such authority that they scarcely seem to feel his absence.
Aside from the aberration of that 4-1 loss to Hoffenheim, which came only a month after the Champions League final win over Paris Saint-Germain, Bayern have won every match this season. That run of 11 wins in 12 games includes an 8-0 Bundesliga destruction of Schalke, victories in the UEFA Super Cup and DFL-Supercup and 12 goals scored in three Champions League matches.
Their most recent, a 6-2 win at Salzburg, saw Joshua Kimmich reach seven assists in his past six appearances in the competition. The previous match, a 2-1 victory over Lokomotiv Moscow, was secured by goals from Kimmich and Leon Goretzka.
These results are not only snapshots of the midfield duo's importance to Hansi Flick in these post-Thiago years; they also highlight how each player is taking his game to new heights to keep Bayern at cruising altitude.
The goal trail
In the Bundesliga last season, Kimmich (four goals and seven assists) and Goretzka (six goals and five assists) easily outperformed Thiago (three goals and zero assists) in terms of goal involvements. That said, Thiago had an Expected Assists rating of 2.3, while Kimmich's was way up at 11.3, suggesting even an attack led by Robert Lewandowski will miss its fair share of chances.
Of course, for the Bayern midfield axis, goal involvement is a bonus rather than an expectation. Exponents of this position are required to win back and recycle possession and, in 2019-20, neither Kimmich nor Goretzka could better Thiago for passing accuracy (91 per cent), tackle success (58 per cent) or duel success (59 per cent). He also averaged more touches per 90 minutes (109).
This season, however, we see both players rising to the challenge of filling that Thiago void. Kimmich's passing success (90 per cent) is the same, but his tackle and duel success rates have risen slightly to 60 per cent. Goretzka, too, has had very similar levels of increase. More pertinently, each player is having more shots and more touches per 90 minutes on average and they are already on the goal trail: they've scored one each, while Goretzka has assisted one and Kimmich four.
Kimmich, in fact, is the solitary Bundesliga central midfielder to be involved in five goals this season, and only Thomas Muller and Jonas Hofmann can match his four assists. He is on track to match his assist tally of seven from last season before we have even reached the winter break.
Axis of Power
This attacking output from Kimmich in particular has been a tactic Bayern have been building on since last season, when, despite the occasional return to his old right-back haunt, his role was almost always at the heart of the midfield.
After his winning goal in the Supercup win over Borussia Dortmund, Flick described how Kimmich was "well on his way to being one of the players that shape this club". He certainly shapes their approach.
In 2019-20, Kimmich was involved in 202 open-play sequences that ended in a shot, and 27 ended with a goal. They are far superior figures to those of Thiago (141 and 17) and Goretzka (103 and 15). In the Bundesliga overall, only Timo Werner (214) was involved in more sequences ending in a shot last term.
Similarly, Kimmich registered 21 goal build-up involvements, more than Thiago (14) and Goretzka (four) put together, although admittedly Goretzka is more likely to be the one putting the ball in the net at the end of these moves.
This season, though, Goretzka has stepped up: he has been involved in 24 open-play sequences leading to a shot, just eight down on Kimmich, and each player boasts four goal build-up involvements, a tally nobody in the Bundesliga can better.
Long game

Thiago's array of passing set him apart for Bayern. The fact he so often played the right ball at the right time left opponents uncertain whether to revert to low blocks or high pressing, something which will undoubtedly give Liverpool a tactical boost.
Last season, Thiago completed 91 per cent of 1,797 attempted passes in the Bundesliga, averaging 91.3 per 90 minutes. A quarter of all of those passes went forwards and 20 led to goalscoring chances. He also completed 78 per cent of his attempted long passes – so much for forcing him back into his own half.
Goretzka completed 86 per cent of 909 attempted passes last term, the majority of which went sideways (27 per cent left, 30 per cent right). His long passes found their mark just less than three times in every four attempts. Now, while he still favours sideways distribution, he is averaging 2.5 more passes per 90 minutes, the success rate is up to 89 per cent and his long-pass accuracy has jumped to 85 per cent.
Kimmich was already a passing maestro last season, although he completed fewer than Thiago per 90 minutes (81.3). His success rate stood at 90 per cent from 2,548 attempts and he created 75 goalscoring chances.
But things have evolved. Whereas 10 per cent of his passes in 2019-20 went long, 16 per cent of them have in 2020-21, and yet his passing-per-90 figure is practically unchanged. His long-pass success rate is also up significantly to 87 per cent, while the number of backwards passes has dropped by four per cent, and he already has four assists from 12 key passes in total. In essence, he has maintained his short-passing game while taking on some of Thiago's old defence-splitting duties, and is performing them with aplomb.
Jose Mourinho once said the "phenomenal" Kimmich was "a top right-back, left-back, centre-back, number six, number eight, number 10". Scarily, alongside Goretzka, the 25-year-old seems to be all those things at once – and getting even better.