Can Ivanka Trump run for president in 2024?
Donald Trump could potentially run for the 2024 US elections – as could another member of his family, including his eldest daughter, Ivanka.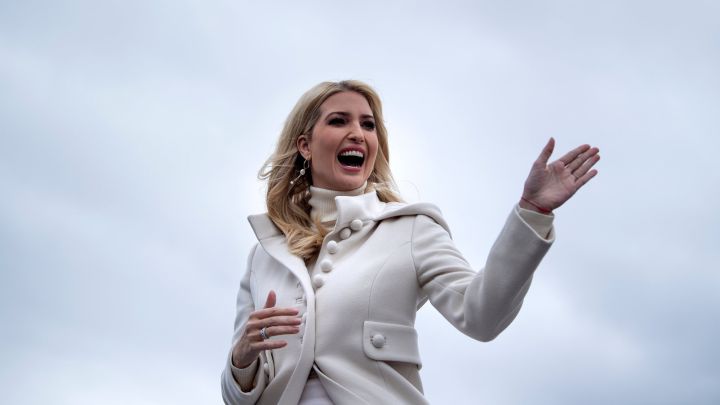 While Donald Trump refuses to concede that he has lost the 2020 US presidential elections, all will become clearer by the time Joe Biden is sworn in on 20 January. By that time, Biden will have turned 78 and Trump, who is four years younger, will be the same age when the next elections come around in 2024. Whether Trump will feel like running again in four years' time remains to be seen but he will certainly be able to – presidents are able to serve a maximum of two terms in office. However, only one president has ever been re-elected and that was Grover Cleveland who served as president from 1885-1889 and then again from 1893-1897. If Trump decides against running again, that wouldn't stop his daughter Ivanka, who is a youthful 39 years old and has spent the past five years as an advisor to her father, from attempting to get the Republicans back in the Oval Office.
🚨Another jobs report that crushes expectations👇🏻

⬆️ 638,000 jobs added

⬆️ Since April, 12.1 million jobs added

⬇️ Unemployment rate fell to 6.9%

📌@realDonaldTrump's policies of lower taxes, deregulation, and reciprocal trade worked before, and they are doing so again 🇺🇸

— Ivanka Trump (@IvankaTrump) November 6, 2020
Ivanka Trump will be looking for a new job
According to Washington Post journalist Sarah Ellison, Ivanka is Donald Trump's favourite of his five children and shares similar traits to her father. Like her father, she too will be leaving the White House before Biden is sworn in on 20 January and as she (and her elder brother) will no longer be 'Senior Advisers to the President'. That role, according to her official profile, entailed focusing "on the education and economic empowerment of women and their families as well as job creation and economic growth through workforce development, skills training and entrepreneurship".
Ivanka ticks many of the boxes required to run for presidency – she is a natural born US citizen over the age of 35, has been a US resident for over 14 years and formally registered with the Republican Party, along with her husband Jared in November 2018. But she has never publicly stated an interest in running for the presidency. She is also a mother with three young children to look after - Arabella (9), Joseph (7) and Theodore (4) and the demands that go with running one of the most powerful countries in the world would mean family business and quality time with the kids would go right out of the window. Some commentators have noted that while she may have some similarities with her father, she is nowhere near as thick-skinned as he is and would not be able to take the pressure and personal attacks that the job would bring. In a rare telephone interview with RealClearPolitics, Ivanka came across as more sensitive and not belligerent like her father, "One of the things that we've lost in this nation is an ability to respectfully disagree and debate…" she said.
Donald Trump - a candidate in 2024?
Some observers feel that Donald Trump will run again in the 2024 elections – simply because he hates losing. Trump has already told advisers he's thinking about running for president again in 2024, two sources familiar with the conversations have told Axios.