Real Madrid: Raúl pictured on Madrid's metro 26 years ago goes viral on social media
Edition No.63 of Real Madrid's magazine, from December 1994 showed the young forward on public transport just a month after making his first team debut.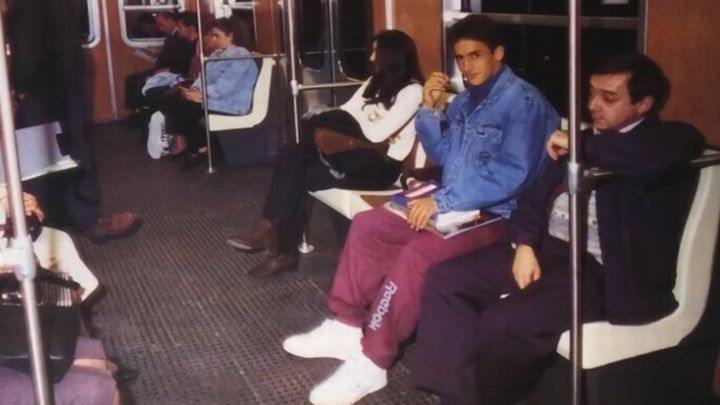 Tracksuit bottoms, denim jacket and textbooks on lap - it's a typical image of any teenager travelling on Madrid's underground metro system only in this case, the youngster in question is a 17-year-old Raúl Gonzalez Blanco, just weeks after making his first team debut for Real Madrid. The picture dates from the December 1994 edition of the club's official monthly magazine, for an article entitled: Raúl: next stop - success and has gone viral on social media. By looking at the photo, AS English deduce it was taken on Line 6, the circular line, which had been extended and inaugurated a few months earlier.
The cover star of edition No.63 was José Emilio Amavisca, "the star revelation of the season", but occupying the centre page spread was a feature on the young Raúl. Jorge Valdano had handed the 17-year-old Raúl his first team debut on 29 October 1994. "He did everything well at La Romareda, the only thing he lacked was getting on the scoresheet," conceded Zaragoza keeper Andoni Cedrún. The match ended in a 3-2 defeat for Madrid but institutionally, it would turn out to be a major victory for the club and for Spain's national team.
Raúl's first goal for the senior side came in the derby against Atleti a week later, and he also won a penalty for the team that afternoon. His days in the youth teams were now over and as the December 94 feature confirms, he was now a full-time member of Valdano's first team squad. "Metre by metre, from goal to goal towards success," the subheading read.
Happy first season
Raúl didn't take part in his first European game until the following season but he did contribute in helping Madrid to finish as league champions. Valdano's team ended as champions, winning the club's 26th title and ending four years of domination by Johan Cruyff's Barcelona. Much of it was down to the 10 goals scored by Amavisca - a summer signing from Valladolid together with the 28 goals score by Bam Bam Zamorano. Raúl added nine goals, took Emilio Butragueño's place in the starting XI as well as his No.7 shirt. The article's headline, "next stop - success" was spot on...