Coronavirus in California: what does it mean that California is in the Purple Tier?
As coronavirus cases continue to spike across California 40 counties have been moved backward in the 4-tier reopening system, some moving two tiers.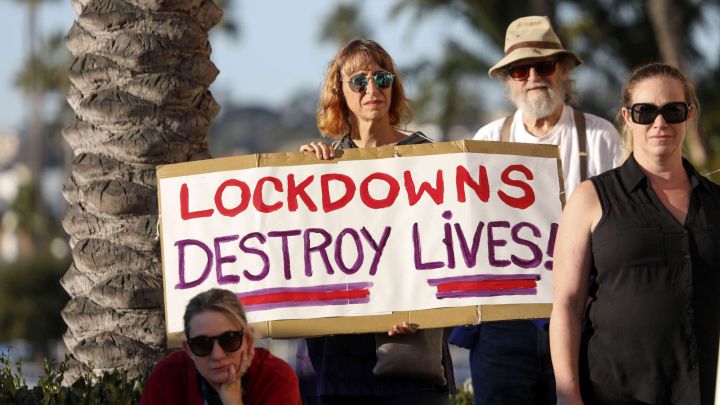 Governor Gavin Newsom announced that 40 out of California's 58 counties have been moved to a more restrictive tier in the state's 4-tier reopening framework. Now every single county in Southern California is in the Purple tier, read on to find out what new restrictions are in place.
With covid-19 case numbers spirally out of control Governor Newson has hit the brakes hoping to slow the rising infections by implementing rollbacks for a number of reopenings, 11 counties have been moved back two tiers. The Governor announced that coronavirus cases have doubled in the last ten days, numbers not seen since March when the pandemic broke out. Cases are jumping in all age groups and demographics with a 4.6 percent increase in California's 14-day positivity.
More rapid response to changing conditions
Newson also announced that the state had updated the terms for how counties will be assigned tiers going forward. Counties can move after just one week of data that would put them into a more restrictive tier as opposed to the previous two-week window. Businesses will now need to make adjustments within 24 hours to their safety guidelines, instead of 72 hours, of a new tier assignment.
The Governor and Health Secretary Dr. Mark Ghaly will return to giving "real-time" updates instead of once-a-week updates on the state's coronavirus response. Changes to county tier status will also be made multiple times per week as opposed to weekly.
No statewide curfew yet
The Governor did not implement a statewide curfew but said that he and health officials were studying the idea and it would depend on what data from the rest of the country showed about such measures' efficacy. Curfew orders have been put into place in some cities across the US in an attempt to curb the surging number of cases.
California's 4-tier reopening framework
How a county is categorized depends on the testing positivity rate and the number of new daily coronavirus cases.
Purple (Widespread): Counties with more than 8 percent positivity or more than 7 new daily cases per 100,000 residents
Red (Substantial): 5-8% positivity rate or 4 to 7 new daily cases per 100,000 residents
Orange (Moderate): 2-5% positivity rate or 1 to 3.9 new daily cases per 100,000 residents
Yellow (Minimal): less than 2% positivity rate or Less than 1 new daily cases per 100,000 residents
Each color code has a distinct set of restrictions regarding what businesses are and are not allowed to reopen, whether they can open indoors or outdoors, and at what capacity they can operate.
For a complete list of the activity and business tiers check the California Blueprint for a Safer Economy tiers chart.
A county must stay at a level for at least three weeks and then meet the next level's criteria for two weeks before moving to a less restrictive level. If a county's data falls in to two different tiers, the more restrictive tier will be assigned.
Click here to find the status of activities in your county according to the California weekly tier assessment.
Purple Tier Restrictions and Guidelines
Critical Infrastructure: Open with modifications
Gatherings: Outdoor gatherings only with modifications and a maximum of 3 households
Outdoor Playgrounds & Outdoor Recreational Facilities: Open with modifications
Hair Salons & Barbershops: Open indoors with modifications
All Retail (including critical infrastructure, except standalone grocers): Open indoors with modifications at 25% capacity
Shopping Centers (Malls, Destination Centers, Swap Meets): Open indoors with modifications at 25% capacity, but common areas and food courts are closed
Personal Care Services: Open indoors with modifications
Museums, Zoos, and Aquariums: Outdoor only with modification
Places of Worship: Outdoor only with modifications
Movie Theaters: Outdoor only with modifications
Hotels and Lodging: Open with modifications
Gyms and Fitness Centers: Outdoor only with modifications
Restaurants: Outdoor only with modifications
Wineries: Outdoor only with modifications
Bars, Breweries, and Distilleries where no meal provided: Outdoor only with modifications
Bars, Breweries, and Distilleries where meal is provided: Closed
Family Entertainment Centers: Outdoor only with modifications like go-kart racing, mini golf and batting cages
Cardrooms, Satellite Wagering: Outdoor only with modifications
Non-essential offices: Remote
Professional Sports Open: No live audiences with modifications
Live Audience Sports: Closed
Amusement Parks: Closed