Al Haydos: Qatar have big ambitions for 2022 World Cup
The Qatari national-team captain, Hassan Al Haydos, says he can't wait to lead the hosts out for the first game of the 2022 World Cup.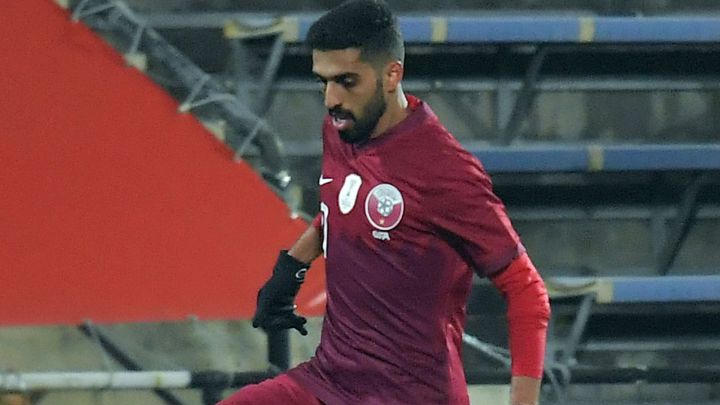 Qatar captain Hassan Al Haydos, one of the most experienced members of the 2022 World Cup hosts' national team, has been the ideal leader for his younger team-mates - and the 29-year-old striker can't wait to lead his side out at the Al Bayt Stadium for the tournament's opening match.
Speaking to FIFA.com, he said: "I hope that we'll be ready when 21 November 2022 comes around. I imagine that we'll meet in the morning with everyone smiling, and everyone asking one question: 'Were you able to sleep?' However, I don't think sleep [or lack of] will be a problem. We'll have huge amounts of positive energy and all the players will be eager to go to the stadium and write a new chapter in the glorious history of the State of Qatar.
"If I close my eyes now, I can picture the streets full of fans streaming into Al Khor, where Al Bayt Stadium is located, from all quarters. I see Qatari flags decorating cars and buildings, and being waved by the fans. Inside the stadium, I expect the stands to be at capacity, and the closer we get to kick-off, the more the tension will rise. However, that's normal, as it's the day we've been waiting for since Qatar was awarded the hosting of the finals back in 2010."
Al Haydos continued: "We have lofty ambitions that go beyond a mere honorary appearance. We want to show the skills and the abilities of Qatari players. We want to get results that help us progress to the knockout stage, even though we know that won't be easy. Some previous editions of the World Cup saw big teams exit from the group stage (Argentina and France in 2002, Portugal in 2014, and Germany in 2018), so we'll do all we can to avoid an early elimination.
"[Winning the 2019 Asian Cup] certainly showed our ability to deal with different situations: how to attack, when to defend, how to exploit an opponent's weaknesses, when to retain the ball as much as possible before going forward […]. We have a long preparation programme in which we'll plan for various scenarios. For example, at the 2019 Copa America we played against three strong teams (Argentina, Paraguay and Colombia), having already played a pre-tournament friendly with Brazil. This year we went up against Ghana and Costa Rica, while we continue to compete in the 2023 AFC Asian Cup qualifiers. We'll take part in the Copa America again in 2021 as well as the CONCACAF Gold Cup, before competing in the Arab Cup at the end of the year."