Griezmann: Messi was angry over decision to stay at Atlético
Antoine Griezmann admitted in an interview he has struggled at Barcelona since moving from Atletico and discussed his relationship with Leo Messi.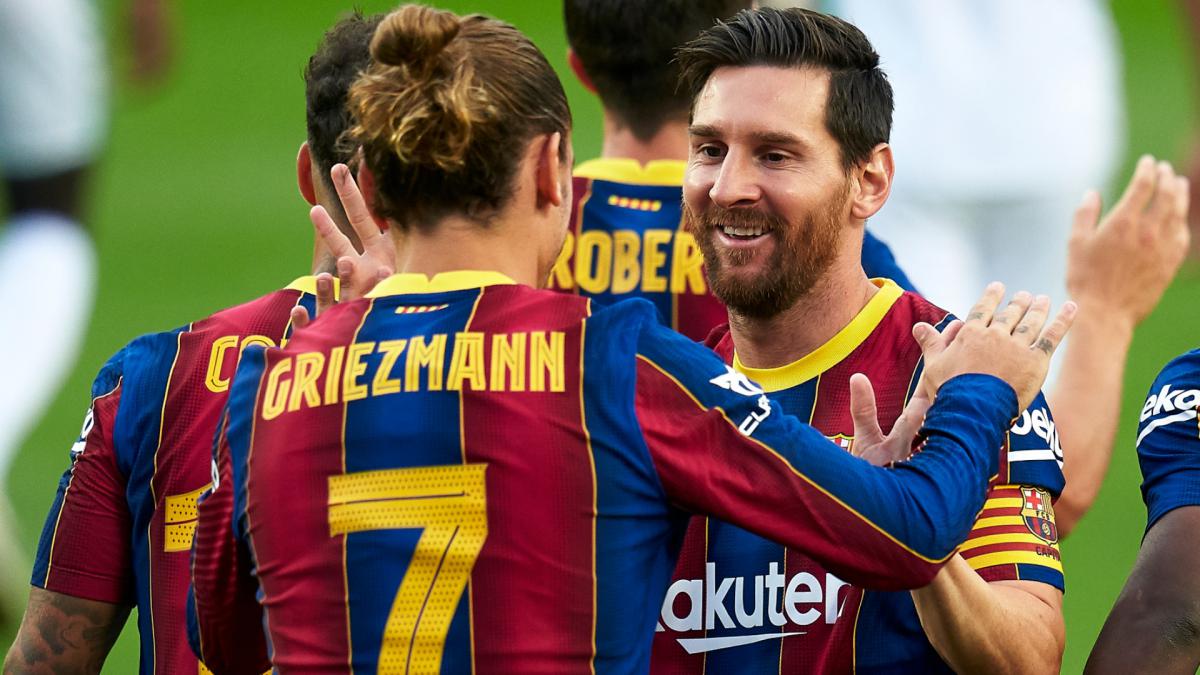 Barcelona forward Antoine Griezmann insisted his relationship with Lionel Messi was good, saying he felt the star was ready to go to "death" with him. The France international has struggled to make his mark at Barcelona since arriving from Atlético Madrid for €120million last year and Griezmann said his decision to reject Barça in 2018 - delivered in documentary format - had not gone down well with the six-time Ballon d'Or winner.
However, Griezmann said there were no doubts over his relationship with Messi now.
"I arrived at Barcelona after the rejection the year before," he told Movistar on Monday.
"There could have been comments even in the dressing room, from journalists, from the fans and that is why when I arrived I wanted to apologise on the pitch. If some have been offended, I will ask for forgiveness giving everything on the field.
"I spoke with Leo when I arrived and he told me that it screwed him when I refused to go the first time, because he had made public comments and that in the end I said no, but that we were on the same team and that he was going to death with me and it's what I notice and feel every day."
Greizmann denies former agent's claims

Griezmann's former agent and his uncle both questioned Messi earlier this month but France international Griezmann distanced himself from the pair.
"I stopped having a relationship [with my former agent] from the day I got married. On my wedding day I invited him and he didn't come. That's why I stopped having a relationship with him," he said.
"He speaks because as neither my father nor my sister speak to the press, they call him. But Leo knows that I have a lot of respect and admiration for him."
Griezmann added: "My uncle doesn't know how football works. And in the end, the journalist ended up getting the phrase out of him.
"I told Leo that I never speak to them. In fact, I don't even have my uncle's phone number."
"
In a year and a half I have had three coaches"
Griezmann has scored just 17 goals in 58 games in all competitions for Barcelona, who are struggling under Ronald Koeman in 13th in the table.
He said he was prepared to accept criticism of his performances, but highlighted it had been a difficult period for the club.
"I accept them because I know that we are not seeing the best Griezmann," he told Movistar on Monday.
He added: "In a year and a half I have had three coaches ... that's not easy. I need time to adapt to my colleagues and they to me, and on top of system changes.
"In addition, the candidates for the presidency also talk about me. I don't think it's the best thing for me for them to talk about whether or not I'm a good signing."
Griezmann has scored two goals and provided one assist in eight LaLiga games so far this season.
His big chance conversion (50 per cent) is at its highest since 2017-18, when it was 59.3 per cent and he netted 19 league goals for Atletico Madrid.
However, his involvement at Barca compared to Atlético is down. Only once during five seasons at Atlético – in 2014-15 – did he have fewer successful passes per 90 minutes than so far this season (28.4). His 43.4 touches per 90 this campaign are lower than he had in any of his seasons at Atletico.
Griezmann has also created just 0.7 chances per 90 minutes in LaLiga in 2020-21, and not once did he have a lower figure at Atlético.
Coming off a 1-0 loss to Atletico, Barcelona visit Dynamo Kiev in the Champions League on Tuesday.