Champions League: can Real Madrid qualify for last 16 today?
Zinedine Zidane's Real Madrid side face Inter Milan at San Siro on Wednesday evening, with both teams playing catch-up in Champions League Group B.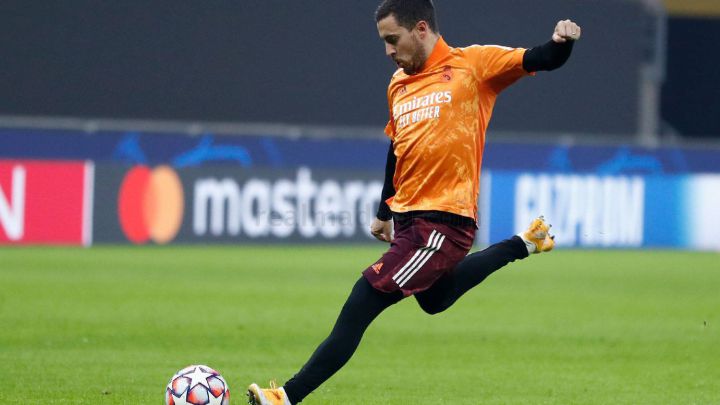 Whatever happens at San Siro, Real Madrid cannot qualify for the Champions League last 16 on Wednesday night. However, they can take a big step towards the knockout stages with a win over Inter Milan, who will be staring down the barrel of elimination if they lose.
Madrid currently have four points, level with Shakhtar Donetsk, while Borussia Mönchengladbach lead Group B with five points. Bottom spot is occupied by Inter, who have just two points and are in desperate need of a victory in their matchday-four clash with Zinedine Zidane's men.
Even in defeat, Real Madrid will still have Group B fate in their own hands
Madrid are also in need of a win, but not quite as urgently as the Nerazzurri. Even if they lose to Inter, their fate will remain in their hands: six points from six in their final two games in the group would still guarantee the 13-time European champions a spot in the last 16.
If Madrid win, they can seal Champions League last-16 berth on matchday five
The advantage to beating Inter on Wednesday is that Madrid would open up the possibility of sealing qualification from the group on matchday five, which sees them visit Shakhtar. If the Ukrainians fail to beat Mönchengladbach on Wednesday and lose to Madrid next time out, Zidane's side will be through.
If they they beat Inter, Madrid could also qualify on matchday five if Shakhtar defeat Gladbach, but they would need to see off Donetsk by a margin wide enough to overturn their head-to-head record against Luís Castro's side, who claimed a surprise 3-2 triumph over the LaLiga giants in the teams' Group B opener.
And if Real Madrid and Inter draw at San Siro...
If Madrid draw against Inter, meanwhile, Los Blancos almost definitely wouldn't be able to seal qualification on matchday five, but they would certainly leave themselves in pole position to reach the last 16 if they combined a point in Italy with victory over Shakhtar.