Champions League state of play: Madrid, Barcelona, PSG, Liverpool...
Ahead of matchday five of the 2020/21 UEFA Champions League group, many groups are still to be resolved with just a handful of teams through to the Round of 16.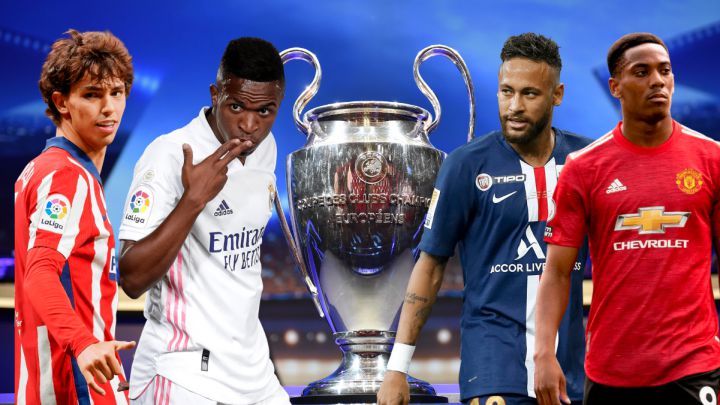 The group stage of the 2020/21 Champions League enters into a definitive stage with many groups still to be resolved and with just a handful of clubs having mathematically confirmed their presence in the 14 December Round of 16 draw. With two rounds of games outstanding in this phase, this is that state of play for all eight groups:

Group A: Atlético with no room for error
Bayern Munich have already qualified with the reigning champions looking like the side to beat in the competition to date with a 100% record. The question in Group A remains as to who will accompany the German side into the next phase. Atlético Madrid control their own destiny and face the Bundelsiga side on Tuesday at the Wanda Metropolitano with a win, and Lokomotive failing to conquer Salzburg enough for Simeone's men to progress. A defeat for 'Los Colchoneros' would complicate life for Atleti and that result combined with a win for the Russian side would see the tide and initiative tilting Lokomotive's way with everything on the line in the final game. Matchday 6 sees Bayern face the Russian outfit with Atleti travelling to Austria.

Standings
Bayern 12
Atlético 5
Lokomotive 3
Salzburg 1
Matchday 5
-Atlético-Bayern: Tuesday 1st at 21:00.
-Lokomotive-Salzburg: Tuesday 1st at 18:55.
Group B: Madrid hoping to secure passage
Despite a disastrous start to their campaign, securing just one point from a first possible six, Real Madrid have bounced back with two wins over Serie A giants Inter to see Zidane's men odds on to secure a place in the Round of 16. A win in Kiev would propel Real Madrid into the pot for the draw for the next phase and a defeat would once again recall the spectre of the opening phase especially should Mönchengladbach fail to beat Inter. This scenario would see Shakhtar just having to match Real Madrid's result in the last game to advance to the next stage and send Real Madrid to the Europa League.
A draw in Kiev would also see Madrid edge towards the next stage and it's also feasible that Zidane's men top the group and at present this remains one of the most open groups with every team fighting for something whether it be a continuation of Champions League football or a place in the Europa League.
Standings
Mönchengladbach 8
Real Madrid 7
Shakhtar 4
Inter 2
Matchday 5
-Mönchengladbach-Inter: Tuesday 1st at 21:00.
-Shakhtar-Real Madrid: Tuesday 1st at 18:55.
Group C: City and Porto looking solid
Group C could be done and dusted tonight with both Manchester City and Liga Nos champions FC Porto destined to secure a berth in the Round of 16. At present both English and Portuguese sides are battling for the top spot ahead of their meeting tonight at the Dragao stadium. Olympiacos are still clutching at the remote possibility of advancing but they need Porto to lose to City and then to overcome the Dragons by a 2-0 or more scoreline. Marseille have disappointed in their return to the Champions League but could still secure a place in the Europa League and need to overcome the Piraeus side at the Veledrome on Tuesday night.
Standings
Manchester City 12
FC Porto 9
Olympiacos 3
Marseille 0
Matchday 5
-Marseille-Olympiacos: Tuesday 1st at 21:00.
-FC Porto-Manchester City: Tuesday 1st at 21:00.
Group D: Liverpool looking over their shoulder
The defeat at home to Atalanta last week has put Liverpool in something of a mild pickle. Having said that, a win at Anfield against Ajax on Tuesday will be sufficient for Klopp's men to progress with the battle for second spot then between the Amsterdam side and Atalanta who go head-to-head on matchday 6. A slip-up for Liverpool would not be curtains as the 'Reds' travel to Denmark to face lowly Midtjylland who have been one of the poorest sides in this 2020/21 group stage with both Dutch and Italian sides contesting who would join the Premier League champions in the 14 December draw.
Standings
Liverpool 9
Ajax 7
Atalanta 7
Midtjylland 0
Matchday 5
-Liverpool-Ajax: Tuesday 1st at 21:00.
-Atalanta-Midtjylland: Tuesday 1st at 21:00.
Grupo E: Chelsea and Sevilla advance
Both Sevilla and Chelsea secured their Round of 16 places mathematically last week and the battle to top the group is now the focus for both teams. Sevilla, on paper hold the slight advantage of facing Lampard's side at the Ramón Sánchez Pizjuán on Wednesday night with a win enough for the Andalusians to top Group E. At the foot of the table, both Krasnodar-Rennes will battle for a place in the Europa League with the winners of Wednesday's match in Russia set to maintain their European adventure through to 2021.
Standings
Chelsea 10
Sevilla 10
Krasnodar 1
Rennes 1
Matchday 5
-Krasnodar-Rennes: Wednesday 2nd at 18:55.
-Sevilla-Chelsea: Wednesday 2nd at 18:55.
Group F: Three teams in contention
Club Brugge are still in with an outside chance of advancing in Gruoup with a win over bottom side Zenit in Belgium on Wednesday. A Dortmund win at home to Lazio will see the German side advance and even a draw should be good enough for BVB to progress with Lazio and Brugge then facing off for the second place in the final matchday. Zenit with just one point could still steal a Europa League spot but this would only materialise with a win over the Belgian giants.
Standings
Dortmund 9
Lazio 8
Brugge 4
Zenit 1
Matchday 5
-Brugge-Zenit: Wednesday 2nd at 21:00.
-Dortmund-Lazio: Wednesday 2nd at 21:00.
Grupo G: Barça and Juve tussle over top spot
Despite an indifferent start under Ronald Koeman in LaLiga, the performances from the Catalan giants on the European stage has been more impressive and along with Bayern, Barcelona are the only side with a 100% win record from the opening games of the 2020/21 group stage. Mathematical progress to the Round of 16 was confirmed with a 0-4 win over Dynamo Kiev last week and Koeman's men are strong favourites to too Group G and secure a top seed draw in the Round of 16. Juve too are guaranteed to be in the UEFA draw mid December for the next phase with a tussle between Dinamo Kiev and Ferencvaros to save face by securing the Europa League place that comes for finishing third in the group with both teams coming face-to-face in matchday 6.
Standings
Barcelona 12
Juventus 9
Dynamo Kiev 1
Ferencvaros 1
Matchday 5
-Ferencvaros-Barcelona: Wednesday 2nd at 21:00.
-Juventus-Dinamo de Kiev: Wednesday 2nd at 21:00.
Group H: PSG under pressure
Possibly the most wide open group of them all with even fourth placed Basaksehir still in with an (outside) chance of progressing to the next phase of the 2020/21 Champions League Round of 16. Matchday 5 will have some bearing in clearing the patch in this Group H with progressing to the next round based on a many number of permutations. United are in pole position with 9 points and the battle for second would point to a tussle between PSG and Leipzig. Basically a loss for any of the four sides in matchday 5 would spell trouble but everything points to this group only being fully resolved at the d end of next week's action with United away in Germany and PSG facing the Turkish champions in Paris.
Standings
Manchester United 9
PSG 6
Leipzig 6
Basaksehir 3
Matchday 5
-Manchester United-PSG Wednesday 2nd at 21:00.
-Basaksehir-Leipzig: Wednesday 2nd at 18:55.