Real Madrid on track to finish 5th this season in LaLiga
The club are struggling in both LaLiga and in the Champions League and a study reveals that current form could see Zidane's men ending the season in fifth place in the table.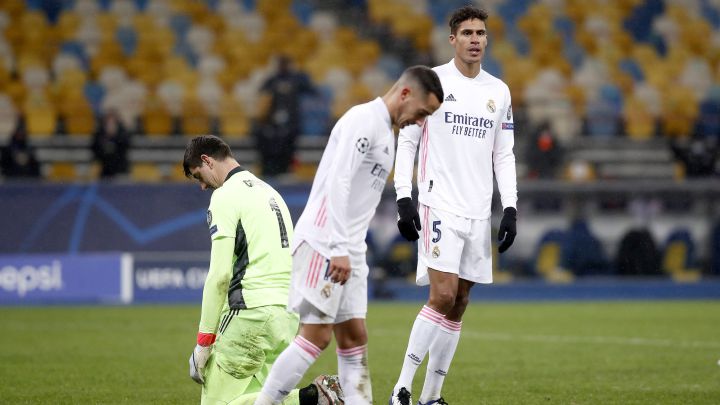 Real Madrid are experiencing a dramatic loss in form which has translated into just one win in their past five games in all competitions with Zidane's side only mnanaging a solitary one point from a possible 9 in LaLiga, and that came after an unconvincing display away to Villarreal. The major concern at the club is the panorama in Europe with Wednesday's game at home to Borrusia Monchengladbach arguably the match that could dictate the club's season. Madrid go into the tie with the possibility of topping their group but could also end up fourth and out of Europe.
A US based statistical analysts FiveThirtyEight study ascertains that the club have a 67% chance of progressing in Europa and a 65% chance of finishing in the top four in the LaLiga table but that could change with defeat away to Sevilla today.
Crucial trip to the Sanchez Pizjuan
Lopetegui's men lie just behind Real Madrid in the table with the Andalusian side having played one game less. Based simply on the current runs of form for each side, Atlético Madrid are set to win the title with 97 points with Real Sociedad claiming second spot with 83 points. Villarreal bag third place with 69 points and Sevilla claim the final UCL place with 68 points. Madrid claim fifth place and FC Barcelona end in sixth.
The FiveThirtyEight study looks at more variants and sees Real Madrid finishing third with 71 points come season end and offer a 21% likelihood of this materialising with the company giving Zidane's men a 10% chance of retaining the league title, a 16% chance of ending second, and an 18%/35% of ending fourth or fifth respectively.
Standings, season end based on current form / FiveThirtyEight prediction
CURRENT TABLE
Pts
BASED on FORM
FiveThirtyEight
1
Real Soc.
24
Atlético
97
Barcelona
82
2
Atlético**
23
Real Soc.
83
Atlético
79
3
Villarreal
20
Villarreal
69
R. Madrid
71
4
R. Madrid*
17
Sevilla
68
Real Soc.
70
5
Sevilla**
16
R. Madrid
65
Villarreal
65
6
Cádiz
15
Barcelona
59
Sevilla
62
7
Barcelona**
14
Elche
55
Getafe
50
8
Granada*
14
Granada
53
Athletic
50
9
Athletic
13
Cádiz
52
Celta
47
10
Elche**
13
Athletic
49
Osasuna
46
11
Getafe*
13
Getafe
49
Cádiz
46
12
Eibar
13
Eibar
45
Betis
45
13
Alavés
13
Alavés
45
Granada
45
14
Valencia
12
Osasuna
42
Valencia
44
15
Betis
12
Valencia
41
Eibar
43
16
Osasuna*
11
Betis
41
Alavés
42
17
Valladolid
10
Valladolid
35
Levante
41
18
Celta
10
Celta
35
Elche
38
19
Levante*
8
Levante
30
Valladolid
37
20
Huesca
7
Huesca
24
Huesca
36
* One game less.
** Two games less.
Source: FiveThirtyEight & AS.
Third worst start in 20 years
This is the third poorest start to a season for Real Madrid in 20 years with one having to go back to the 2001-2002 season when the Bernabeu club had just claimed 13 points after ten outings for a parallel start. Two seasons ago with Lopetegui, the club had just claimed 14 points after ten match-days and in both cases, the club ended up third in the final season standings.
Not all is doom and gloom for 'Madridistas' however, Real Madrid are accustomed to picking up speed (and points) as the season progresses with the club traditionally amassing a higher number of points in the final ten games of the campaign than in the opening phase amassing. This has been the case in 8 of the past 11 campaigns with the 2010/11, 15-/16 and 17-18 seasons bucking this trend.