What are John Lennon's most famous songs?
On the 40th anniversary of John Lennon's death, we pick out five favourites from his solo work and his collaborations with fellow Beatle Paul McCartney.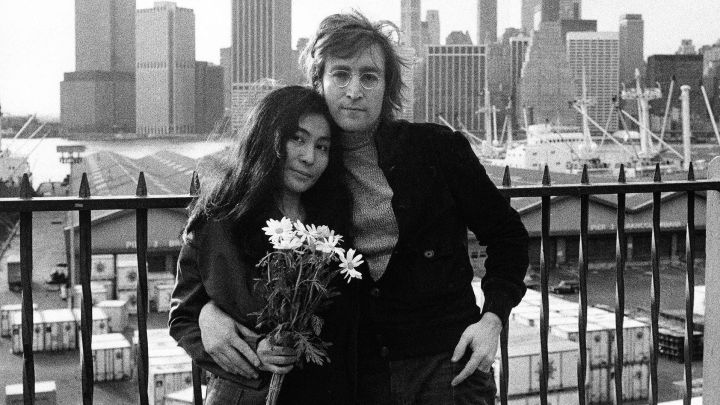 John Lennon's assassination in New York 40 years ago shook not just the world of music, but the world itself. Few musicians had ever achieved the cultural status of the former Beatle, whose writing partnership with Paul McCartney remains the most successful of all time. Lennon was a voice for a generation, a hero of the anti-Vietnam War movement and the author of some of the most famous records ever made, in tandem with McCartney and as a solo artist.
On the anniversary of the songwriter's death, we take a look at five of his finest.
All you need is Love (1967)
The Beatles perhaps didn't realize what an impact this record would have but it is fitting that it was the UK's contribution to Our World, the planet's first live, international televised broadcast. It remains one of the Beatles' most loved songs; written mainly by Lennon its message of tolerance became central to his legacy.
Imagine (1971)
Lennon's most famous solo single was inspired, he said, by a book of poems by Yoko Ono, who was credited with co-writing Imagine in 2017. Rolling Stone voted it third in its run-down of the 500 Greatest Songs of All Time in 2004 and it is still ubiquitous almost 50 years after it was made. Although numerous artists have given it the treatment it doesn't quite top the list of most-covered songs of all time though: that honour belongs to McCartney's Yesterday.
Lucy in the Sky with Diamonds (1967)
Like All You Need is Love largely written by Lennon, Lucy in the Sky with Diamonds was the signature tune from the Beatles' seminal psychedelic album Sgt. Pepper's Lonely Hearts Club Band. The album spent 27 weeks at number one in the UK and 15 weeks atop the US Billboard 200. The Beatles subsequently spent decades addressing the influence of LSD on Lucy in the Sky with Diamonds. According to Lennon, it was inspired partly by Alice in Wonderland and by a drawing by his son Julian of his infant school classmate, Lucy O'Donnell, Lennon Jr explaining that she was "in the sky with diamonds."
Revolution (1968)
One of Lennon's most divisive songs, Revolution was recorded for the White Album during the tumultuous summer of 1968 and spawned several different versions. Chairman Mao gets a nod and Lennon's lyrics have been pored over endlessly but what stands out are the Beatles' guttural guitars and Lennon's imploring, throaty insistence that it'll "be alright."
(Just Like) Starting Over (1980)
Lennon's most commercially successful solo single was released in October 1980 ahead of what would be his final studio album, Double Fantasy, which came out the following month just weeks before his death. It went to number one on both sides of the Atlantic after Lennon was shot on 8 December 1980.