What are the biggest rivalries and derbies in Spanish football?
Real Madrid and Barcelona are famous the world over for El Clásico, but do you know the other fierce battles that really raise the temperature at the domestic level?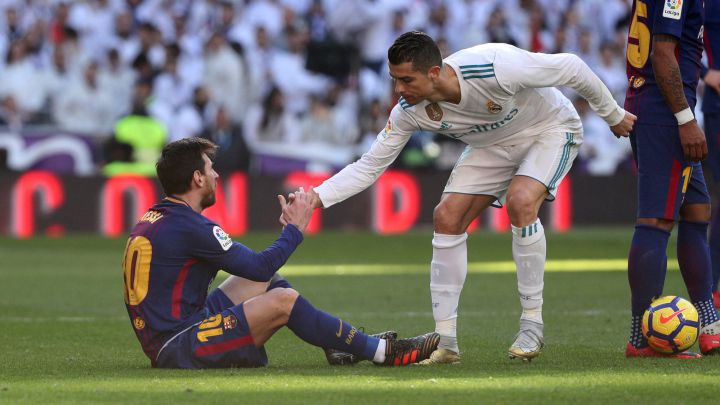 Real Madrid and FC Barcelona are two of the biggest clubs in world football. When they clash, football fans across the globe stop what they are doing and watch.
Related items worth your time:
LaLiga's greatest derbies
The aforementioned rivalry is rarely far from the conversation about the biggest derbies across the globe, but Spanish football is home to several others. Let's take a quick look inside the current LaLiga Santander and uncover a few:
1. Real Madrid vs Barcelona
OK. As we've said, this is big, and not just in Spain. Over the years El Clásico has driven numerous narratives: from the viewpoint of success and one-upmanship; from the highest of high-profile players competing against each other; from the boardroom and the world of sponsorship and marketing; and from the fan bases that often lead with their hearts well before they consider their heads.
Then there are the politcal and historical divides that have influenced these feelings that can push on to hatred (you'll be wanting to read Sid Lowe's Fear and Loathing in LaLiga for more on this). On one hand the likes of Di Stefano, Ronaldo, Figo, Iker, Cristiano and Ramos. On the other Maradona, Ronaldinho, Henry, Xavi, Iniesta and Messi. The pitch has had some of the greatest ever talent on show to add to everything else that this duel brings with it.
2. Sevilla vs Real Betis
We may have already covered the so-called 'big one' in Spain, but those close to this Andalusian derby put up a pretty convincing argument for their own being a fiercer and more passionate affair. The gorgeous city of Seville can get unbearably hot during the summer months, but no matter what time of the year it is the derby between Sevilla and Betis tends to reach a boiling point.
El Gran Derbi, as it's known, brings together a sea of colour as fans in red and white engage with those in green and white, covid limiting this in recent months. It's no wonder that Colin Millar titled his book about this rivalry the Frying Pan of Spain, in which he delves into life in Andalusia and how it comes together with the football of these two historic institutions. As he says, 'this is a pulsating and arresting experience which encapsulates the beautiful game in all its raw, spellbinding brilliance' and proves that there's so much more to Spanish football than Barcelona and Real Madrid.
3. Real Madrid vs Atlético Madrid
While El Clásico gets the global attention, in Spain - and especially in its capital city - there is a much more local rivalry to make or break a fan's mood for a considerable period. No other city can lay claim to having had two Champions League finals all to itself; nor has any other had clubs face each other in two semi-finals. This is a domestic niggle that has spread onto the continental stage.
Madrid and Atlético first played each other in Europe's last-four back in 1959, speaking volumes for a rivalry that has survived the passage of time and is unlikely to ever die. In recent years, Barcelona have cut across this struggle between near neighbours to become Real's prime obsession, but Atleti have bounced back and the age-old rivalry has been experiencing chapter after riveting chapter with Zidane and Simeone writing their names into folklore. No matter what is said elsewhere, for many around the capital, there's no substitute for the intensity of this local match-up.

4. Athletic Bilbao vs Real Sociedad
A Basque derby between Athletic Bilbao and Real Sociedad is worth it just for the tourism (coronavirus-permitting, of course). Bilbao and San Sebastián, the Basque Country's two largest cities, may not be a guarantee of good weather, but they are both a delight - particularly for foodies.
Two of Spain's oldest clubs, Athletic and La Real shared an early-80s period of dominance in which they won four straight LaLiga titles between them, but they have rather struggled for silverware since then. Athletic lifted their last major trophy in 1984; the Txuri-urdin's came four years later. In a bid to compete, La Real dropped their policy of only signing Basques in 1989; Athletic, meanwhile, have kept theirs to this day. For Bilbaínos, this brings with it a feeling of superiority over their neighbours for not having 'sold out' - particularly as, all the while, they have remained one of just three clubs (together with Madrid and Barça) never to have been relegated from LaLiga.
It may be over 30 years since Athletic or La Real won a top trophy, but that's about to change - because their rivalry is due for one of its most thrilling chapters yet, when they face off in a coronavirus-delayed, all-Basque 2020 Copa del Rey final. Given a derby cup final is as much about the fans as the game itself, it has been delayed until supporters can be in attendance, and is now slated for April 2021.

Of course, we've only captured a little of the essence that adds so much character and competition to the Spanish leagues here. More rivalries can be discovered around the rest of this magnificent country, like that in Galicia between Deportivo and Celta Vigo (O Noso Derbi) or the derby in Catalonia where Espanyol try to better their more illustrious regional neighbours, while reminding those from further afield that not all Catalans think the same about the nation.
Our advice to any lover of football: as soon as possible, go and experience as many of them as possible.