Al-Ahly boss Mosimane: Guardiola is my inspiration
Al-Ahly's coach, who led the team to a record ninth CL trophy, said he is seeking to leave his mark on the Red Devils in the same way Pep Guardiola has at the teams he has coached.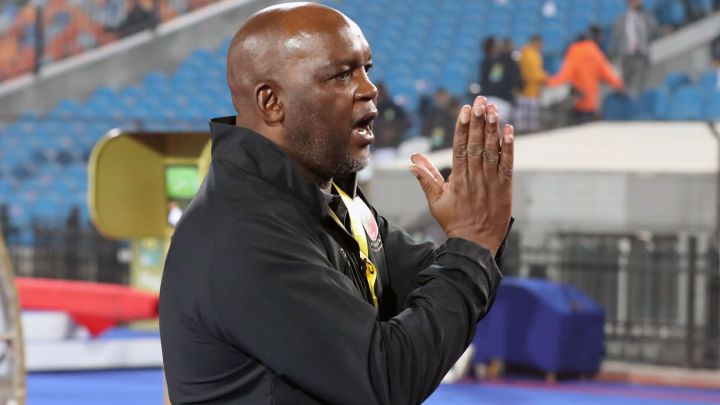 Al-Ahly coach Pitso Mosimane spoke about his aspirations with the Egyptian club and his feeling after winning his second CAF Champions League title, just a few weeks after replacing René Weiler.
The South African, whose exceptional start at Al-Ahly has seen the club win both the Champions League and the Egyptian Cup days later, spoke to France Football about his feelings after winning the precious CL title with the Red Devils and coaches he has been inspired by.
Pitso talked about the difference between winning the CL for the first time with Mamelodi Sundowns in 2016 and winning the title in 2020 with Al-Ahly, explaining: "Winning the Champions League is complicated, the two moments were different. Working with Al-Ahly can't be compared to working with any other team and I've never had this feeling before."
"I never had a similar reception at the airport at 6:00 in the morning when I arrived from South Africa, and everyone is treating me with great kindness and respect," he added.
Mosimane noted that it only took him one day to accept Al-Ahly's offer, as it was the perfect time for him to part ways with Sundowns after he achieved the domestic treble there and was eliminated from the CL quarter-final by Al-Ahly.
Pitso is inspired by Guardiola's impact
Pitso also went on to speak about his ambition with the African giants, pointing out that he looks up to what Pep Guardiola has achieved with the teams he coached. "It's normal to win at Al-Ahly but I hope to leave a mark and we already started by achieving the treble," he said.
"Let me assure you that when Pep Guardiola arrived in Munich he left his impact. The team wins titles but everyone is still talking about Guardiola's impact," he continued.
The 56-year-old added that he has also been inspired by Arsène Wenger, Sir Alex Ferguson, and José Mourinho as he has been interested in football games analysis since he was 30 years old.