Haaland's dad on future: "He is happy at Dortmund, but Erling loves challenges"
Erling Haaland's father and agent, Alf-Inge Haaland, did not rule out a future for his son beyond Borussia Dortmund, with Real Madrid among the top suitors for the Norwegian star.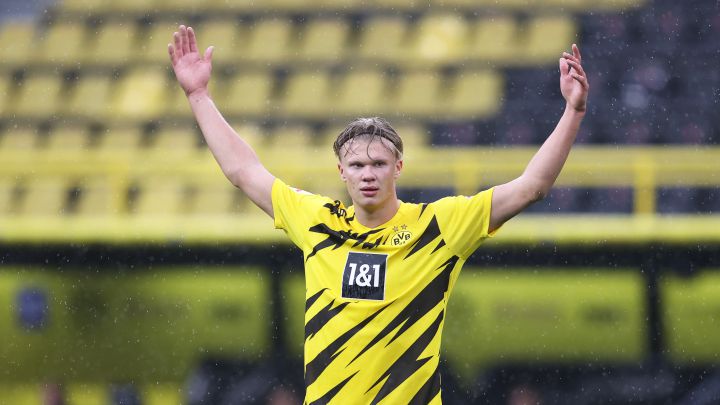 After his record-breaking breakthrough season, it came as no surprise when Erling Haaland was named 2020 Golden Boy by Tuttosport in November – a accolade the young Norwegian has been working towards for the last two years.
And so far this season, the 20-year-old striker's stellar form has continued for Borussia Dortmund, for whom he has scored a staggering 17 goals in 14 games, translating to an average of a goal every 66 minutes.
Speaking to Tuttosport following his son's Golden Boy win, former Leeds and Manchester City player Alf-Inge Haaland spoke of the family's delight.
"We are very proud. We have been talking about this award at home for two years. He is very happy," said Haaland senior, who serves as his son's representative alongside super-agent Mino Raiola.
Haaland's heroes: Ronaldo, Ibrahimovic and Balotelli
The ex-Norwegian international, who was forced to retire after a horror injury inflicted by former Manchester United midfielder Roy Keane in 2001, also discussed some of his son's childhood heroes – among them, surprisingly, was a well-known Nottingham figure, though not from the footballing world.
"He loved Ibrahimovic and Cristiano, but also Balotelli. His hero, however, was Robin Hood. Once we went together to Sherwood Forest," said Haaland senior, before revealing another of his son's great talents.
"He likes to cook and I can assure you that he is a great chef. He prefers above all meat or fish, he is a food freak," he told Tuttosport.
Haaland's future
After catapulting himself onto the world stage with his stunning hat-trick in his Champions League debut for Red Bull Salzburg in September 2019, Haaland became the centre of a transfer saga involving several top clubs, including Real Madrid, Manchester United and Borussia Dortmund.
In the end, Dortmund snapped up the young Norway international for a cool €20 million in January. And while his father has always maintained that Dortmund was the right decision at this stage of his career, Haaland senior did not rule out a future beyond the Bundesliga club, where he has a contract until 2024.
"Now he is happy at Dortmund, but Erling loves challenges and in football you never know. We will see," he said.
Haaland main target for Real Madrid
Haaland is understood to be among Real Madrid's top three targets in the short-term future, along with PSG's Kylian Mbappé and Rennes midfield starlet, Eduardo Camavinga. As has been reported by AS, Madrid's plan is to sign Camavinga and Mbappé in 2021, with Haaland the target for the summer of 2022.
But Los Blancos will not be the only top club vying to sign one of football's hottest properties and will face competition from the likes of Juventus. Haaland senior revealed that he and his son had already visited the Allianz Stadium to watch a game: "A great experience, we saw Juve-Inter. We really liked the atmosphere at the stadium," he told Tuttosport.