Megan Rapinoe 'waives' The Best World XI recognition
The North American forward says she was surprised to see her name included in the Women's World XI. "I haven't played since March, other players deserve it more than me".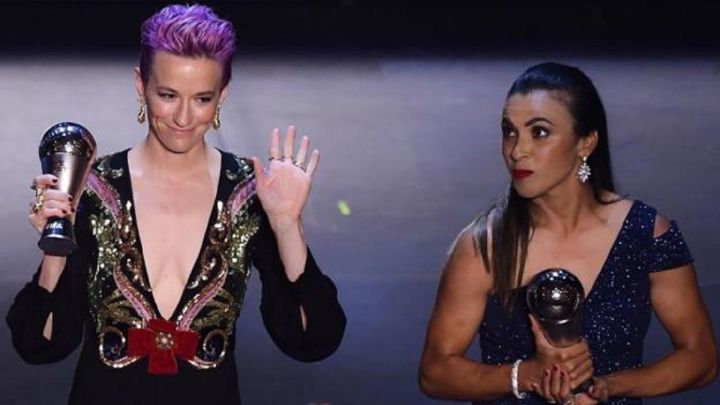 Megan Rapinoe gained recognition in last night's The Best gala in Zurich as she was included in the Women's FIFPro World XI and among the candidates for the The Best Women's award for being one of the best players in the world this year. But the OL Reign forward, an international for the United States expressed her surprise at the news as she has hardly played in 2020, and says she can think of others who are more deserving. Rapinoe was last in action in the SheBelieves Cup final between the USA and Japan on 11 March.
In the end Lucy Bronze picked up the Women's individual award ahead of Pernille Harder and Wendy Renard. She published a letter on Twitter, titled: "So much to be thankful for this year, and so much work still to be done".
Rapinoe looking forward to a better year
It read: "I am obviously very honoured to have been recognised by my peers around the world who vote for the FIFPro World11. At the same time, it did come as a surprise to me that I met the criteria for selection as I haven't played a match since March (2021, here I come!).
"We have so many phenomenal female players around the world and all of us need to do what we can to recognise them. The fact I was selected once again sheds light on the fact that in order to put our game forward, we need continued investment in the women's game to give more female players the opportunity to be seen on TV in their home countries and globally while performing for club and country.
"The future of our game is so bright, the potential is limitless, and our commitment to pushing it forward from every possible angle has to match that. Again, I am honoured and flattered to have been recognised by my peers for this honour, and I look forward to getting back out on the field in 2021! Congratulations to all the incredible women selected in the Best XI. Here's to another ground-breaking year in women's football! Happy holidays, wishing everyone health and happiness!"