Mourinho aims The Best jibe at Klopp: "Flick won it all..."
José Mourinho did not agree with the FIFA awards suggesting the Bayern manager should have won: "Maybe if they invent two or three more competitions..."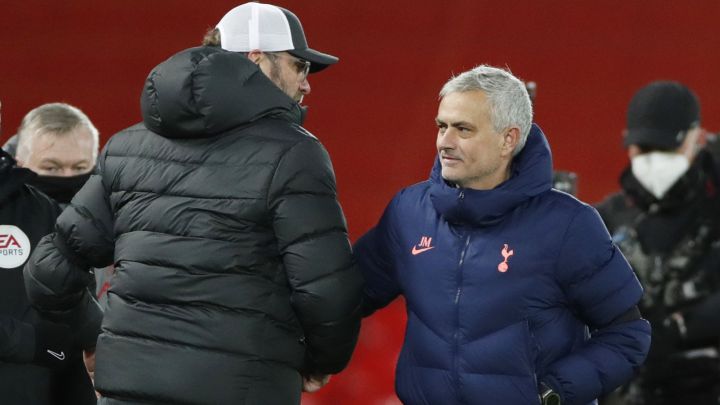 Liverpool Jürgen Klopp landed the manager's prize for the second year running at the 2020 The Best awards, leading to a raised eyebrow and a few choice words from his Tottenham counterpart José Mourinho, who feels that the gong should have gone to Bayern Munich boss Hansi Flick after he led the Bavarian side to a Bundesliga, DFB-Pokal and Champions League treble.
Speaking following the ceremony in Zurich, Mourinho noted: "He won the Champions League, the cup and the Bundesliga. He won it all and the most important of all competitions. Poor Flick, maybe he only has the chance to win it if they invent two or three more competitions to see if maybe he can win those as well. If that happens, maybe he'll win the prize."
Rapinoe, Neymar question 2020 FIFA awards
The FIFA awards this year have not been without controversy elsewhere. Neymar has been vocal about his omission from the running for best player and also posted a cryptic message regarding a lack of PSG players in the FIFA FIFPro Men's World 11.
USA star Megan Rapinoe also questioned the selection process for the awards after being named in the World XI for 2020: "I am obviously very honoured to have been recognised by my peers around the world who vote for the FIFPro World11. At the same time, it did come as a surprise to me that I met the criteria for selection as I haven't played a match since March," the World Cup-winner wrote after the announcements.