NBA championships: which team has more rings?
The NBA has been handing out Championship rings since 1947 with the Lakers and the Celtics tied for the most, taking home nearly half the rings handed out.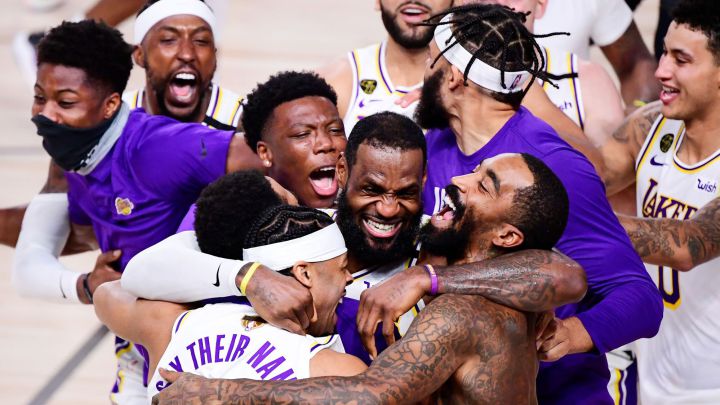 Upon winning the 2020 NBA championship the Los Angeles Lakers secured their 17th title a feat achieved by only one other team, the Boston Celtics. Between the two franchises, they have brought home over 45 percent of the rings handed out since the first NBA Final back in 1947. However there is one small caveat, the Lakers' first five titles were earned when they hailed from the land of 10,000 lakes and were called the Minneapolis Lakers.
With having won so many titles, not surprisingly both franchises have the honor of being among the only three teams in the league to have won three titles in a row. The Chicago Bulls with Michael Jordan in the 1990's is the only other franchise to boast that accomplishment. But Boston takes the cake having won eight straight from 1959 to 1966.
The Lakers can take comfort though in having gone to the finals 32 times, spreading their victories out over the years, winning four or more titles in a single decade three separate times. Boston on the other hand was a powerhouse under the leadership of Head Coach Red Auerbach, winning 9 out 10 consecutive finals appearances, six of which they denied the Lakers the championship.
Which team has won Larry O'Brien Championship Trophy more times?
The Larry O'Brien trophy was first handed out under its current name in 1984 and before that it was known as the Walter A Brown Trophy which dates back to 1977. Here the Lakers are the clear winners having brought the trophy home to Los Angeles, the team moved to warmer climes in 1960, a total of 11 times under both current and former name. Number two is the Chicago Bulls holding the trophy high in Chicago 6 times.
Which player has more rings?
The top ring holders come from the dynasty years of the Boston Celtics with center Bill Russell holding the record. During his 13-year playing career with the team he earned 11 titles. The other players in the top three ranking come from the dynasty years as well including Sam Jones with 10, Tom Heinsohn, K.C. Jones, Tom "Satch" Sanders and John Havlicek each with eight.
Who is the winningest coach in the NBA?
Although Red Auerbach built a dynasty team in the 1950s and 60s with the Boston Celtics he isn't the Head Coach with the most rings in NBA history. That honor goes to Phil Jackson who led the Chicago Bulls to six league titles in the 1990s and the LA Lakers to five NBA championships between 2000 and 2010. And just to top it off he already had two from his time as a player in the NBA for a total of 13.