Real Madrid: Ramos, Pérez and their long history of fallouts
Amid the current impasse regarding Ramos' contract extension, we look back at some of the most highly documented fall-outs between the captain and Florentino Perez from the past.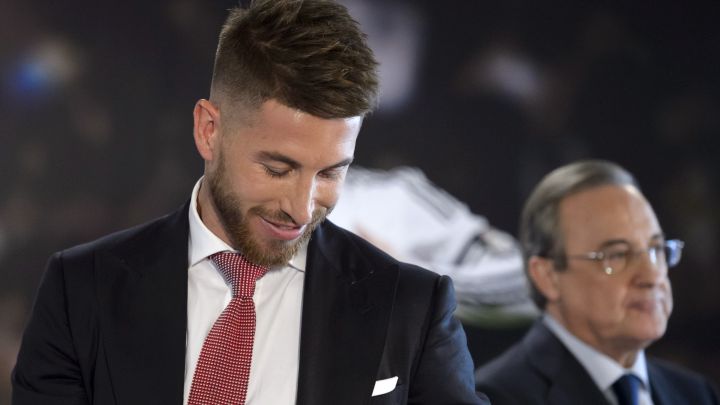 Sergio Ramos' future at Real Madrid is currently very much up in the air and it is not the first time that there has been tension between the captain and club president Florentino Pérez, whose close relationship goes back 16 long years.
There has been a history of disagreements between the pair (the tense renewal in 2015 with Manchester United lurking and the supposed offer from China in 2019) that have undoubtedly left scars. But this time things have gone further than they have in the past.
Amid the current contract impasse, Ramos is now free to negotiate with other clubs, a precedent never before reached, and could walk away free of charge come 1 July. The situation has become so tense that it prompted Ramos' agent and brother, René Ramos, to retweet a post by journalist Alfredo Duro, which openly criticised Real Madrid's approach to the current talks.
As those tense negotiations continue, below we look back at some of the most highly documented fall-outs between Ramos and Pérez from the past.
Tense contract talks in 2015
In the summer of 2015, René Ramos took advantage of an offer from Manchester United to force Madrid to agreeing to a monumental salary rise for his brother.
United – at the time in the process of investment with Louis Van Gaal as manager – offered Ramos €55 million net over five seasons. Ramos, at 29 years old and with a large part of his career still ahead of him, saw this as the chance to negotiate the contract of his life with Madrid.
But that did not sit well with Peréz, particularly as it coincided with the acrimonious departure of Iker Casillas. The president could not leave the squad without two iconic captains and so was forced to agree to Ramos' demands, which saw the player take home €14 million net per year.

The 4-1 loss to Ajax in 2019
After Madrid suffered the humiliating last-16 elimination from the Champions League at the hands of Ajax in March 2019, a furious Pérez marched down to the Bernabéu locker room to criticize the player's lack of dedication, going as far as to use the term "disgraceful". Not for the first time, Ramos (who had not been able to play in the game due to a suspension) came to the defence of his team mates in the face of the president.
"The planning has been an embarrassment," Ramos reportedly told Pérez. After Pérez threatened to fire the captain amid the heated debate, Ramos responded by saying: "Pay me up and I'll go". It was a full-blown sword fight during what was the first difficult season without Cristiano Ronaldo, who had left for Juventus for €100 million the summer prior.
After Ronaldo's departure, Madrid signed Vinicius (€45m), Courtois (€35m), Odriozola (€35m), Brahim (€17m) and Mariano (€22m). However, Ramos felt the club had not done enough to cover the loss of Ronaldo and let his feelings be known during that tense argument with the president. It was yet another incident that left a noticeable scar on Ramos and Pérez's relationship.
The offer from China
The last standoff between the pair came a few months after the bust-up in the dressing room following the Ajax game. It was in the summer of 2019, when Ramos, with a contract until 2021 and a release clause set at €800 million, called a meeting with Pérez and general manager José Angel Sánchez to try to convince them to facilitate his departure to China.
Pérez gave his own account of the incident: "They came to see me at my office. They asked me if he could leave but without paying because transfers in China are very complicated. I told him that he could not leave and that we would talk to the Chinese club. It is impossible to let your captain go for free, because that would set a terrible precedent." It was then that Pérez also revealed that Ramos was the player that earned the most at Madrid, even more than Gareth Bale.
The atmosphere became so bitter for the Madrid captain that he was forced to give a press conference to claim his allegiance to the club. "I want to retire at Madrid, I would play here for free," he said at the time. Ever since then, Ramos has maintained that his relationship with Pérez ("El Presi", as he fondly calls him) is almost like that between father and son. But as like with most families, things are never as idyllic as they may seem.