LALIGA
Osasuna vs Real Madrid: match has green light - as it stands
Despite continuing snowfall in Pamplona, the ground staff at El Sadar have got the pitch into a playable state and, as it stands, the game will go ahead as scheduled.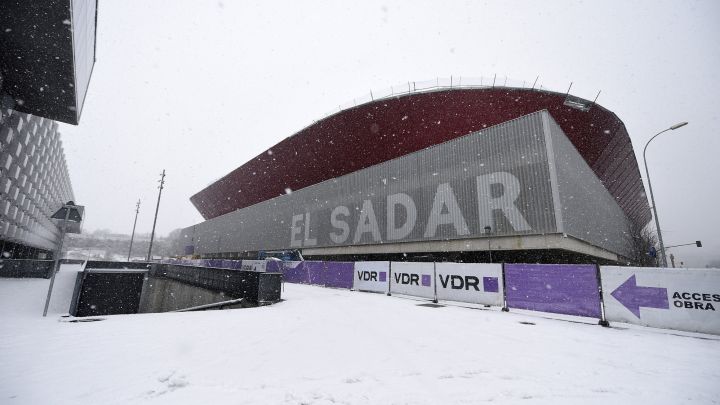 Real Madrid and Osasuna's LaLiga clash at El Sadar appears set to go ahead as scheduled despite the snowfall in Pamplona, as Storm Filomena causes extreme weather conditions across Spain.
El Sadar pitch playable as it stands
Although snow has continued to fall in the Navarrese capital throughout Saturday, ground staff at El Sadar have worked flat out to get the pitch into a fit state and, as things stand, it is playable.
The Madrid squad were due to leave their Pamplona hotel at 19:15 CET - an hour and 45 minutes ahead of the fixture's 21:00 CET start - but it still cannot be said with absolute certainty that the matchday-18 clash will kick off as planned.
Osasuna chief: "We'll be able to play and we'll see a great match"
Speaking to Spanish television channel Movistar+, however, Osasuna general manager Fran Canal struck a supremely confident tone: "We'll be able to play and we'll see a great match.
"In the past couple of years, Osasuna have invested in resources that include lamps that allow us to melt the snow and keep the pitch in a good condition throughout the winter.
"The lamps cover 30% of the playing surface and the maintenance team have cleared the snow from the parts of the pitch that they don't cover. They'll keep the pitch in good condition and it'll be in a fit state to play on."
Real Madrid endure eventful trip to Pamplona amid snowstorm
Real Madrid arrived in Pamplona shortly before midnight on Friday, after the intense snowfall in the Spanish capital saw their plane grounded at Barajas airport for over three hours.
In a bid to avoid a possible last-minute postponement due to the snow, Madrid unsuccessfully petitioned LaLiga to bring Saturday's kick-off time forward to midday, with the conditions expected to be better earlier in the day.