Courtois: "Very poor by LaLiga, we're not puppets"
Real Madrid's goalkeeper criticised the decision to go ahead with the game: "We know that we hadn't come we would have been docked three points".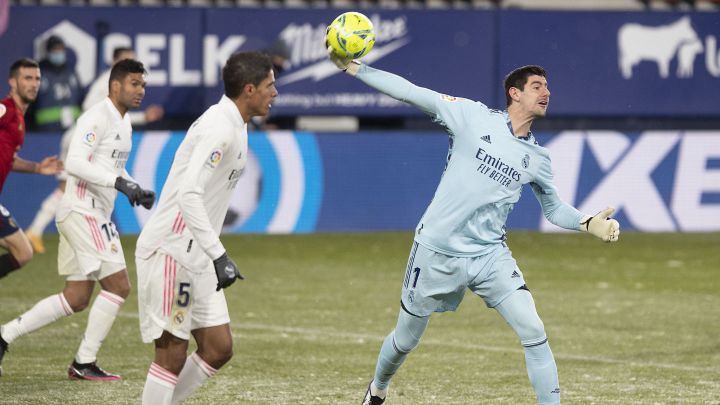 Like Zidane, Thibaut Courtois was very critical of how LaLiga obliged Real Madrid to travel to Pamplona after being stuck on their plane for four hours: "I'd like to thank the people at Osasuna for the work they did to make the pitch playable but it was poor [from LaLiga] what they did to us and Rayo. They knew that this could happen in advance but forced us to take off from a frozen airport. We can't return to Madrid today and maybe not tomorrow either and on Thursday we have a game against Málaga. They need to realise that footballers are human beings. We travelled to the stadium with the motorway deep in snow. You have to think about people's safety. All of us have families who worry about us".
Courtois: We have families to think about
The Belgian keeper told Movistar: "We only do what we are asked to do. We know that if we hadn't come, we would have been docked three points but you only have to look at the state of the motorways and the airports. We have families to consider - we are not puppets who have to play all of the time. You have to think about the logistics - and that includes you, the media, before taking those measures".
Courtouis reflected on the point the team took from the Pamplona trip: "We wanted to win his game after all of the hassle making the journey up here. It's always difficult for us to play here. Obviously the weather conditions and the pitch meant it was never going to be easy. We tried but we didn't take our chances," he explained.
As for Madrid's performance, he added: "There were few spaces and we couldn't seem to get in behind them. At least we kept a clean sheet." When asked if he felt the team had taken a step backwards he replied, "If you want to fight to win LaLiga, this is one of the grounds which make the difference".