Durant to face Knicks for first time since opting for Nets
Kevin Durant will be out to prove he made the right choice by opting for the Brooklyn Nets over the New York Knicks when the teams meet on Wednesday.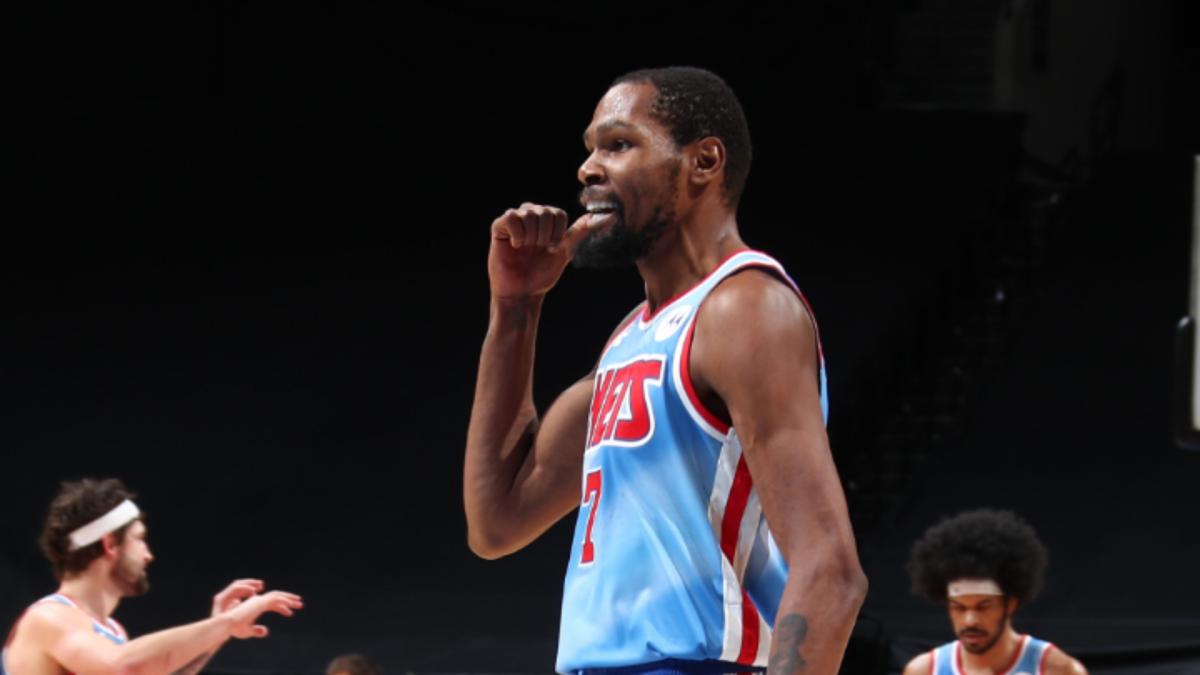 The New York Knicks are on the slide as they prepare to take on the Brooklyn Nets for the first time this season. Knicks fans appeared destined to be casting envious glances across New York after the Nets beat them to the signatures of Kyrie Irving and Kevin Durant in 2019, but the start of this season gave them a reason to feel slightly more content.
After finishing with a losing record for seven straight years, there was finally cause for optimism at Madison Square Garden early this season - the Knicks were above .500 through eight games for the first time since 2012-13, which was when they last made the postseason.
However, they have dropped their past three straight, losing by double figures on each occasion and failing to score more than 89 points, and concern has started to brew.
Things have not been straightforward for the Nets either, though.
While a 122-116 win against the Denver Nuggets on Tuesday lifted them to a 6-6 record, Irving is said to be facing an NBA investigation following a video of him attending an event without a mask on.
Irving has missed four games due to "personal reasons", with the Nets refusing to elaborate on the situation. He is not expected to return to their line-up this week.
Durant has also missed time this season due to covid-19 protocols and is set to feature in both games of a back-to-back for just the second time since returning from an Achilles tear.
Top performers
Brooklyn Nets – Kevin Durant
Durant has not taken long to start firing once again. He is averaging 29.9 points per game this season, second only to Bradley Beal (34.9) in the league.
Against the Nuggets he put up 34 points, 13 assists and nine rebounds, making him the first Nets player to have those numbers since the team moved to Brooklyn from New Jersey in 2012.
The last player to achieve that stat line for the franchise was Hall of Famer Jason Kidd in December 2006, when he had 38 points, 14 rebounds and 14 assists against the Phoenix Suns.
Having sat out the previous campaign through injury, Durant is facing the Knicks for the first time since he snubbed them for the Nets.
Durant famously said "the cool thing right now is not the Knicks" after signing for the Nets and will be eager to show he made the right decision.
New York Knicks – Julius Randle
If the Knicks are to upset their local rivals they are going to need Randle to quickly get back on form.
He had season lows in points and rebounds (11 and five respectively) against the Charlotte Hornets on Monday, while in only one game this season has he had fewer than the five assists he posted versus Charlotte (three against the Philadelphia 76ers).
Despite that lacklustre showing, he joined Oscar Robertson as the only two players in NBA history to register at least 200 points, 115 rebounds and 70 assists in their team's first 10 games of a season.
He leads the Knicks in points (22.1), rebounds (11.2) and assists (6.9) per game in 2020-21.
Knicks need defensive boost
The Nets have been one of the best teams at shooting the three this season with an average success rate of 39.3 per cent, which is only bettered by the Milwaukee Bucks (41.1) and the Los Angeles Clippers (42.4).
They average 118.8 points per game, which is 18.7 more than the Knicks, so it is clear that New York's defense is going to have a huge role to play.
They had the seventh-best defensive rating in the league prior to their three game skid, with injuries to Reggie Bullock, Alec Burks, Frank Ntilikina and Obi Toppin meaning coach Tom Thibodeau is demanding a lot from his key players.
RJ Barrett and Julius Randle are in the top five for minutes played this season, while they rank first and third respectively for minutes per game.
Thibodeau needs to strike a better balance to help boost his team's defense against one of the toughest and deepest opponents in the league.
Head-to-head
The Nets have dropped their past two games against the Knicks, though they split the season series 2-2 last season.
Durant has not played against the Knicks for two years but averages 28.5 points with a 16-3 record since entering the league.