US News
Celebrating America inauguration concert: times, TV and how to watch live online
Today, Wednesday 20 January 2021, sees Democrat Joe Biden sworn in as the 46th President of the United States. And there will be a virtual party to kick it off in style.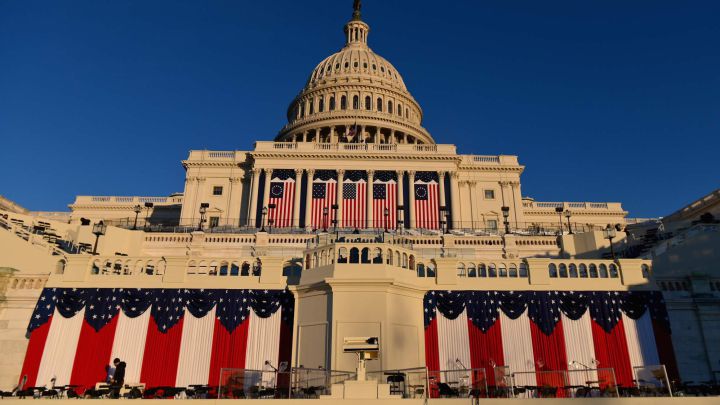 Hosted by Hollywood legend Tom Hanks, Celebrating America is a post-inauguration concert with a difference.
With performances from "iconic locations across the country," it will feature the likes of Jon Bon Jovi, Foo Fighters, John Legend, Eva Longoria, Demi Lovato, Bruce Springsteen, and Kerry Washington. Ant Clemons and Justin Timberlake are also lined up to sing their collaboration 'Better Days', in what Timberlake described as "our way of doing what little we could to encourage everyone to stay hopeful and to keep working towards a better future."
A few months ago @AntClemons and I wrote BETTER DAYS. This song was our way of doing what little we could to encourage everyone to stay hopeful and to keep working towards a better future. I'm honored to announce we'll be performing it for the Inauguration. pic.twitter.com/aes5gXdEww

— Justin Timberlake (@jtimberlake) January 13, 2021
You will not want to miss this historic event.
Celebrating America inauguration concert: the background
At 12 noon on Wednesday 20 January, Joe Biden will be sworn in to begin his first term as President of the United States. Due to the devasting pandemic that continues to ravage the country, the day is made up of various virtual events and it all kicks off with the Inauguration Ceremony at 10:30am. This is when President-elect Biden and Vice President-elect Harris will be officially sworn in on the west front of the US Capitol building, followed by the new president's address to the nation. Lady Gaga and Jennifer Lopez will be getting the music started early at this point.
Next up is the tradtional Pass in Review on the east front with members of the military and that is followed by an inaugural celebration for young Americans and a wreath laying at Arlington cemetery. At 3pm Biden will receive a Presidential military escort and then comes the diverse musical concert called 'Celebrating America'.
Celebrating America Inauguration concert: what time does it start?
The 90-minute prime-time special programme consists of numerous performances that are deemed to represent the diversity and talent in America. It will begin at 8:30pm ET and should finish around 10 pm.
As well as some stunning sets, the concert is expected to feature remarks from both new President Biden and Vice President Harris.
Celebrating America Inauguration concert: how can I watch it?
On what is a huge day in America, it is unsurprising that the concert will be shown live by all the major networks: ABC, CBS, CNN, NBC, MSNBC, and PBS.
It will also be live streamed at a number of other sites:
Other ways to access concert live:
Of course, here on AS English you will be able to follow all the news related to the inauguration and we will be provided access to the concert as well. Join our live feed now.