Biden inauguration: times, TV and how to watch live online
Despite the protocols that need to be followed due to the ongoing pandemic, Joe Biden will be sworn in at midday ET and there will be plenty to keep an eye on.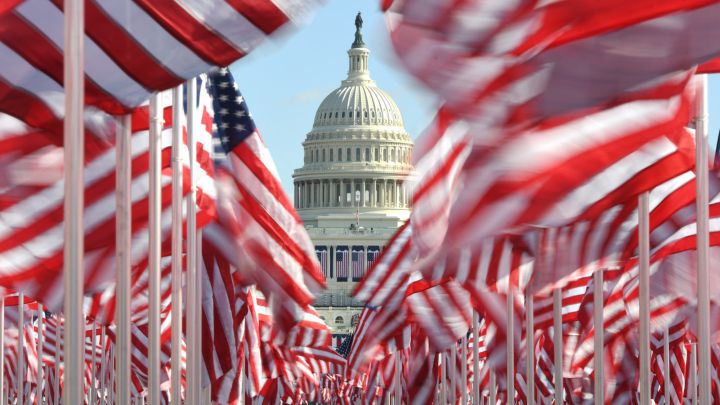 Biden inauguration live online: Celebrating America concert, Trump, speeches | updates today
Today is the day that millions of Americans have been waiting for as Joe Biden is sworn in as the 46th President of the United States. Of course, there are a number of formalities before and after this moment, as well as a parade and music concert to celebrate. Make sure you witness this special occasion in history as it happens live.
President Joe Biden inauguration: what time does it begin?
The proceedings get underway on the Capitol Building's West Front at 11 am. That is 8 am, 4 pm in the UK, 5 pm CET. Find out what time that is where you are in the world.
All the details of what is scheduled can be found below, including the swearing in of the new president and vice president as well as the entertainment that follows.
Tonight, in Washington, D.C. and across the nation, we came together to honor the over 400,000 Americans we've lost to COVID-19. The last year has tested us in unimaginable ways, but now it's time we begin to heal and overcome — together. pic.twitter.com/DuWhN1xjNO

— Joe Biden (@JoeBiden) January 20, 2021
President Joe Biden inauguration: how can I watch it live?
Given the significance of the day, it is not surprising that all the inauguration proceedings will be shown live by the major networks: ABC, CBS, CNN, NBC, MSNBC, and PBS.
But there are a number of other means to access the ceremony.
Other ways to access concert live:
Of course, here on AS English you will be able to follow all the news related to the inauguration and we will be provided access to the concert as well. Join our live feed now.
Presdient Joe Biden inauguration: what is the schedule?
We are expecting the event to begin around 11 am Eastern Time at the West Front of the Capitol.
This is the scheduled running order:
Invocation: by Jesuit priest Reverand Leo J. O'Donovan
Pledge of Allegiance: by Andrea Hall, who was the first African-American female captain of the South Fulton Fire Rescue Department in Georgia
National Anthem: by Lady Gaga
Poetry reading: by Andrea Gorman, the first Youth Poet Laureate 2017, 'The Hill We Climb'
Music: by Jennifer Lopez
Benediction: by Silvester Beaman, pastor of the Bethel African Methodist Episcopal Church in Wilmington, Delaware
Biden swearing in: at 12 noon, the Supreme Court Chief Justice, John Roberts, will administer the oath of office to Joe Biden
Harris swearing in: the Supreme Court Justice, Sonia Sotomayor, will swear in Kamala Harris as vice president
Inaugural address: 'America United' theme by Joe Biden
Pass in Review and wreath: the new president and vice president will be involved in a military Pass in Review on the Capitol's East Front. Joined by their spouses and other former presidential couples they will lay a wreath at the Tomb of the Unknown Soldier
Inaugural parade: a military escort to the White House will begin the virtual 'Parade Across America', which will be hosted by actor Tony Goldwyn
'Celebrating America' concert: from 8:30 pm ET and hosted by actor Tom Hanks (full details)