Conor McGregor's net worth: how much money has the UFC star made?
Conor McGregor returns to the Octagon to face off with Dustin Poirier in Abu Dhabi, but how much money has the Irish fighter made in his career?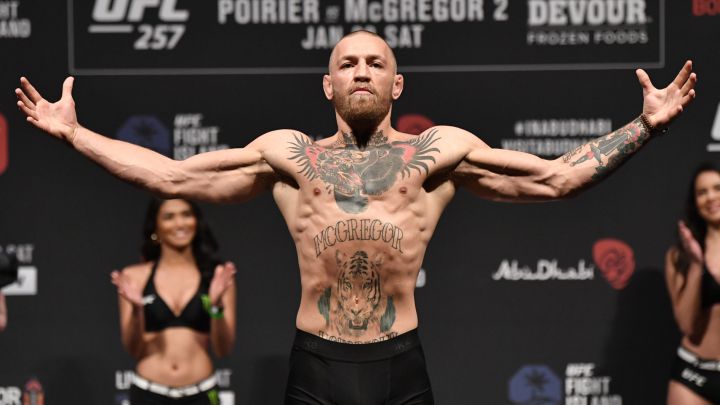 Having come out of retirement for a third time, Conor McGregor returns to the Octagon to face off with Dustin Poirier in Abu Dhabi.
McGregor has entered the Octagon only twice since 2016, but continues to be the biggest star in the history of mixed martial arts. He banked more than $30 million for his first-round knock out of Donald "Cowboy" Cerrone in January 2020.
Saturday's lightweight bout with Poirier - a man McGregor defeated in the first round when they met in a featherweight clash in September 2014 - is his first fight in a year.
McGregor's net worth
According to Forbes, Conor McGregor's net worth in 2020 was $48 million, which is only set to increase as his business portfolio and brands grow. His overall net worth is reportedly in the region of $120-130 million.
$99 million
McGregor's peak ranking among the top earners was No. 4 in June 2018 following his boxing match with Floyd Mayweather the previous summer. He made an estimated $85 million for the fight, with total annual earnings of $99 million, including endorsements.
The Dubliner recently renewed his sponsorship deal with Reebok which sees him earn up to $5m-per-year. He has endorsed brands such as Burger King and Beats by Dre.
The fighter turned entrepreneur also founded his popular Irish whisky 'Proper No. Twelve', with strong sales across the globe, due to the strength of McGregor's personal brand.
In 2019, McGregor posted on social media, revealing his delighted in his first year in the whiskey business: "Over $1b generated in Whiskey sales in my first year! Like it or not, there is a new King in town! Proper Whiskey, liquid sunshine!"
McGregor to earn $20 million from Poirier fight
Conor McGregor is one of UFC's most bankable stars, despite having announced his retirement in 2019 and again in 2020. His disclosed purse for tonight's fight against Poirier is five million dollars, plus a share of the pay-per-revenue. That amount is undisclosed but it could be a large sum, potentially $15 million, taking his total earnings for the fight to twenty million bucks.
Poirier is set to pocket over seven figures for the fight. His disclosed purse is one million dollars, and he also takes a revenue share of PPV income, though likely a significantly smaller percentage.
"I am honoured to share the Octagon with this man. I know we have this competitive fire, and it's still there, there's no denying that and it's going to be a good fireworks-filled bout but the respect is admirable for this man from me," McGregor said Poirier of ahead of the fight.
You'll be able to follow live-text coverage of Poirier vs McGregor right here at AS English.