Third stimulus check: when is it expected to be approved?
US President Joe Biden has pledged to get qualifying Americans a stimulus check of up to $1,400 as part of his $1.9tn proposed coronavirus relief bill.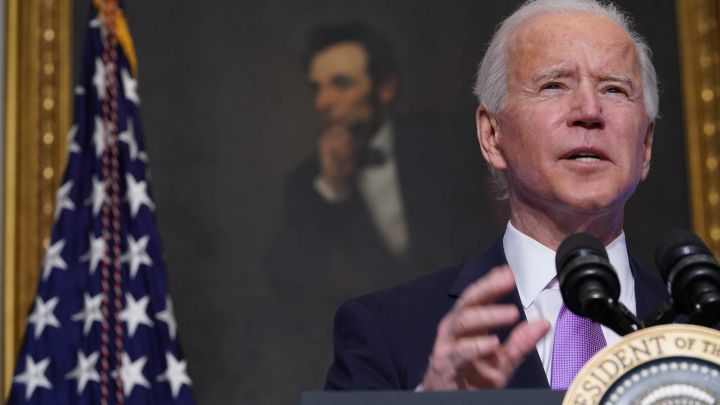 A stimulus check of up to $1,400 has been included in new US President Joe Biden's American Rescue Plan (ARP), but it may well be over a month before it is approved.
President Biden seeks to "ease pain" of struggling Americans with third stimulus check
Unveiling the $1.9tn ARP at a press conference in his home town of Wilmington, Delaware, earlier this month, Biden said the $600 stimulus checks sent out as part of December's $900bn coronavirus relief bill were "simply not enough if you have to choose between paying rent and putting food on the table", the Democrat adding that the proposed third round of checks would "go a long way to ease that pain".
Pushback from lawmakers over bill's overall spend, call for "more targeted" stimulus checks
However, lawmakers from both parties have raised concerns over the ARP's overall spend and the expense of sending out another stimulus check, so whether Democrats seek bipartisan backing for the package or opt to go it alone in Congress, the terms of the bill are going to require some negotiation before it is passed.
That doesn't mean stimulus checks won't make it into the final package, though; they are expected to. What it does mean is the eligibility requirements could be changed to allow only a smaller portion of the US population to qualify, thereby reducing the cost of the program. (In both rounds of checks so far, individuals earning under $75,000 a year and married couples on up to $150,000 a year have received the full amount.)
Whatever the third stimulus check finally ends up looking like, the consensus appears to be that a covid-19 relief package featuring the payment is unlikely to be passed until some point in March.
Senators hold call with National Economic Council chief Deese
In a call with National Economic Council director Brian Deese on Sunday, Republican senators and some more moderate Democratic senators were left unconvinced by the ARP, stating their support for provisions such as funding for vaccine distribution, but balking at the $1.9tn total spend and calling for narrower stimulus-check eligibility.
"There seemed to be a lot of agreement […] that those [direct] payments need to be more targeted," Susan Collins, a Republican senator from Maine, told Politico. "I would say that it was not clear to me how the administration came up with its $1.9 trillion figure for the package."
Biden prepared to negotiate $1.9tn spend and stimulus-check eligibility requirements
Speaking on Monday, Biden said he was willing to be flexible on the income thresholds applied to a third stimulus check, telling reporters: "There's legitimate reason for people to say, 'Do you have the lines drawn the exact right way? Should it go to anybody making over X number of dollars or Y?' I'm open to negotiate those things."
Biden also expressed a readiness to make concessions over the size and scope of his relief bill, but suggested Democrats could seek to pass a package closer to the $1.9tn figure, without Republican support, if talks drag on. "Time is of the essence and I must tell you I'm reluctant to cherry pick and take out one or two items here, and then have go through it again," he said.
Democrats probably better off seeking bipartisan agreement over stimulus, says Goldman Sachs analyst
Given there is opposition to a large stimulus outlay from some within their party, however, Goldman Sachs analyst Alec Phillips says Democrats may well be best off agreeing a smaller, bipartisan package - "our expectation is maybe $1.1tn, something like that" - despite their majority in both houses of Congress.
Democrats' wafer-thin advantage in the Senate - the chamber is a 50-50 split, with Vice-President Kamala Harris given a tie-breaking vote - does not give them the filibuster-proof 60 votes they normally need to ensure legislation advances beyond the debate stage in the upper house, but in this case they can get round that by using a process called 'budget reconciliation', which only requires a simple majority of 51 for a bill to get through.
But Phillips feels following such a strategy could end up actually being a more drawn-out process than tabling a reduced bill supported by enough senators from both sides of the floor. "There's a lot of procedural stuff that goes into [budget reconciliation] that could make it take longer […]," he told the 'Exchanges at Goldman Sachs' podcast.
"If they go the bipartisan route and it looks like maybe they can get 60 votes in the Senate for that, then that's maybe a little bit quicker," he added, noting the seeming difficulty of getting unanimous support for a larger stimulus spend from all 50 Democratic senators.
For example, Senator Joe Manchin (D-WV), who organized Sunday's call with Deese, has voiced his concerns over the expense of sending out further stimulus checks, telling CNN this month that he is only in favor of another round of payments for those most in need.
"Sending checks to people that basically already have a check and aren't going to be able spend that or are not going to spend it, usually are putting it in their savings account right now, that's not who we are," Manchin said. "We have done an awful lot of that, it's time now to target where the money goes."
Schumer out to pass relief package in "next month, month and a half"

According to Phillips, Americans should expect a stimulus bill to take another six weeks or so. "Probably under any scenario I think we get something done by March," he said.
This tallies with what has been said by Senate Majority Leader Chuck Schumer, who is looking to get a bill through in early to mid-March, before the unemployment-benefits schemes in December's package run out at the end of that month. "We'll try to get that passed in the next month, month and a half," Schumer said on Monday, per Bloomberg.
Considerations such as jobless benefits make it imperative Congress passes a relief bill by March, White House Press Secretary Jen Psakis says. "There's urgency to the American people for this package to move forward, because we are going to hit a cliff", she declared this week, adding that the US is also "going to hit a point where we won't have enough funding for vaccine distribution".
Stimulus check would likely arrive around a week after being approved
Once a relief bill including a third stimulus check is passed by legislators and signed into law by the president, the IRS can now be expected to get the majority of eligible Americans their payment in a matter of days.
Although the body took just over two weeks to begin sending out the first round of stimulus checks after their approval in March, most direct-deposit recipients had received December's second check within about a week.
Stimulus check and US politics: live news
You can get the latest information on the proposed third stimulus check with our dedicated live blog.