Third stimulus check: will eligibility for covid-19 payment be narrowed?
US President Joe Biden has vowed to send Americans a third stimulus check, but Republican senators have proposed a plan that would limit eligibility for a direct payment.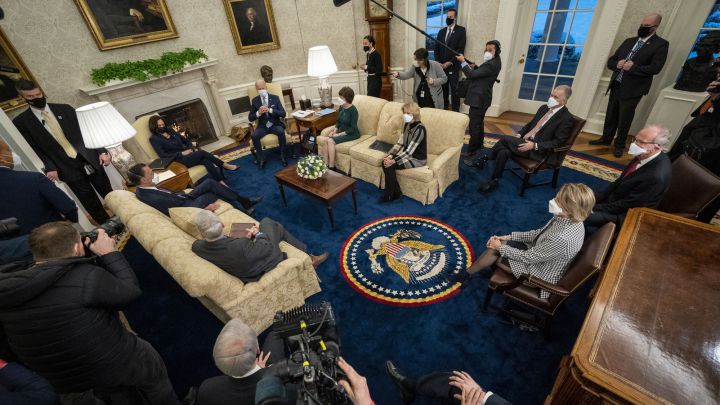 Joe Biden has said he is "open" to negotiation over the eligibility requirements for a third round of stimulus checks, but White House press secretary Jen Psaki has told reporters the US president wants greater access to direct payments than is being proposed by a group of Republican senators.
Biden vows to send Americans third stimulus check
As part of his $1.9tn coronavirus relief plan, Biden has pledged to distribute stimulus checks of up to $1,400 to qualifying Americans, with additional credits going to both child and adult dependents.
Unveiled in January, Biden's American Rescue Plan did not specify exact income eligibility thresholds for a third stimulus check, but was expected to seek to maintain the caps applied to the first two rounds of direct payments. Sent out under March's $2.2tn covid-19 relief bill and December's $900bn package, respectively, they saw individuals earning up to $75,000 a year qualify for the maximum amount.
Republican senators back smaller check with limited eligibility
However, 10 Republican senators led by Maine's Susan Collins have proposed a watered-down, $600bn aid package that would include a smaller direct payment of up to $1,000 and would restrict access to the full stimulus check to those earning no more than $50,000.
They believe limiting eligibility to only the lowest earners would ensure funds invested in the scheme would be pumped back into the US economy. "There's been very good analysis that [when distributing stimulus checks to people] above a certain income level, that money's not spent," Louisiana's Bill Cassidy, another member of the GOP group, said on Fox News on Sunday.
The senators - who also include Lisa Murkowski, Mitt Romney, Rob Portman, Shelley Moore Capito, Todd Young, Jerry Moran, Michael Rounds and Thom Tillis - met for talks with Biden on Monday, with a White House statement later saying there had been "areas of agreement" but that the GOP plan fell short in "many areas". The president "will not settle for a package that fails to meet the moment", the statement added.
Biden brands GOP plan "way too small", against such restricted stimulus-check access
Speaking to reporters on Tuesday, Democratic Senate Majority Leader Chuck Schumer offered a rather blunter version of Biden's response to the Republicans' proposal, telling reporters the president had branded it "way too small".
In a White House press briefing, Psaki said there were certain "bottom lines" that Biden was determined to include in the next relief bill - including stimulus-check eligibility for a wider section of the US population than is being proposed by the 10 GOP senators. "His view is that at this point in our country, when one in seven American families don't have enough food to eat, we need to make sure people get the relief they need and are not left behind," Psaki said.
Dems ready to go down 'budget reconciliation' route
Biden also told Monday's meeting with Republicans that Democrats are ready to use the 'budget reconciliation' process to push a a big relief spend through the House and the Senate without GOP backing. Biden believes Congress "must respond boldly and urgently", the White House's statement said, adding: "He reiterated that while he is hopeful that the Rescue Plan can pass with bipartisan support, a reconciliation package is a path to achieve that end."
Budget reconciliation would allow the Democrats - whose advantage in the evenly-split Senate comes down to Vice-President Kamala Harris' tie-breaking vote - to pass a stimulus package with a simple majority of 51 votes, without requiring support from GOP senators to reach the usual, filibuster-proof 60.
And Democrats are now preparing the ground to go it alone, holding a procedural vote on Tuesday that marked the first step in the budget reconciliation process.
Concessions on stimulus-check eligibility possible even if Democrats avoid bipartisan route
If the Democrats do finally opt to go down this route, concessions may still have to be made to lawmakers within their party on areas such as stimulus-check eligibility. That's because a minority of more moderate Democratic senators, most notably Joe Manchin of West Virginia, is keen to limit how much is spent on a third check by including only the lowest earners in the scheme.
Manchin, who has said he wants to "target where the money goes", was part of a bipartisan group of senators who 10 days ago made the case in a call with Brian Deese, Biden's top economic adviser, for bringing down the overall cost of further relief spending by cutting back on the expense of a third round of stimulus checks.
Given the Democrats' single-vote advantage in the Senate, they'll need the backing of all 50 of their senators if they bid to get a bill through the chamber using budget reconciliation.
On Tuesday, Manchin voted in favor of beginning the process of budget reconciliation, but indicated he won't support a Democratic bill if he feels it is too ambitious. "I will vote to move forward with the budget process because we must address the urgency of the COVID-19 crisis," he said in a statement. "But let me be clear – and these are words I shared with President Biden – our focus must be targeted on the COVID-19 crisis and Americans who have been most impacted by this pandemic."
He urged Democratic leaders to continue to try to shape a bill that gets Republican backing. "The President remains hopeful that we can have bipartisan support moving forward […]," he said. "For the sake of the country, we must work together with laser focus to defeat the COVID-19 crisis."
Third stimulus check: live updates
You can get the latest information on the proposed third round of stimulus checks by following our dedicated daily live blog.