Breathtaking views of Al Thumama, Al Janoub and Ras Abu Abuod World Cup stadiums
Photographs of three stadiums: Al Thumama, Al Janoub and Ras Abu Abuod taken from the top of the Al Bada tower are a sight to behold.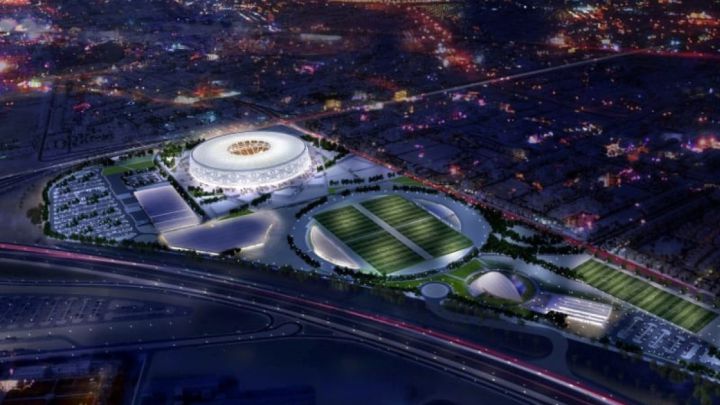 There is no doubt at all that an unrivaled edition of the FIFA World Cup is being prepared for 2022, especially in terms of the standard of World Cup stadiums - in both design and the future potential for each of the eight venues.
The Supreme Committee for Delivery and Legacy, the organisation responsible for managing the projects of Qatar 2022, has released a selection of recently-taken photographs of three of the eight World Cup stadiums and tweeted: "Impressive view of the three World Cup stadiums from the top of the Al Bada tower, headquarters of the Organization and Legacy Committee".
In the photos you can see just how impressive the three stadiums: Al Thumama, Al Janoub and Ras Abu Abuod really are. Two of them are situated close to the headquarters of the Supreme Committee, but it was a treat to view a photograph of Al Januob stadium, which is 23 kilometres away in Al Wakrah City, taken from the headquarters.
Al Thumama Stadium

With its design inspired by the gahfiya, a traditional cap worn by men in many Arab countries for centuries, Al Thumama Stadium is steeped in the culture, history and symbolism of Qatar and the region. #Qatar2022 pic.twitter.com/EmuYYuIC0t#Fifa

— Gulf-Times (@GulfTimes_QATAR) January 22, 2021
Of the three stadiums shown in the photos, only Al Januob was officially inaugurated in 2019 before the Qatar Emir Cup final, which ended 4-1 to Al Duhail - Xavi Hernández's final match as a player. The Spaniard is now Al Sadd SC coach.
Work is still underway at both Al Thumama and Ras Abu Abuod stadiums, while the completion of the Al Bayt venue will be announced soon.
While in Thumama, the Ras Abu Abuod compound, the first portable stadium which can be dismantled, work continues to progress. It is expected to be finished later this year as planned.