Tom Brady on Gronkowski reincarnation being the goal
The bond between Tom Brady and Rob Gronkowski is as strong as ever as the Buccaneers prepare for Super Bowl LV.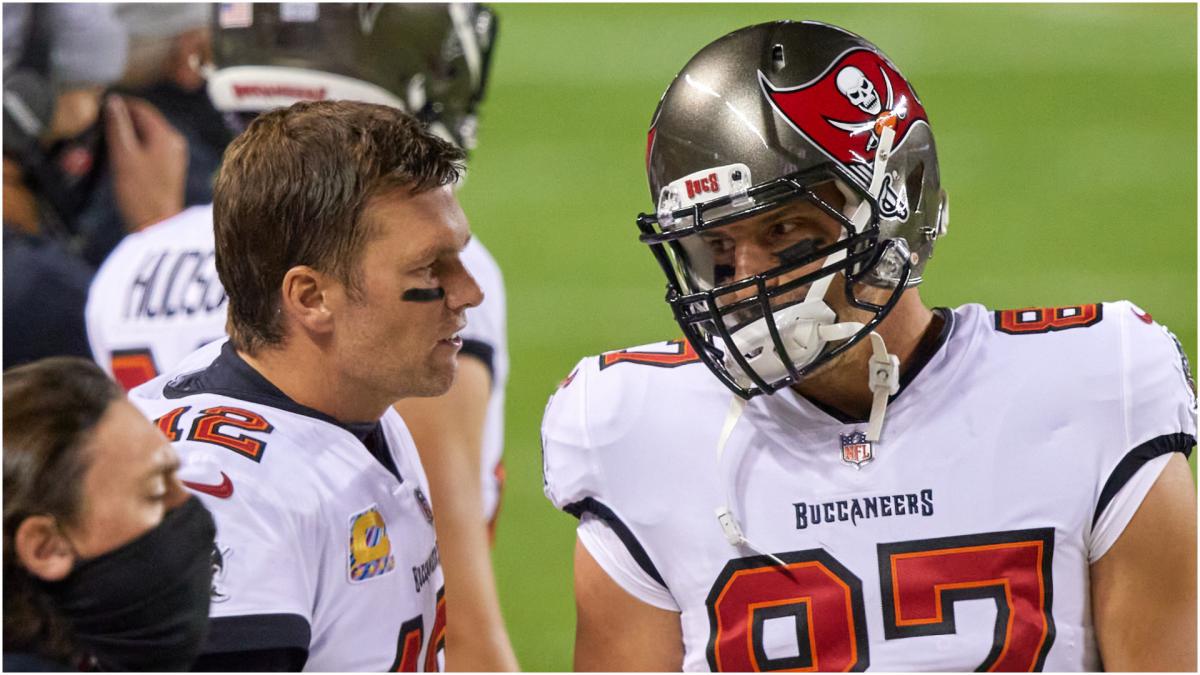 Tom Brady believes "everybody in their next life wishes they can come back as Rob Gronkowski" as the superstar duo aim to lead the Tampa Bay Buccaneers to glory at Super Bowl LV.
Gronkowski reincarnation for Brady
Legendary quarterback Brady and tight end Gronkowski forged a strong bond as part of the dynasty that dominated the NFL for so long at the New England Patriots.
Gronkowski retired after the 2018 season but, after just one campaign out of the game, the lure of playing alongside his long-time friend in Tampa proved too strong to resist.
Now Gronkowski has the chance of a fourth Super Bowl ring, while Brady is attempting to win a seventh.
Speaking at a news conference previewing Sunday's showdown with the Kansas City Chiefs, Brady was asked by Gronkowski's girlfriend, Camille Kostek, for an inside track on what it is like playing together.
"You know what he's super excited because he feels so good, he's played 20 games this year so it's the most I think he's ever played his career," Brady said.
"He's one of the most unique people, as you know, just being around him. He's so positive I think everybody wishes in their next life they can come back as Rob just because he's got such a great personality about him, just his way of being positive and he's a real high achiever.
"He's very competitive, and I see the competitive nature, the determination like, when you're down and out, you want him with you. And I think that speaks to him as a team-mate and as a person. And I love playing with him.
"You know I've known him for a long time, and I'm just so proud of all his accomplishments. He's an amazing guy. And I know, for both of us, we rely on each other a lot for different things. And I'll be looking for him this Sunday so that's the most important thing."
At the age of 43, Brady is about as experienced as it gets when it comes to preparing for the Super Bowl.
But he is under no illusions as to the size of the task the Buccaneers face against Patrick Mahomes and the Chiefs on Sunday.
"It's a slow build I think for this game because it's two weeks of prep," he added.
"You feel out the physical stuff. You're pretty much done at this point. And at this point it's just going through in your head, different situations, scenarios, all your different calls that you'd have, just trying to think about how they're going to play us.
"And then, again, I think that's where the mental prep, you really can't leave any stone unturned at this point. Friday, Saturday, Sunday just over three days left in the season. So, 72 hours.
"And, you know, you got to use it all and use it to the maximum, because this is a game that's really going to challenge us as a team, it's a very tough team to beat. They haven't been beaten in a long time.
"They've got a great offense, got a great defense, really well coached. We have to be in a good place out there and compete and get ready for a great game. So, it's a long game, it's a hard game, it's a long day. But you got to be ready when the ball's kicked off and we're going to be challenged. They're going to challenge us and we are going to answer the challenge."