Who have been Super Bowl MVPs in the past?
The Tampa Bay Buccaneer's Tom Brady won the MVP at Super Bowl LV as he threw four touchdowns for a thumping 31-9 win over the Kansas City Chiefs.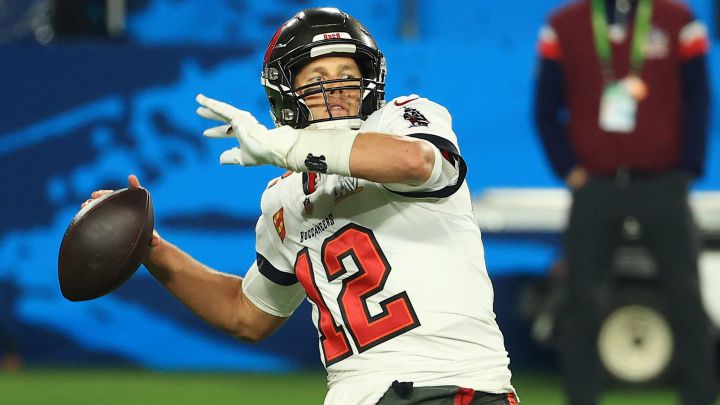 Tom Brady was named MVP for the fifth time, as he led the Buccaneers to their second Super Bowl, comprehensively beating the Kansas City Chiefs 31-9. Brady threw four touchdowns as he consolidated his position as Greatest of All Time, and very pointedly did not hand the torch on to Patrick Mahomes, the Chiefs' quarterback, who was widely favoured to be this match's MVP.
Most Valuable Players: all-time records

Most Valuable Player in a Super Bowl is the outstanding individual award available for an American footballer; over the course of the 54 Super Bowls, 47 players have been named MVP, with five players being named more than once.
If you want to be named MVP in a Super Bowl it helps to be a quarterback. A lot. More than half of the MVPs in the Super Bowl's history have been QBs, 30 out of the 47, with all the players who have been named more than once being quarterbacks.
Last year's MVP too was a quarterback, none other than Patrick Mahomes of the Kansas City Chiefs, who picked up the award at Super Bowl LIV, in their win over the San Francisco 49ers.
Tonight at Super Bowl LV, Mahomes was looking to repeat both last year's Super Bowl triumph and his MVP title in Sunday's Super Bowl LV, but he came up against Tom Brady, the legendary quarterback, appearing in his 10th Super Bowl - his first since his move last summer to the Tampa Bay Buccaneers.
Brady has now been named MPV on five occasions:
Super Bowl XXXVI vs St Louis Rams (Patriots won 20-17)
Super Bowl XXXVIII vs Carolina Panthers (Patriots won 32-29)
Super Bowl XLIX vs Seattle Seahawks (Patriots won 28-24)
Super Bowl LI vs Atlanta Falcons (Patriots won in OT 34-28).
Super Bowl LV vs Kansas City Chiefs (Buccaneers won 31-9).
Brady also won the Super Bowl twice more, where he was not named MVP:
Super Bowl XXXIX vs Philadelphia Eagles, won by the Patriots 24-21, with wide receiver Deion Brach being named MVP for his 133 receiving yards and 11 catches, a Super Bowl record and,
Super Bowl LIII vs Los Angeles Rams, won by the Patriots 13-3, with wide receiver Julian Edelman being named MVP for his 141 receiving yards.
Super Bowl LV MVP odds
As usual the two quarterbacks were the favourites to be named MVP at Super Bowl LV, but notably Patrick Mahomes was a clear favourite. He was quoted at -120, while Tom Brady was next up, back at +200.
Outside the quarterbacks, the Kansas City Chiefs' tight end Travis Kelce was at +1,100, and his teammate, wide receiver Tyreek Hill was also at +1,100. Tampa's Leonard Fournette was fifth on the favourites list, with the running back at +3,000. He ran in one touchdown, but never looked like knocking Brady off his perch.

Buccaneers MVPs
The Tampa Bay Buccaneers have had one previous Super Bowl MVP, in their only win, in 2003 at Super Bowl XXXVII, with safety Dexter Jackson taking the trophy. He grabbed two interceptions and returned them for 34 yards, and is only the second safety to be named Super Bowl MVP.
Chiefs MVPs
The Kansas City Chiefs have had two previous Super Bowl MVPs; last year's award going to Patrick Mahomes, and back in 1969 at Super Bowl IV when quarterback Len Dawson was awarded the trophy for his performance in the Chiefs' 23-7 win over the Minnesota Vikings.
MVPs on the losing side
Only one player has been named Super Bowl MVP from the losing team: Chuck Howley, in the Cowboy's 16-13 defeat to the Baltimore Colts. He recorded two interceptions but the decision was widely felt to be an odd one, with the Colts' tight end John Mackey recording two catches for 80 yards, including a 75-yard touchdown in the second quarter.
Most times named MVP
Tom Brady, as noted above, tops the list with five Super Bowl MVP Trophies. He's followed by four other quarterbacks who have recorded two or more:
Joe Montana, San Francisco 49ers: 3 (XVI, XIX, XXIV)
Terry Bradshaw, Pittsburgh Steelers: 2 (XIII, XIV)
Eli Manning, New York Giants: 2 (XLIII, XLVI)
Bart Starr, Green Bay Packers: 2 (I, II)
MVPs by position
Quarterback: 30
Running back: 7
Wide receiver: 7
Linebacker: 4
Defensive end: 2
Safety: 2
Cornerback: 1
Defensive tackle: 1
Kick returner: 1 (Desmond Howard, who returned a kickoff 99 yards for a touchdown and celebrated by dancing the robot)
Joint MVP Trophies
On one occasion the MVP was awarded jointly, in Super Bowl XII, when the Dallas Cowboys' Harvey Martin (defensive end) and Randy White (defensive tackle) picked up the trophy.
Full list of Super Bowl MVPs
Super Bowl I — QB Bart Starr, Green Bay
Super Bowl II — QB Bart Starr, Green Bay
Super Bowl III — QB Joe Namath, N.Y. Jets
Super Bowl IV — QB Len Dawson, Kansas City
Super Bowl V — LB Chuck Howley, Dallas
Super Bowl VI — QB Roger Staubach, Dallas
Super Bowl VII — S Jake Scott, Miami
Super Bowl VIII — RB Larry Csonka, Miami
Super Bowl IX — RB Franco Harris, Pittsburgh
Super Bowl X — WR Lynn Swann, Pittsburgh
Super Bowl XI — WR Fred Biletnikoff, Oakland
Super Bowl XII — DT Randy White and DE Harvey Martin, Dallas
Super Bowl XIII — QB Terry Bradshaw, Pittsburgh
Super Bowl XIV — QB Terry Bradshaw, Pittsburgh
Super Bowl XV — QB Jim Plunkett, Oakland
Super Bowl XVI — QB Joe Montana, San Francisco
Super Bowl XVII — RB John Riggins, Washington
Super Bowl XVIII — RB Marcus Allen, L.A. Raiders
Super Bowl XIX — QB Joe Montana, San Francisco
Super Bowl XX — DE Richard Dent, Chicago
Super Bowl XXI — QB Phil Simms, N.Y. Giants
Super Bowl XXII — QB Doug Williams, Washington
Super Bowl XXIII — WR Jerry Rice, San Francisco
Super Bowl XXIV — QB Joe Montana, San Francisco
Super Bowl XXV — RB Ottis Anderson, N.Y. Giants
Super Bowl XXVI — QB Mark Rypien, Washington
Super Bowl XXVII — QB Troy Aikman, Dallas
Super Bowl XXVIII — RB Emmitt Smith, Dallas
Super Bowl XXIX — QB Steve Young, San Francisco
Super Bowl XXX — CB Larry Brown, Dallas
Super Bowl XXXI — KR-PR Desmond Howard, Green Bay
Super Bowl XXXII — RB Terrell Davis, Denver
Super Bowl XXXIII — QB John Elway, Denver
Super Bowl XXXIV — QB Kurt Warner, St. Louis
Super Bowl XXXV — LB Ray Lewis, Baltimore
Super Bowl XXXVI — QB Tom Brady, New England
Super Bowl XXXVII — S Dexter Jackson, Tampa Bay
Super Bowl XXXVIII — QB Tom Brady, New England
Super Bowl XXXIX — WR Deion Branch, New England
Super Bowl XL — WR Hines Ward, Pittsburgh
Super Bowl XLI — QB Peyton Manning, Indianapolis
Super Bowl XLII — QB Eli Manning, N.Y. Giants
Super Bowl XLIII — WR Santonio Holmes, Pittsburgh
Super Bowl XLIV — QB Drew Brees, New Orleans
Super Bowl XLV — QB Aaron Rodgers, Green Bay
Super Bowl XLVI — QB Eli Manning, N.Y. Giants
Super Bowl XLVII — QB Joe Flacco, Baltimore
Super Bowl XLVIII — LB Malcolm Smith, Seattle
Super Bowl XLIX — QB Tom Brady, New England
Super Bowl 50 — LB Von Miller, Denver
Super Bowl LI — QB Tom Brady, New England
Super Bowl LII — QB Nick Foles, Philadelphia
Super Bowl LIII — WR Julian Edelman, New England
Super Bowl LIV — QB Patrick Mahomes, Kansas City
Super Bowl LV - QB Tom Brady, Tampa Bay Buccaneers